As discussed in the previous post concerning Office 365 Security Concerns, while Microsoft has made strides in the realm of security in Office 365, gaps in security still remain. Businesses today still cite security concerns as one of the major reasons they have either not adopted cloud as an option for business-critical resources or they are slow to adopt public cloud resources and services. Microsoft has introduced interesting security integrations in Office 365 that have lessened the security gaps found previously.
Microsoft's primary security solution for its public cloud is the Microsoft Cloud App Security platform. The Office 365 variant of Cloud App Security is still lacking in coverage in areas that can cause concern for organizations. This includes app discovery and risk assessment, DLP capabilities, threat and anomaly detection, threat remediation and response as well as limited backup and recovery options. How can organizations bridge the existing gaps that exist with current Microsoft security mechanisms in Office 365? Let's see how adding SpinOne to Office 365 provides powerful data protection and cybersecurity tool that safeguards business critical data.
Office 365 Security Features and Security Gaps
Office 365 is an extremely powerful platform for businesses looking to migrate their on-premises infrastructure into the public cloud. Microsoft has certainly been a household name in the business realm for decades now. Microsoft's Office Suite of products has enabled businesses all the way from small to medium-sized environments all the way to the enterprise landscapes to easily have the tools they need for business productivity. This has certainly garnered Microsoft a clear advantage in the familiarity with products when it comes to their Office 365 solution. Most businesses are at least familiar with full versions of Office installed on desktops which leads many organizations to consider Microsoft's Office 365 solution before other public cloud offerings.
One of Microsoft's strengths when comparing Office 365 to competitors' public cloud offerings has been the security capabilities that are either built into Office 365 or are part of the Cloud App Security offering. The Cloud App Security solution is included in the highest subscription levels of Office 365. Additionally, subcomponents of Cloud App Security suite are able to be added individually in some cases in lower subscription levels. However, functionality is ultimately tied to the Office 365 subscription level such as the DLP offering. In the case of DLP, Microsoft's current solution is only available to businesses who use E3 subscription and above.
For data protection capabilities, Microsoft has introduced basic backup functionality into the Office 365 environment. Office 365 customers can now restore files that are up to 30 days old. However, this functionality is limited to only OneDrive for Business and cannot be used to restore items from other services (Outlook email, etc). When considering that backups and the ability to restore items is a crucial component of disaster recovery AND security, not protecting all Office 365 business services being utilized is a tremendous vulnerability.
Organizations using Office 365 must utilize a data protection solution that allows protecting not just a portion of the data in the public cloud, but ALL business-critical organization data that exists in Office365 that extends beyond OneDrive. This would include email and other services for most organizations.
While Cloud App Security and the other native functionality features within Office 365 are a good starting point for protecting Office 365 data, it is simply not enough for businesses who are looking to move to the public cloud with the confidence needed to trust their data is safe and protected in the cloud environment.
Businesses today need to have a single solution that enables confidence in the protection and security of their Office 365 data and services. Let's take a look at the SpinOne data loss and cybersecurity solution for Office 365 and how it enables businesses to have confidence in migrating from on-premises to the Microsoft Office 365 public cloud.
SpinOne Office 365 Data Loss and Cybersecurity Solution
SpinOne has certainly made a name for itself with its world-class protection of Google's G Suite environments. Businesses who have migrated to G Suite and looked for robust data loss and data leak protection, along with a very powerful cybersecurity solution, have found SpinOne to be in a class of its own.
Recently, SpinOne for Office 365 was released, bringing data loss protection to Office 365 environments. The additional cybersecurity features provided by SpinOne will include Apps Audit, Domain Audit, Security Alerts. Let's take a look at how SpinOne protects your Office 365 environment data and the additional features and functionality coming very soon to the SpinOne Office 365 cybersecurity offering.
SpinOne Office 365 Data Protection
Backing up your Office 365 environment is of utmost importance to your overall data security plan operating in the Office 365 public cloud. Your overall security strategy must include data protection or it simply will not be enough to ensure business continuity. No matter how good security mechanisms are, there is always a point in time where data loss occurs. This can be due to a number of reasons including deliberate or accidental data deletion. Whatever the case, having the ability to restore business-critical data allows successfully meeting stated SLAs to the key stakeholders, whether an internal business unit or customers.
Microsoft has recently added the ability to restore files in the OneDrive offering in Office 365. With Microsoft's recovery capabilities, you will only be able to restore data within the past 30 days. This is a key consideration as there will most definitely be data loss if files roll past the 30-day mark with the native Office 365 capability. Additionally, at this point, Microsoft has only included the restore functionality in the OneDrive application and no others.
SpinOne provides organizations a far superior level of data protection across the board with Office 365. It includes the following:
Automated Daily Backups 1x-3x daily
Services can be granularly selected for backup
Restore in Time Machine functionality
Version controlled multiple recovery points for each Office 365 item
Backed up Data can be stored indefinitely
End-User permissions to backup, restore, and download can be controlled
Data can be restored/migrated to a different user altogether
Administrators can quickly see which users are protected and which are not
Summary and detailed task list of backup/restore activity is recorded
One of the tremendous benefits of the SpinOne data protection solution is that it provides all the needed data protection information that Office 365 administrator needs – concisely and in an easy-to-read dashboard. At a glance, Office 365 administrators can see the status of data protection across their Office 365 environment.
In the SpinOne Dashboard, information such as the data being backed up across the Office 365 applications is displayed, protection in the environment (included protected and unprotected users), and activity over the past 14 days.

SpinOne for Office 365 dashboard providing a wealth of data protection information for Office 365 administrators
SpinOne for Office 365 allows organizations to choose which services are included in the Services Backed Up. The SpinOne solution includes the ability to protect Outlook, OneDrive, Calendars, and Contacts.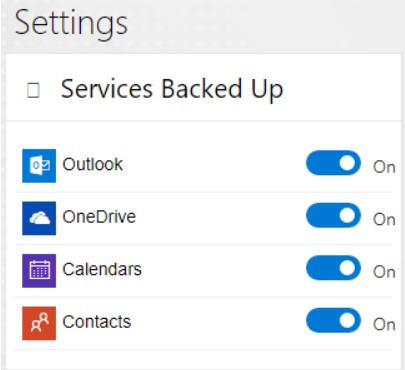 Choosing Office 365 Services Backed Up in SpinOne settings
SpinOne allows backing up the Office 365 environment 1x or 3x daily.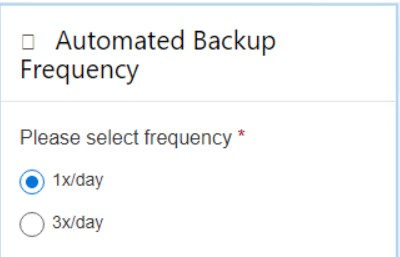 The retention policy included with SpinOne is far superior to the native Microsoft recovery points that can be restored. By default, you can choose to keep data Indefinitely or specify the Period after the data has been backed up, months.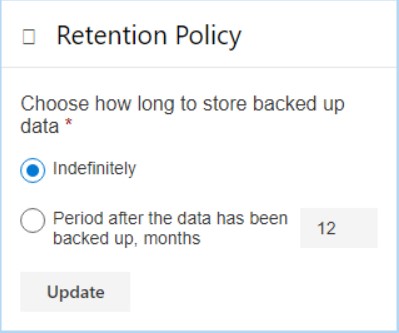 Choosing the SpinOne Retention Policy settings for the Office 365 organization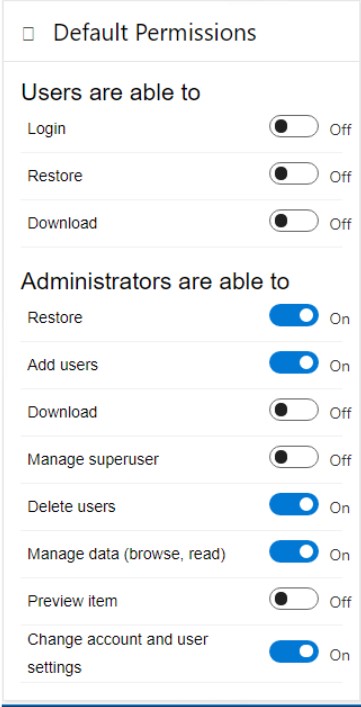 Choosing Default Permissions for Users and Administrators in SpinOne for Office 365
SpinOne for Office 365 allows seeing both a summary and task activity view of the data protection activities carried out in Office 365.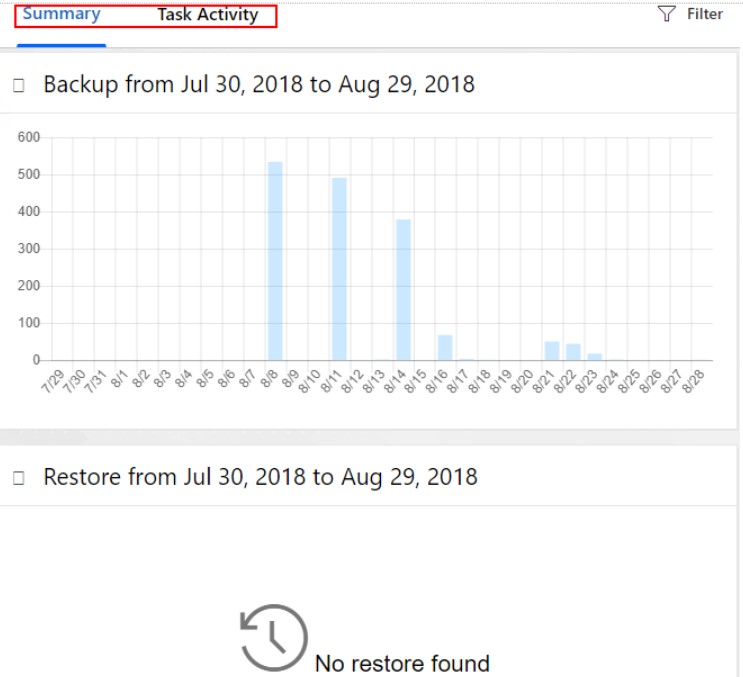 Summary and Task Activity views in SpinOne for Office 365
All the Office 365 applications include the Backup, Restore, and Download actions that can be carried out in all of the protected Office 365 applications with the added SpinOne integration.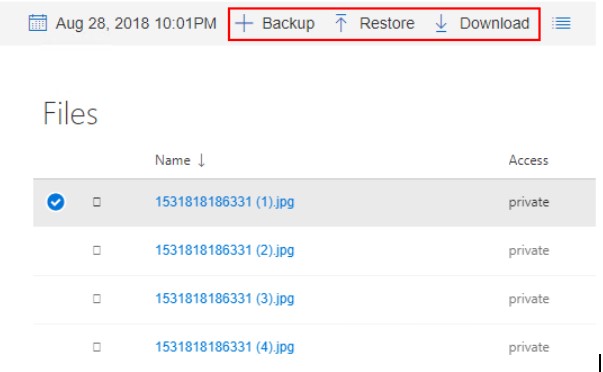 SpinOne adds the ability to Backup, Restore, and Download in Microsoft Office 365 applications
SpinOne provides powerful functionality for administrators to be able to restore backed up items to different Office 365 user accounts. This provides the ability to easily migrate data between Office 365 user accounts.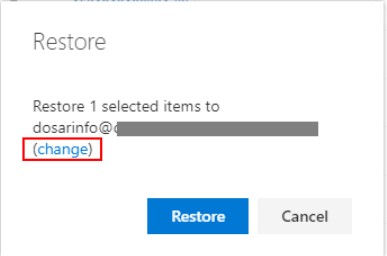 Choosing a different user account in which to restore data
In the resulting Restore dialog box, you can choose the user account to restore the backed-up items.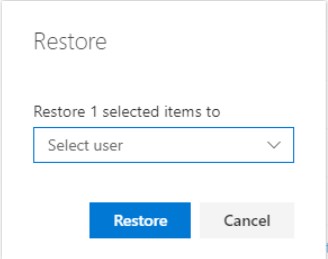 SpinOne Office 365 Cybersecurity
The forthcoming cybersecurity features, will include the Apps Audit, Domain Audit, and Security Alerts features that are already found in the G Suite offering. SpinOne is a powerful API-driven CASB that uses machine learning to analyze and profile the Office 365 environment. Any anomalies are detected and flagged accordingly
Third-party Apps Audit allows administrators to see the intent of applications that are integrated with Office 365. Which data do they have access to? What permissions are granted to the application? How is data being accessed? Is data being copied or downloaded from the sanctioned location in Office 365? SpinOne gives Office 365 administrators the visibility to these types of concerns and issues.
With Domain Audit Office 365 administrators have a global view of all actions taking place inside the Office 365 environment. This includes:
Installation of third-party apps
Downloading/transferring data
Data sharing
Credit card data movement
File Deletion
Logins
Abnormal Logins
With Domain Audit, administrators have a searchable and filterable dashboard that gives tremendous visibility to all the pertinent Office 365 environment activities and this allows for custom alert configurations on various types of events.
With Security Alerts, SpinOne allows creating and pairing alerts with various event activities. It is a key security feature for Office 365 administrators to have the ability to be proactively alerted to certain events flagged by the SpinOne machine learning powered API. Using the same API event driven interface, Spinbackup is able to automatically perform remediation based on the events captured in parallel to the security alerts triggered to Office 365 administrators.
Concluding Thoughts
When considering the security gaps as they exist today with Microsoft's native security tools including Cloud App Security, SpinOne provides exciting features and capabilities to Office 365 environments. With SpinOne's data protection capabilities, automated incremental backups can be taken of an entire Office 365 environment either 1x or 3x daily. With the powerful restore capabilities, SpinOne allows protecting all the major Office 365 applications and not simply OneDrive.
Organizations can keep unlimited restore points in the retention history and use the restore process to easily migrate data between user accounts. With the forthcoming cybersecurity features for Office 365, SpinOne will be able to provide many of the same cybersecurity features as found in the G Suite solution including Apps Audit, Domain Audit, and Security Alerts.
Be sure to check out the SpinOne Office 365 beta and try out the powerful Office 365 features in your organization. If businesses have been holding off on migrating business-critical services and data to the public cloud such as Office 365 due to data protection or cybersecurity concerns, SpinOne effectively eliminates these concerns. It allows businesses to operate backups and security in Office 365 in a modern, machine-learning enabled, streamlined, all-inclusive data protection and cybersecurity solution.