As more and more companies move to cloud services to increase productivity and reduce costs, we are seeing a shift in how businesses are working with digital technologies and their needs and requirements are also changing to fit these new ways of working.
The adoption of cloud computing for storage and other services continues to grow, and with it comes new concerns about security and privacy. There are many advantages to working in the cloud, but it is also important to be aware of the new security issues that are introduced in terms of user behavior and access to sensitive corporate data.
To better understand the needs of users as we move forward into 2017, it's important to study usage statistics and trends of individuals and businesses using the cloud over the previous year. These statistics are a result of analysing data from 30 million users worldwide, compiled by Skyhigh Networks.
Storage of Sensitive Data in The Cloud
Over 18% of documents uploaded to cloud storage and collaboration services contained sensitive information. 4.4% of this data included confidential information such as financial records, business plans and 3.9% included personal details such as tax ID number and social security numbers. A further 2.3% contained payment information (credit and debit card numbers), and 1.6% included personal medical information.

Number of Threats
Cloud-related security threats are on the rise, with the average number of incidents per organization reaching 23.2. This is an increase of over 18% on the previous year.
Almost all organizations (93.5%) had experienced at least one case of insider threat, and 79.1% reported compromised accounts. Almost half (49.8) had experienced threats in which the cloud was used in an attempt to extract data and 57.5% claimed privileged user threats.

It is becoming increasingly difficult to identify potential threats, as each user completes dozens or hundreds of different transactions each day (login, uploading files, editing documents etc.) The average organization records a total of 2.7 billion user transactions each month.
Due to this difficulty, many organizations are investing in software that uses intelligent threat detection algorithms to identify unusual or risky behavior by users.
Out of those 2.7 billion transactions each month, an average of 2,542 are flagged as a potential security threat.
Cloud Usage Trends
The number of available cloud services is increasing all the time and the average organization now uses a total of 1,427 different services. 71.3% of these services are enterprise cloud services and the remainder includes consumer cloud services.

Certain industries have a higher adoption level of cloud services. As you might expect, technology companies come out on top, using over 2,000 different services on average. Manufacturing and business service companies also have a high level of cloud services usage. Governments agencies are the group using the fewest cloud services, at 944 per organization.
The majority of these services are used for collaboration (210 services), followed by file sharing (76 services), and development (67 services). Other common types of services include content sharing, social media, tracking, and business intelligence.

In terms of public cloud services, Amazon Web Services has the highest market share, at 35.8%. The use of Microsoft Azure is also growing, and it currently takes second place at 29.5%
Cloud Governance
61% of large organizations have a cloud governance policy. Most organizations that control cloud usage by their employees categorize apps into risk-level based groups. The average proportion of cloud services that are approved or permitted is 68.7.
Approved services are those which are officially sanctioned by the IT department and may be purchased and installed by the company. These make up only 5.4% of apps used within an organization. Permitted services are introduced by individual users and are allowed because they serve a business purpose and have an acceptable level of risk.
However, the actual success level of blocking services that fall into the "not allowed" category is perhaps lower than expected. This is due to multiple web addresses and IPs that are not blocked by firewalls and proxies and non-standardized access policies.
Examples of  this "cloud enforcement gap" for frequently blocked services include 4Chan (intended block rate 79.3%, actual block rate 21.6%), Evernote (intended block rate 42.%, actual block rate 5.5%), and Facebook (intended block rate 49.2%, actual block rate 28.8%).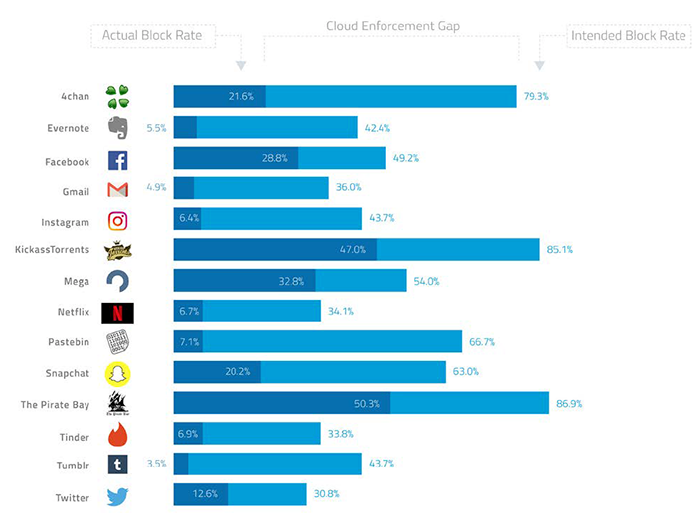 The top 10 most approved services are as follows:
OneDrive

Salesforce

Sharepoint Online

Exchange Online

Cisco WebEx

Skype for Business

Concur

Box

Oracle Taleo

ADP
The 10 most blocked services are:
The Pirate Bay

PDF Split

PicResize

KickassTorrents

PDFUnlock!

Docslide

4shared

Pastebin

WebICQ

PDF to DOC
The reason for the high occurrence of PDF converters in the most-blocked list is that they claim full ownership of any files that are uploaded to them.
Most Popular Cloud Services
Most of the services used by business organizations are enterprise-level services. 80% of enterprise level services are likely to have enterprise-grade security compared to consumer services at only 9.3%. The top enterprise services include:
OneDrive

Exchange Online

Salesforce

Sharepoint Online

Yammer

Cisco WebEx

Skype for Business

Box

Zendesk

Oracle Taleo

The top consumer services include:
Facebook

Twitter

YouTube

LinkedIn

Pinterest

Google Drive

Skype

Gmail

Instagram

Flickr

OneDrive is currently the most popular file sharing service, overtaking Google Drive this year to claim the top spot. Dropbox and Box take the 3rd and 4th place.

Microsoft Office 365 continues to be the most popular cloud-based collaboration platform, followed by Skype, and Gmail.

The most popular social media services are Facebook, Twitter, and LinkedIn, respectively.
Source: Skyhigh Networks "Cloud Adoption & Risk Report Q4 2016".