Every corporate Gmail contains business-critical data. However, many businesses fail to backup emails. As a result, important data might be lost due to error, mal intention, or hacker attack. In this article, we will share the best practices of Gmail Backup to help you protect your valuable data.

However, there are several factors with which Google cannot cope:
Your Gmail could be hacked and all of your messages deleted. Who would gain from invading your email?

Your less than ethical competitors, for obvious reasons.
A hacker, either for fun, bragging rights or profit.
Protect your valuable information from hackers.

Self-hacking. You are distracted or multi-tasking and accidentally delete messages, then empty the trash. The Gmail is gone forever, along with any attachments. Protect yourself from yourself.

A Gmail service failure. The chances may be only 1 in 5000, but woe to the unlucky one. Protect yourself from Gmail information loss.
There are existing programs for backing up your Gmail messages: Gmail Backup, Offline Gmail plus others, but all of these programs have critical faults:
You must enter the password of your e-mail to activate. Really? What if that same third-party application asked for your Social Security Number or a Credit Card Number (CCN), would you go ahead and enter it? Hopefully no, yet the principal is the same. Your password to your email is critically sensitive information.
The backups mentioned above are always stored on your local computer, which can fail or be stolen. Now what?

In practice, personal computer failure is designed into the specifications.

Hard drives are designed to fail and they do, all the time.
Today's online cloud services can automate the data backup of your Gmail messages without entering the password from your Gmail box or running the risk of a local, PC drive failure. Spinbackup is one of these services.
You don't need to enter your password.
Data is stored on the same cloud as Gmail and is always online and available.
This is a free service.
Step by Step Guide for Backup Gmail Backup
Go to Spinbackup
Tap the Log in as Personal Google Account button in the upper right corner.

In a new window, log into your Spinbackup account using your Google ID or use Spinbackup email and password.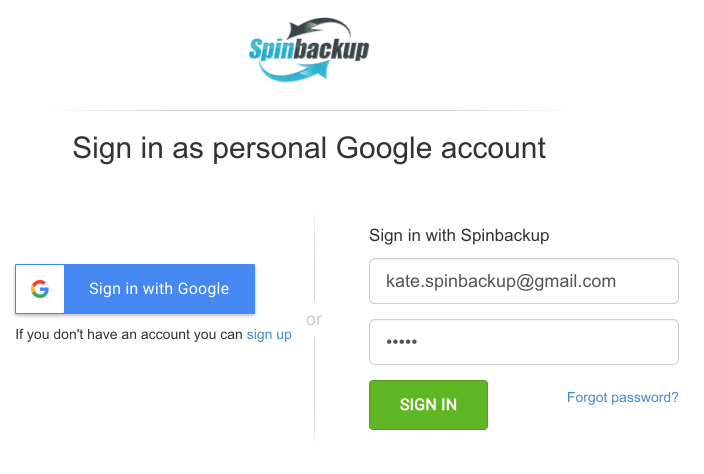 At your Dashboard on the left, press the Google Mail button.

In a new window, you will see your Google Mail backup interface. Press the Backup button.

In a new pop-up window, you can set up your Gmail backup. Here you have two options:
To backup all Gmail account, press the Backup all option button.

To backup selected Gmail folder(s), select the folders you want to backup by pressing the corresponding checkboxes on the left, and press the upper button.

The Backup selected only section will fill with the selected folders.

You can save these settings for your daily automated backup by pressing the Apply for automated backup checkbox. Then, press Start backup.

Your Gmail will be backed up in seconds. When the process is complete, you can see all your backed up messages in the Google Mail backup interface.

Please remember that automated daily backup and several other functions are not available for free accounts. Pay for your account to enjoy the most from what Spinbackup offers.
Gmail Recovery
At your Dashboard on the left, press the Google Mail button.

In a new window, you will see your Google Mail backup interface.

There are three ways to recover your Gmail messages:
Recover individual Gmail messages:
Press the checkboxes of the letters that need to be restored.

Recover all letters listed on a screen:
Press the upper checkbox. You can move to another page and/or change the amount of letters on the screen in the upper right corner.

Recover the Entire mailbox.
Do not select anything and move to the next step. Please note, this feature is not available for free accounts Gmail recovery is limited to 100 messages.
Press Restore.

In a new pop-up window, confirm the restoration of selected mails or the whole mailbox and press the Start Restore button.


The system will notify you as soon as the recovery process is over. Check your Google Mail "Restored by Spinbackup at…" folder and enjoy your restored mail.
Please note: the messages that are already in your mailbox (including those in the Trash folder) will not be restored. If you cannot find a recovered message, check your mailbox again.
Access options:
At your Dashboard on the left, press the Autobackup button.

To turn the Autobackup on, click ON in front of Google Mail.

To select the items for automated backup, press the corresponding button in the Settings column.

In a new window, you can select to backup all mailbox or selected items. The logic is the same as described in article 6 of Your Spinbackup step by step guide How to backup Gmail messages paragraph. Then press Update settings.

The system will notify you that the autobackup schedule is successfully updated.
To set up the autobackup time settings, press the corresponding button in the Scheduled column.

In a new window, you can select the autobackup frequency, day, and time. Then press Update.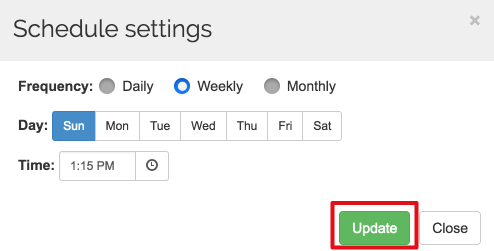 The system will notify you that schedule time was successfully updated.
Take the tip: read about how to recover the deleted Google account just in a few steps!