Gmail is one of the most popular cloud-based email service, with over one billion monthly active users.
Gmail users like the service because it is easy to use, comes with a generous free data allowance, and integrates seamlessly with Google Drive and other Google Apps. However, some of these users take the necessary steps to ensure their emails and files within Gmail are backed up in the case of accidental data loss or a hacked account.

How to Backup Gmail Account
Many people assume, because their emails are stored in Gmail, they are automatically backed up by Google and they don't need to make any efforts to make their own backups.
While it is true that Google has its own backup services for all of its cloud-based services, including Gmail, your data is probably not as safe as you think it is.
While server outages and crashes will normally be recovered from quickly and in most cases your emails will be restored, there is no ironclad guarantee of this from Google. In 2011 a massive 150,000 user accounts were wiped clean of emails and contacts due to a technical error and while the accounts were eventually restored, some were left without access to their data for over 24 hours.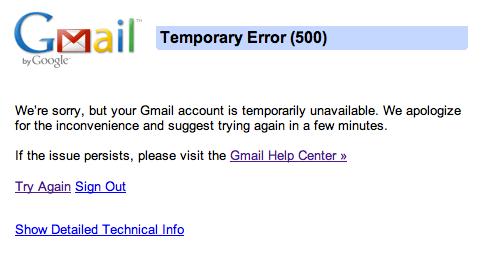 Because they are accessible by anyone with the correct login credentials from any location, Gmail accounts are also vulnerable to being hacked. If your Google account is hacked, you may be locked out of your account and unable to access your emails or all your data may be deleted by the hacker.
Permanently deleted emails are basically unrecoverable in Gmail and Google Support will not be able to help, so whether it's as the result of a hacker or you've accidentally deleted your own emails, you'd better hope you have a backup.
It's not just hackers that you need to be concerned about. Gmail have been known to delete accounts for spamming or other use against their terms of service. In many cases this is because a hacker has gained access to the account against the user's knowledge, but even so, Google states that it is not possible to recover messages after an administrator has deleted the account.
How to Backup a Gmail Account: Offline Backup
One way to back up Gmail account is by downloading all your emails to a software email client like Outlook or Mac Mail. By doing this you'll ensure that you always have a local copy in case of data loss from your online account.
For future emails, you could set up mail forwarding in Gmail to forward all your emails to a secondary email account, which your email software then downloads, however only your incoming emails will be forwarded, not emails that you send to other people.
You can also download your existing messages by configuring your email client to connect to Gmail via IMAP. This will synchronize your email accounts so it should download all your old emails as well as your sent items.
The main disadvantage of backing up in this way is that if your hard drive crashes or you spill coffee in your laptop and damage it, you'll also lose your local version of emails. While it's possible to download them again, this is quite a hassle and takes time so it's best to also do regular backups to an external hard drive or cloud backup service.

Downloading messages and files to your local computer also takes up valuable disk space, which is certainly a consideration if you have many years of emails with large attachments to back up.
How to Backup Gmail Emails: Automatic Cloud-to-Cloud Backup
Rather than the time-consuming method of downloading emails and multiple backups that is needed to secure data locally, it is much more efficient to use a secondary cloud backup service and backup your Gmail account there directly.
As well as saving you download time, through scheduled cloud backup such as Spinbackup, the process is completely automated so you can simply "set it and forget it" and never have to worry about making backups again.
Spinbackup offers two different backup services: for business or personal use. For each service, your Gmail account can be backed up both manually and on an automatic daily basis. The business account allows domain administrators to back up accounts for all users. Spinbackup for Business is the best G Suite backup solution for SMBs and educational institutions.
How to Backup Gmail with Spinbackup for Business
For G Suite for Education/GSFE
As an administrator of the G Suite enterprise account, you can set automatic backup for individual users or for all users. Sign up for Spinbackup, and automatic backup for all users will start the next day.
To check the default settings for the entire domain go to: Menu 'Settings' -> 'Services backed up'.
These settings are relevant for all new users.


You can turn the automatic backup on or off for each user. Go to:
Menu 'Users'
Click the '+' next to users you need
Tap 'Auto-backup On/Off' button
Change 'Update autobackup setting' as you need.
There are also check boxes you can select if you wish to backup the spam and trash folders.

For manual backup of individual users, click the '+' next to each user name to expand the list of Google services. You can then click the 'Backup' button to run a manual button.

How to Backup Gmail with Spinbackup for Individuals
For Personal Google Account
Backing up your Gmail account with Spinbackup is quick and easy. First, sign up for a new account. After logging into your account, select "Gmail" from the list of Google services in your dashboard and press the "Backup" button.

If you only want to backup some of your emails, select them with the checkbox before pressing the backup button.
Remember that automatic daily backups begin the day after the registration, without any additional configuration. You may choose the frequency and time of the backup and choose between a total backup or backup of selected files only.