When it comes to the education sector, reliable software is a key factor to ongoing success. With modern platforms and applications such as G Suite for Education (formerly known as Google Apps for Education or GAFE), students and teachers alike can benefit from the scalability and reliability it offers. However, security and backup are both crucial to its success, which is why Google for education backup services are so popular. Let's take a closer look at why reliable GAFE backup and security solutions are so important for Google users.

Google Apps for Education (GAFE) Security
G Suite for Education (GSFE), previously Google Apps for Education (GAFE), was launched in 2006 and now has more than 40 million users worldwide. With an amazing growth rate of 41%, the company estimates that it will have around 110 million users by 2020. This means that the need for security and backup facilities are huge. GAFE security is important for many reasons, including compliance and effective data management, as the education sector has a growing need for data protection.
GAFE is free for schools and Google offers support at no cost, 24/7. Your data always remains your property and there are never any ads. The system allows you to easily share and edit files in real-time, which is great for student projects. Everyone is on the same page, and you can easily enjoy G Suite on any device.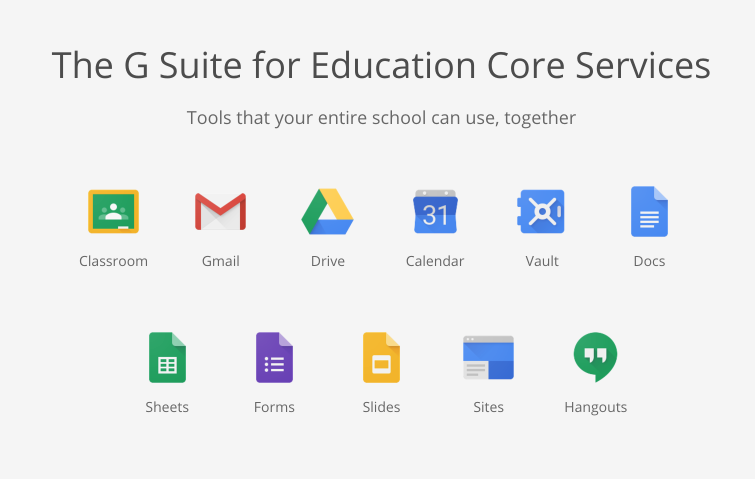 Some of the apps you can enjoy as part of GAFE include Google Classroom, Gmail, Drive, Calendar, Sheets, Sites, Hangouts, and more. This gives students and educators a wealth of tools to not only make the most of their classroom but also share files and stay updated wherever they go.
Google Classroom
Google Classroom allows classes to stay organized and communicate effectively. It's a learning platform to allow groups or classes to create, distribute and grade assignments in an exciting paperless manner.

There are many great features of Google Classroom; teachers can attach files for students to assignments, they can monitor the progress of each assignment, and return an edited paper with comments for a student to review. Google does not show ads on this platform, nor do they scan user data of students, faculties and teachers.
Google Apps for Education (GAFE) Backup
Data loss is more common than we think, with the higher education industry accounting for 17 percent of all reported data breaches. There are quite a few reasons of data loss in cloud applications:
Accidental deletion;

Data loss during migration;

Overwriting with incorrect data;

Hackers or malware attacks.
It is crucial for academic records and information to remain secure, and in the event of a malicious attack, backups must be instantly available. Students need to rely on communication, data and important information to be available to them at any time, which is why it's important to guard against accidental data loss and even malicious attacks.
Here are the three main reasons why data security and backup are so important for GAFE:
Effective Data Management
Data is considered one of a company's greatest assets. With the ability to instantly access older data and restore lost files, GFSE admins are capable to make sure their G Suite data is effectively protected and remains intact. This is important for any industry, as data is often one of the major influencers when it comes to making business decisions.
Guard Against Hackers and Malicious Attacks
Thousands of businesses fall victim to malicious attacks every day worldwide, and the education sector is no different. In the event of a hacker attack, you need to know that your data is safe and secure, and can be easily restored.
Making use of a reliable G Suite security solution, you will benefit from an automated system that will do backups at specified intervals. Therefore, you don't have to waste time manually backing up data of every user within your domain.  
Deploy Spinbackup at Your Educational Institution and Stay Safe!
The education sector relies on stable data and systems, making G Suite the perfect set of tools to work with. As important data is shared among faculties and students within GFSE, reliable backup and security features are essential. You need to have the right Google  Apps for Еducation backup facilities, to ensure data integrity and file recovery when necessary.
Spinbackup is perfectly tailored to the needs of educational organizations. Here, all necessary applications, including Gmail, Drive, Calendar, Contacts and Sites are backed up with their initial hierarchy 1 or 3 times a day. As all Google Classroom materials are automatically uploaded to Google Drive folders, they also become protected. Spinbackup is proud to be the world first vendor to introduce Google Team Drives backup & recovery that is an essential Drive feature for educational organizations.
In a comprehensive package of advanced backup, recovery and cybersecurity services, Spinbackup for Educational organizations lets GFSE admins:
Spinbackup is an advanced GASE Security solution that perfectly adds value to your G Suite. You can sign up for a free trial and start using Spinbackup for Education today. Check out Spinbackup's pricing for G Suite and watch our Demo Video!