If you rely on Google Calendar to stay organized and productive, you can't afford to be blocked from using it, ever.  But that happens more often than you'd expect, given the size and power of the Google company.  People  using Google Calendar to manage their workday and social lives, should regularly implement Google Calendar backup.
Why is Google Calendar so Popular?
In April 2016, Google Calendar celebrated its 10-year anniversary. Since the app graduated from Beta status in 2009, it has come a long way in terms of functionality and features.
Some of the newest features this year include:
Goals

– if you're aiming towards a new goal such as working out more, you can add it as a new goal in the Google Calendar app. The app will ask you how often you want to work on your coal and the best times for doing it and then will literally make time in your calendar so you can't forget or put it off until later.

See Google Calendar events in Google Maps

– if you've added an address to the "where" box when you add a new event to Calendar, it will show up automatically as a pin in Maps

Reminders

– reminders have been available on the Android and iPhone app for a while, but they're now on the web version of Google Calendar too. Reminders appear at the top of your calendar until you mark them as "done".

Find a time – find meeting times that work for everyone across different time zones, based on availability and the times they usually have meetings. Calendar will also look into rescheduling other meetings if there are no times that suit.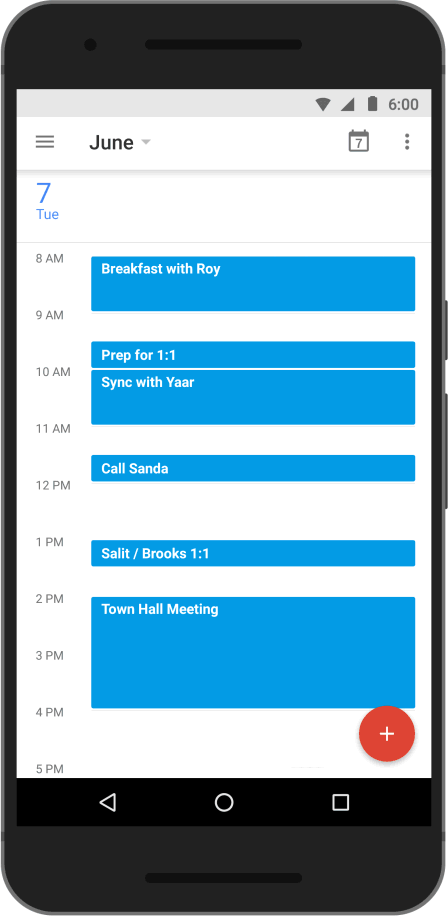 With Google Calendar, you can do much more than manage your appointments.  Despite its name, it has the ability to play much more complex roles in your life.  It can be a project manager, organizational tool and social planner. Apart from the latest features above, some of the in-built functionality of Google Calendar makes it one of the most flexible and powerful calendar apps around:
Searchability – events can be searched by keyword and hashtags can be added to keep track of individual projects
Multiple calendars – add unlimited calendars for different functionality and switch them on and off depending on what you want to see at one time
Sharing – calendars can be shared with colleagues and family members. You can add events to an individual calendar so they can be shared without every item on your calendar being seen
Multi-language – events can be scheduled and searched in dozens of different languages
Automatically added calendars

– world holidays can be imported, based so wherever you are in the world you'll be aware of national holidays

Add events from Facebook to Calendar – birthdays and upcoming events can be imported directly into your Google Calendar
Agenda view – a timeline view of events in your calendar that can be used in project management as a visual overview of deadlines and milestones
Receive email reminders of important events – you can also choose to receive a reminder as a browser popup or SMS message
Sync the local weather report into your calendar.
Backup Tour Google Calendar Data!
As the number of Google Calendar users continues to grow globally, more people are becoming reliant on its features and any periods of downtime or inaccessibility will have a huge impact.
People all over the world now use Google Calendar to schedule business meetings, appointments, remind themselves of birthdays and plan trips away. All this vital data is stored in Calendar and it would be a disaster if it were lost.
Google Calendar also suffers outages.  Not only that, but also these outages occur far more often than most people feel comfortable with. Google's Apps Status Dashboard shows a day-by-day account of recent outages on every Google app, including Google Calendar.
Back in June 2016, Google Calendar was down for two hours, causing huge disruption to people relying on it for work and social events (one user who complained was using it to plan a wedding two days later).
Doesn't Google offer a backup of Calendar?
Sure, Google offers an import/export feature so you always have an offline version of your events.  However, that feature is far from sufficient for most users.  And for people using the app more like a PM tool than a simple birthday reminder, Google's export/import feature is truly inadequate, and for more than just a few reasons (four, to be exact!).
Want the details?  See our earlier post here on the shortcomings of the Google Calendar import/export feature.  Our own stats show that, among our clients the most backed-up app was Google calendar.
How to Feel Confident Using Google Calendar?
A third-party backup provider that stores your backup on the cloud (not your device) is the only sure way to know your Calendar data will always be accessible when you need it, day or night.
Our Google Calendar backup service offers frequent cloud-to-cloud backup that's as secure as can be.  The restore feature offers you 100% accurate recovery and it even uses the same folder hierarchy so you can get back to your life as quickly as possible after recovery.  (Who wants to sit around recreating all that?)

For businesses, our cloud-to-cloud backup and recovery solutions offer the same peace of mind, but on a larger scale to ensure your company keeps running smoothly and securely no matter what. Starting at just $3 per month per user, our service is used by more than 25,000+ users and 2,000+ companies across more than 200 countries. Check out G Suite pricing!
It's good to know the world is getting smarter and faster, but backup makes us all more secure as well!
Here's what our customers are saying about Spinbackup's data protection solutions: