Google has recently extended its DLP features from Gmail to Drive. SpinOne, a Cloud Cybersecurity solutions provider for G Suite that focuses on securing company's business data stored at the Google ecosystem, has recently announced new Data Protection solutions for G Suite as well. What is the difference between these solutions? Which is better, original Google DLP or independent SpinOne security service?

Google DLP and SpinOne Data Protection: Which Is Better?
The quick answer is: neither is better, they are just different. In previous posts we have gone more in depth about the Google DLP and SpinOne Data Protection for G Suite features, so now we'd like to highlight the differences between them. By understanding more about the features and benefits of each solution, it will be clearer to see what service you need to protect the data of your organization.
Google DLP for Gmail and Drive
Google Data Loss Prevention is a set of automated functions that monitor Gmail and Google Drive items for triggers (specific content defined by domain administrator), detect it, and prevent it from being maliciously or accidentally leaked or lost.
The system scans Gmail messages and Drive files for the triggers, and, if detected, takes the action predefined by the administrator. Administrator creates a rule where he or she sets up what messages or whose files will be monitored, what kind of content is considered sensitive and what action should take place in case the sensitive content is detected. DLP system then scans the predefined messages or files for required content and takes the appropriate action.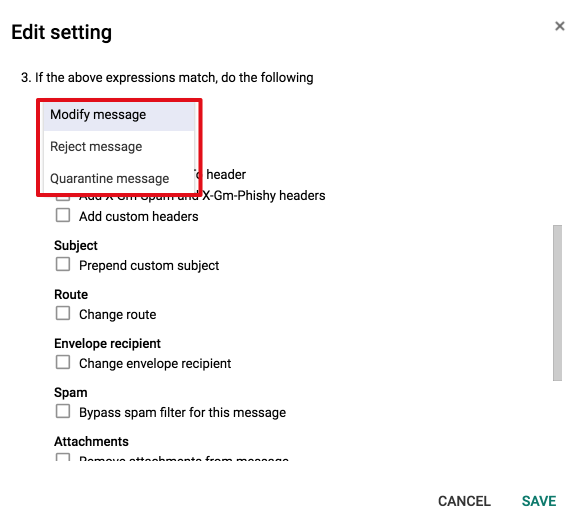 In addition to sensitive data detection, Google DLP for Drive includes the Sharing Files policy. It detects files shared with people outside the organization and takes the proper action predefined by the administrator. DLP can detect files shared outside the domain or outside the domain + the list of permitted domains. Sharing of files consistent to the rule can be blocked, or their ownership can be transferred.
Reports and notifications are available for Drive DLP but currently are not provided for Gmail.
SpinOne Data Protection for Gmail, Drive and Other G Suite Apps
SpinOne Data Protection for G Suite is a set of security features to protect organizations of any size against data leak and loss disasters in the cloud by letting G Suite administrators back up their sensitive data, identify security risks, and fix them before they become a huge disaster. SpinOne helps organizations gain more control and visibility over data security by providing an additional layer of protection from third-party apps connected to their G Suite account, insider threats, and sensitive data security beyond what Google can offer.
SpinOne Data Protection for Gmail and Drive includes Credit Card Number Detection and Data Audit of Shared Files. These functions, despite similar names, are different from that of Google's. They are called upon to protect companies from security disasters with the powerful tools of monitoring, detection, notification and reporting that are not available in the Google admin console. A security risk audit for every user activity, detailed informative dashboards, wide range of response action plans and downloadable reports all give the administrator a comprehensive picture of his or her company's data security level and – most importantly – grounds to introduce modifications into the Google DLP strategy to adjust it to the new circumstances and threats.


All messages containing sensitive data and items shared outside the domain are separated to a dedicated dashboard in the Data Audit section. Every suspicious activity is registered at the Domain Audit section with a specific risk level. Alerts about each incident are sent to the G Suite administrator's email and / or Slack. This allows the administrator to be notified (in contrast to Google DLP) within and outside the G Suite when a new message with sensitive data is sent or received or the file is shared outside.
SpinOne gives the administrator a wide range of actions that can be taken for such items. By the end of the second quarter 2017 all security and disaster recovery features that are currently available for Drive, including Credit Card Number detection, Data Audit of Shared Files and Trash Bin Tracking, will become available for Team Drives.
In addition to Data Audit protection features, SpinOne protects organizations from various insider and outsider threats with a set of the following security tools:
Apps Audit

security risk audit for 3rd-party apps,
apps blacklist with automated deletion from employees' devices;

Domain Audit

security risk audit for employees' activities,
abnormal cloud-to-cloud transfer and local downloads detection,
trash usage analytics,
user authorization control;

Disaster Recovery Solution

restore-in-time machine and full account version control for data backup and recovery,
data download and migration within and outside the domain,
blacklist for infected emails recovery.
As you can see, SpinOne is not only about Gmail and Drive. It is a comprehensive tool that protects your G Suite data from Leak and Loss at the same time, combines monitoring, detection, reporting and protection features and lifts organization to a new level of data security. And all these – in one dashboard, one invoice, one support.
Access to Features and Pricing
According to Google's pricing policy, DLP features are available for enterprise organizations only and included in the Enterprise plan only. To find out the price, you have to contact the Google sales team and ask. You must have 200 accounts minimum, and you have to prove that you are a real enterprise. An approximate price is about $300/user/year (based on different sources).
SpinOne's DLP features are available for all types of organizations and would cost you just $60/user/year for the Cybersecurity & Backup plan. We provide huge discounts for educational organizations.
Key Differentiators
As you can see, key differentiators of Google DLP and SpinOne Data Protection are:
Google DLP's primary focus is to prevent a disaster , while SpinOne provides monitoring tools to protect your data against a disaster (once it has happened and Google DLP couldn't help).
SpinOne is a must-have tool for every Google organization. It's an advanced data protection solution that perfectly adds significant value to Google DLP, that said, SpinOne and Google DLP are the most sophisticated strategy for data security in your organization.
SpinOne is an independent cybersecurity provider with its own secure cloud storage (AWS based) and engineering team. Thus, it provides an additional layer of your data protection. Don't put all your eggs in one basket.
SpinOne supports all sizes of organizations including small, medium, educational, and enterprise.
Enhance your security strategy. Try SpinOne for free now!