If you've logged into your Google Drive recently, you may have noticed a new link to "Backups" in the main menu: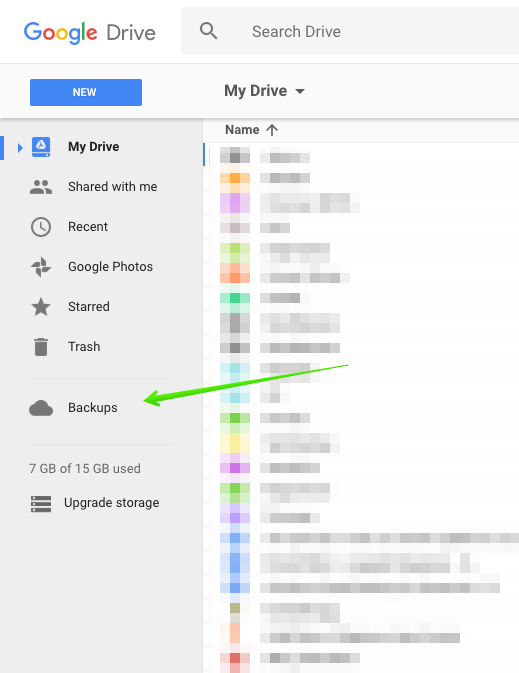 Clicking on this backup link will show you all your recent backups from mobile devices and apps like WhatsApp.
Google Drive Backup
Google Drive Backup for mobile devices is not a new feature. Android users have been able to back up their data since the Marshmallow update. However, the feature is now easier to find, and it's also available for iPhone users. The primary purpose is to make it easier to switch to an Android phone.
You can view the details of each backup by clicking its name, including the date, device, and amount of data backed up. You can also delete any old or unnecessary backups.
If you don't see anything in your Backups folder, it could mean that backups are not turned on for your mobile device. Or it could mean that you haven't done a backup yet. You can activate this in your Android device settings under "Backup and reset".
While it may seem convenient to have access to backups directly from your Google Drive, this feature is not actually a full backup as it first may appear. The "Backups"  feature was designed to store and safeguard your mobile device data, including contacts, calendars, camera roll, and WhatsApp conversations. This enables you to effortlessly restore the information to another device or reset your original device for any reason.
This backup feature does not provide a total backup of the files stored within your Google Drive, your emails, or most of the other data contained within Google Apps.
To safeguard your Google Drive data and ensure it is recoverable in case of corruption or accidental deletion, deploy Spinbackup cloud-to-cloud backup service.
Spinbackup is an automated daily backup that will save all your data stored within Gmail, Google Drive, Google Contacts, Google Calendar, and Google Photos. Backups from any point in time can be easily restored with a simple click in just a few minutes.
The Google Drive Backup feature can protect some of the data on your phone if it's lost or you want to transfer it to a new device. However, it's not enough to back up all the essential data like files, emails, and other important information stored in Google Drive.
Another important point to note is that the backups saved within Google Drive will count against the 15GB of free storage that comes with your account. If you need more storage (which can happen quite quickly when you are backing up photographs and videos), you will need to pay monthly or annually for a Google account with more storage space.
Spinbackup offers up to 4GB storage for free for individuals (this does not count against your Google account data allowance) and $2 per month for up to 50GB of data storage.
How to Use Google Drive Backups to Migrate Data from iOS to Android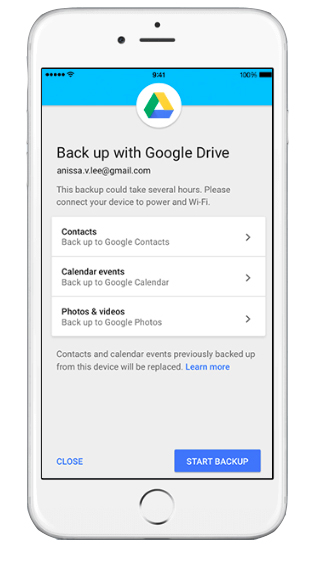 One of the most useful aspects of the new backups feature is that it makes it easy to move your data across platforms if you are changing from an Android mobile device to an Apple mobile device. This was previously quite a tedious and complicated process.
First, install the Google Drive app onto your iPhone or iPad. You can then access the Backup menu from settings and choose the items you wish to backup. This includes contacts, calendar events, photos, and videos.
When you click "start backup", the data will start migrating to Google Drive. The app needs to remain open until the backup is finished and it may take several hours, so it is advised that you connect your device to power and leave it while the data is backing up.
Once you've signed into your Android device with your Google account credentials, you can access the backup and restore the data onto your new device.
You can see more details and advice about making the switch at the official Android website.
How to Backup Your Google Drive Files and Gmail Emails
Remember that using the Google Drive Backups feature will not back up your files stored within Google Drive or your emails. It will also not back up photos that are stored within Google Photos that are not on your mobile device.
Google Drive data is not automatically backed up. The files are stored in the cloud, meaning you do not need to physically save them, but if you delete a file from the cloud, it will only be recoverable up to 25 days after it was deleted. Deleted emails are stored in the Trash folder and are kept for 30 days before they are permanently deleted. Once out of this grace period, it is unlikely that you will be able to recover your lost data.
To ensure your Google Apps data is properly backed up, you can use Spinbackup automatic daily backup service, which will run in the background and backup all your data securely to external cloud storage so it can be recovered easily when needed.
This online backup service is free for individual users to backup up to 4GB of data and is quick and easy to set up – you can open an account and start backing up your data today.