We are happy to announce the official release of our new product, SpinOne for Business for Google Workspace.
Google Workspace (formerly Google Apps for Work) is used by businesses all over the world to communicate, collaborate, manage and store files.
While there is a lot of discussion around the security of storing data in the cloud, cloud based services usually have strong security measures in place. The main aim of SpinOne is not to increase the security of cloud storage, but rather to prevent problems that occur due to human error.
It's very common for users to delete a key file accidentally or even on purpose for malicious intent. It's also possible for an employee to steal corporate data for the same reasons. Third party apps also have access to your data and the power to delete it
About 79% of businessmen and 67% of businesswomen use potentially risky apps every day, putting the integrity and security of company data at risk. By using SpinOne, companies can eliminate this risk and make the cloud eco-system as secure as possible.

What is the business version of SpinOne for Google Workspace (G Suite) about?
SpinOne for Business provides both cloud-to-cloud backup and cloud cybersecurity solutions in one comprehensive package. We have safeguarded individual customers information against data loss for several years. And now we are happy to protect businesses with an additional layer of security in order to prevent data leaks. This ensures that your data is both backed up and completely secure, without the need to implement several different software solutions and services from different providers.
The service can be used on the full set of Google Workspace apps that are used to store data including:
Gmail
Google Drive
Google Calendar
Google Contacts
Google Sites.
The service is an affordable solution for small and medium businesses and educational institutions. It is financially efficient to use one specialist provider for both data backup and data protection needs and the SpinOne service runs 24 hours a day, 365 days a year without taking days off for vacations or sickness.
The service is suitable for educational organizations including K-12 and Higher Education institutions, which commonly use Google Apps for Education.
Learn more about Google Workspace (G Suite) back up.
Google Workspace Backup and Recovery. Cloud-to-Cloud Backup
Why choose SpinOne over other backup and security solutions for business? We are confident that we offer the most comprehensive set of features compared to any other service:
Automated daily backup – encrypted daily backup to a secure Amazon S3 cloud storage with real time access to backups and the ability to backup employee accounts manually.
Accurate recovery – restore accounts through time machine to the exact state they were in on a certain day, preserving file and folder hierarchy along with data.
Secure migration – easily migrate data from one Google Workspace account to another one.
Local downloads – download backed up data from your SpinOne account to any other device.
Version control – access any version of your backed up items including all files and folders structure.
User management console – a centralized user management system to backup and recover data from individual accounts for Google Apps administrators.
Data encryption, OAuth2.0, 2-Step verification – the most secure AES 256-bit encryption used to protect backed up data in transit and at rest.

Google Workspace Cybersecurity/ Google Apps features
Is your data as secure as you think it is? Data leaks and breaches of confidential information cause huge problems for businesses. We provide the following comprehensive cybersecurity solutions:
1. Cloud Apps Audit
The Cloud Apps Audit provides a quick visual glance at the overall security level of 3rd-party apps that have access to company data stored in the Google cloud: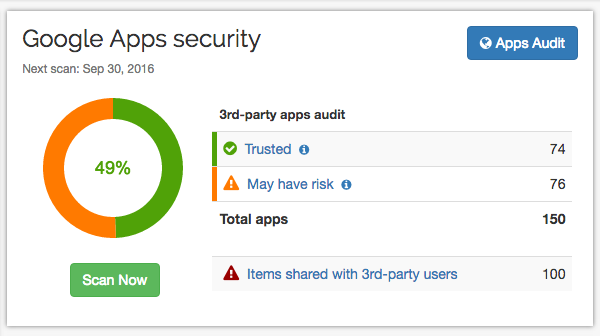 You can get an overview of the security for your company data as a whole and also see a security score for each 3rd-party app installed.
Automated daily scan of 3rd-­party apps identifies:
Risk level of the app
The type and description of the app
Employees it has access to
List of permissions granted to the app

*Please note that SpinOne uses its own expertise to evaluate 3rd-party apps.
Each 3rd-party app is given an individual security score and details of any issues that may result in a security risk. Administrators can then choose to either mark the app as trusted or remove access to it:

3rd-party apps are scanned automatically on a daily basis or manually on demand. They can be viewed and managed from the central administration panel.
It's important to monitor the security of 3rd-party apps that have access to corporate data and make it possible to transfer sensitive corporate data to a private cloud storage, or delete critical files.
Installed 3rd-party apps may reduce the level of security in your organization because:
They have access to any of your Google Workspace services
They can access all the data at your Google Workspace (G Suite)
Once given access, they will always have it unless it is manually removed.
In SpinOne, apps are assigned one of three trust levels:
Trusted
May have risk
Risky

Managing all 3rd-party apps at the same place gives administrators the power to block risky apps, monitor apps that have access to company information, and be aware of violations of privacy or company policy.
2. Domain Audit (Employees Behavior Audit)
As well as monitoring the apps that have access to corporate data, it is equally important to get a full visibility of employees activity to spot any irregularities in their account, enacting Google Workspace insider threat control.
The domain audit provides a visual overview of user actions in the real time mode and their associated risk:

SpinOne's adaptive machine learning algorithms provide real time monitoring of each employee to identify potential business Google Workspace risks.
Unusual behaviors will trigger an alert that can be investigated by an administrator. These includes:
Granting access to risky 3rd-party apps.
Sharing files public or with 3rd-party users outside the domain.
Irregular login from unexpected location.
Migration of data from the corporate cloud storage to private one.
Abnormal downloads from the corporate cloud storage to a local device.
The actions of employees can be reviewed for abnormal behavior and potential risks:

3. Security Alerts and Automated Suspension.
Google Workspace (G Suite) administrators are going to get notified about every security threat detected by SpinOne cybersecurity for business due to integration with Slack or Gmail. Notifications are easily customizable from the dashboard and you can choose whether to receive all alerts or only the highest risk alerts:

As well as the ability for administrators to manually revoke access to risk apps and users with abnormal behavior, it is also possible to set automatic suspension of abnormal cloud data downloads and migrations.
To sign up for a free trial, visit https://spinbackup.com/free-trial/
You can also check out our new solution at Google Apps Marketplace — SpinOne for Google Apps.