Google Workspace, formerly G Suite, is one of the most popular tools for collaborating on documents. It is being extensively used by companies of all sizes. That's why preventing data loss becomes one of key tasks for companies' IT security teams. Google Workspace DLP (Data Loss Prevention) tools can be of great help.
Organizations today that already have a presence in the public cloud must take Google Workspace security very seriously. The same seriousness applies to those looking to establish a public cloud presence in the near future.
Modern businesses with digital resources must be concerned with data security on-premise. The same concern applies to data in the public cloud. Google Workspace administrators must adhere to certain security best practices. This ensures the security of sensitive information and identity resources residing in the public cloud.
However, organizations must focus on data loss and data leak prevention, two key areas of Google Workspace (G Suite) security. These areas are crucial when it comes to protecting business-critical data in the public cloud. Losing or leaking business-critical data into the wrong hands can have severe consequences for an organization. This can result in both legal and financial repercussions.
Let us take a closer look at the two problem areas mentioned above: data loss and data leak. Both of these are significant concerns within the context of Google Workspace public cloud services.
What are the major security concerns that lead to data loss and data leak and how can these be prevented?
Enhance your Google Workspace DLP with SpinOne's extended functionality.
Try SpinOne
Data Loss Prevention for Google Workspace: Best Practices
Google Workspace DLP is ultimately important for preventing the loss of business-critical data, which can be devastating for any organization. Data is the "new oil" of the digital world.
Businesses these days live and die by data or the lack of it. It is the lifeblood of today's organizations living in a highly digital world. As mentioned, data loss is a tremendous concern for businesses, especially as they move to the public cloud.
Often on-premise backup processes that protect data in private enterprise data centers don't extend well to the public cloud. Intentional or accidental deletion of important data can create serious issues for organizations.
Data loss can occur due to intentional or accidental deletion. It can also result from the widespread malware of today, including the feared "ransomware" variants. These can render an organization's data useless through the undetected encryption of files, folders, and more. Whether the data is lost due to deletion or ransomware, both scenarios pose significant risks of data loss.
Organizations must take the risks of data loss very seriously and ensure Google Workspace data loss prevention is in place. Data breaches are becoming increasingly common and can result in sensitive information falling into the wrong hands. Using powerful cloud-based solutions, organizations must accomplish the following to prevent data loss:
Let's examine the objectives of each of these types of data loss protection. Understanding how each can play a powerful role in shielding organizational data from unexpected loss is crucial.
Effective Cloud to Cloud Backups
One of the most effective means of security that often is overlooked is backups. Backups in themselves are a security mechanism. This can protect against accidental damage to data.
In fact, over 50% of data loss issues are the result of end-user mistakes. Backups also protect against intentional damage to data caused by a disgruntled employee or an attacker.
Organizations that are new to public cloud environments often incorrectly assume that public cloud vendors have robust backups of their data included in their storage plans.
Public cloud vendors do offer exceptional resiliency at the service level. However, organizations are ultimately responsible for their own data, particularly when it comes to data backups. By placing data in the public cloud, organizations must be ready to have an effective means of backing up business-critical data.
Backups of public cloud data are extremely important and involve:
Automated backups of public cloud data
During migration, the immediate backup of data
Deletion control – Control who and what is able to delete data
Automated Daily Backups
Backups of public cloud data are extremely important and should be automated. Organizations looking to move to the Google Cloud Platform need to utilize a solution for backing their data securely and automatically. Using a backup tool that lets you easily manage and encrypt your files gives a safe and tailored way to store data in the cloud.
Backup Google Workspace Data During Migration
During migration to Google Workspace public cloud services, organizations are at risk of data loss if backups are not happening immediately. As soon as business-critical data lands in the Google Workspace public cloud environment, it needs to be protected. Make sure to have a solution in place before moving business-critical data.
Have a solution designed to begin backing up data once the Google Workspace (G Suite) data migration begins. This way, data is protected from both sides – both on-premise and in the Google Workspace public cloud.
Deletion Control
Organizations want to choose a solution to be able to monitor the deletion of files/folders across their Google Workspace environment. Data loss disasters can occur when admins don't see the existing damage due to a lack of visibility into deleted data. Deleted data can then rotate off the retention policy of backups and become unrecoverable.
Organizations require a tool to clearly see and recover files or data in Google Workspace that might have been mistakenly or purposely deleted. This allows organizations to be proactive rather than reactive when it comes to data loss in the public cloud.
Ransomware Protection
A word that strikes fear in organizations today when it comes to data loss is ransomware. Ransomware is a new type of malware variant that has gained tremendous popularity among attackers. Instead of simply damaging files, they have encrypted with an encryption key that only the attacker knows. The files are then held for "ransom" until the infected user provides payment, generally by anonymous currency such as bitcoins.
Related Link: Ransomware Ecosystem: How Hackers Cash Out Bitcoins
WannaCry, Petya, Bad Rabbit, and others have recently made headlines across the world, as business operations of large corporations have been brought to a halt with the above ransomware infecting cloud business-critical systems. New variants are developed each day.
Many have mistakenly thought that simply moving data to the public cloud, either Google Workspace or others, protects them from malware or specifically ransomware infections. However, this is not true. Often, public cloud data storage will utilize a synchronization process from on-premise workstations to public cloud data. If local copies of data are encrypted, these ultimately get synchronized to the public cloud as well.
An effective Ransomware Protection Solution provides:
Ransomware Detection
Automated Blocking of Encryption Processes
Automated Restore of Encrypted Files
A Versioning System
Ransomware Detection
An effective Google Workspace (G Suite) ransomware protection solution for public cloud data includes ransomware detection. This allows organizations to be alerted to suspected ransomware events as well as to be proactive, having the visibility they need to stop the attack. This helps mitigate the scope of the attack drastically, as in the case of data loss, by the time a ransomware event is detected, the damage has already been done.
Automated Blocking of Encryption Processes
Aside from being alerted that a ransomware event is taking place, a truly effective ransomware protection solution would enable organizations to have an automated process to mitigate the attack in real time as well. This includes blocking the attack source in real time and being able to automatically identify the number of damaged files.
Automated Restore of Encrypted Files
An effective Google Workspace ransomware protection solution for public cloud data would also provide the ability to automatically restore encrypted files. Identifying file damage from ransomware, if done by hand, can be tedious work! Running a recovery process for those damaged files can be equally tedious. Having a solution that can automatically remediate ransomware infections can provide a powerful security mechanism for organizations moving data to the public cloud.
Versioning System
Should backups of public cloud data only include one version of your files/folders? A potent ransomware protection solution includes the ability to provide multiple versions of files and folders stored in the public cloud. This provides the ability to have multiple versions to revert to when it comes to restoring data. Google Workspace administrators want to have the ability to restore multiple versions of files if need be.
SpinOne – A Powerful Google Workspace Data Loss Prevention (DLP) Solution
How do organizations accomplish successful data loss protection in Google Workspace today? SpinOne offers a powerful solution to protect organizations from data loss by including state-of-the-art cloud-to-cloud backup as well as ransomware protection for Google Workspace environments. Let's see how SpinOne protects Google Workspace environments with its backup and ransomware protection features.
Cloud-to-Cloud Backups
SpinOne produces powerful cloud-to-cloud backup by providing automated daily backups of Google Workspace environments to Amazon Web Services storage. The data copied from public cloud providers is encrypted both "in-flight" and "at rest" so that it is both secure when transferred over the network and while retained on disk. SpinOne performs a full backup of data and then incremental backups that include metadata versioning and account snapshots after each backup. This allows restoring lost items or even entire accounts, with one click!
This granular, versioned, restore the ability of SpinOne is called "Restore in Time Machine". This allows "going back in time" so to speak, to recover deleted files, etc.  SpinOne also incorporates a Lost & Found snapshot feature that places all deleted items there by default.

Clicking the Lost & Found button displays deleted files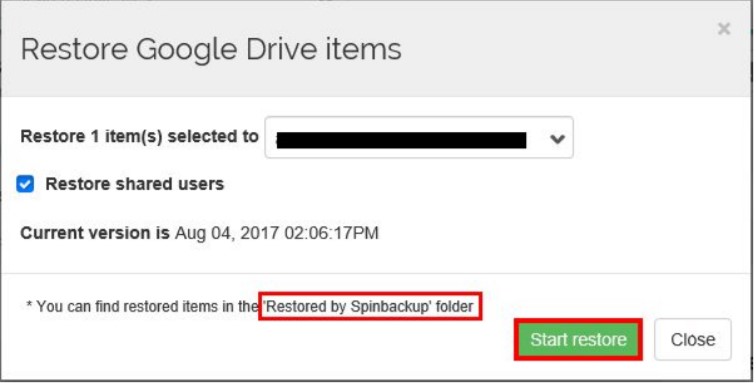 SpinOne's one-click restore
Ransomware Protection
SpinOne protects organizations from the damage inflicted by ransomware attacks by implementing a powerful Data Protection Algorithm:
Detecting the attack
Blocking the source
Identifying the number of files damaged
Automatically recovering encrypted files
This provides both ransomware detection as well as automatic ransomware recovery.  SpinOne detects a ransomware infection underway and automatically blocks the offending source of encrypted files sync, then alerts Google Workspace (G Suite) administrators. Powerful algorithms help to identify the number of files that have been damaged. The auto-recovery process can then automatically begin to restore the damaged files.

Ransomware protection allows to automatically recover encrypted file
Google Workspace Security Policies for Data Loss Prevention (DLP)
The new Google Workspace Security Policies offered by SpinOne allow organizations to have granular control over cybersecurity settings for Google Workspace public cloud environments. By utilizing the Data Audit Policies, fine grained control over ransomware protection policies can be defined.

Thoughts
Data loss in the public cloud should be one of the major security concerns for Google Workspace administrators, as losing business-critical data can lead to disaster for brand reputation and customer confidence. Having a true Data Loss Prevention (DLP) solution such as SpinOne allows organizations to
move to Google Workspace public cloud
environments with confidence.