One of the powerful features of public cloud environments such as Google Workspace (G Suite) is the ability to take advantage of the huge ecosystem of third-party apps available. The third-party apps found in the Google Workspace marketplace offer a wide range of quality, enterprise focused apps that add functionality and features to the native Google Workspace environment. These can include many useful applications to organizations such as CRM apps, Project management apps, and Admin tools. These are easily accessed from the Google Workspace environment with a Google account. While third-party apps offer tremendous business value to a Google Workspace organization, they also present an inherent danger to the overall security stance of a Google Workspace environment.
Any risky third-party applications that are integrated into the Google Workspace organization can potentially have security vulnerabilities or malicious intent that can potentially either corrupt or leak data outside the Google Workspace organization. Let's discuss Google Workspace Security best practices and the importance of Google Workspace administrators controlling and monitoring risky third-party applications integrated into the Google Workspace environment, the risks posed to organizations by some third-party apps, and how Google Workspace administrators can utilize tools such as SpinOne to ensure Google Workspace security risks are avoided by enabling risky third-party apps control.
High Risk Apps Control – Why Important to Google Workspace Security?
As mentioned, there is a wide range of high risk applications that can integrate nicely with a Google Workspace organization and extend functionality and features. Despite the efforts of Google and other cloud services vendors in screening applications to make sure they are safe, risky applications exist in the marketplace. Also alarming is the ability of risky third-party applications to be easily integrated by end users into an unmonitored or uncontrolled (third-party apps) Google Workspace environment.
In general, most end users have an inherently "trusting nature" when it comes to third-party apps requesting permissions. Most end-users will simply allow any requested permissions from a third-party app during installation without questioning the need or reason behind certain levels of requested access. A very common permission requested by certain third-party applications that integrate with Google services is access to read/write/modify data on Google Drive. If the application is granted access to Google Drive permissions assigned to that particular Google Workspace user installing the app, it can potentially delete, corrupt, or leak company owned Google Workspace data under the assumed Google Workspace user permissions.
In thinking about ransomware infecting a Google Workspace environment – What if the newly integrated/allowed third-party application has intent of injecting ransomware? Any file the end user has access to, the third-party app would then have the permissions to encrypt. This is certainly alarming considering the ransomware attack vector could be coming from thousands of end user devices from various Google Workspace user accounts.
Also concerning for organizations today is "data leak". What is data leak? Data leak involves the unauthorized copying or moving of company owned data outside an authorized environment. In this case, the authorized environment would be the Google Workspace (G Suite) environment. Data leak events include those making news headlines when important information is leaked outside of the organization or customer data is exposed to unauthorized users or attackers. Data leak publicity can irreparably damage business reputation, possibly to an extent that a business cannot recover from. Google Workspace administrators must take data leak of any information outside the Google Workspace environment seriously. This includes knowing what information is shared outside the Google Workspace environment by end users as well as what third-party apps are integrated and what they have access to.
Keeping watch over and maintaining security in today's public cloud environments such as Google Workspace (G Suite) can seem like a daunting task. This is so especially with the aforementioned Google Workspace security concerns posed by end users integrating third-party apps into the cloud environment. Monitoring and controlling a Google Workspace organization can be a challenge for Google Workspace administrators. Every end user may have various devices, either company-owned or BYOD that are integrating into a company Google Workspace organization. This means that Google Workspace administrators have to by necessity have visibility to all end user devices, integrations, and activity to effectively monitor and maintain security in the Google Workspace environment. Using native Google Workspace tools, having the ability to successfully monitor, control, and mitigate risks under a "single pane of glass" is no trivial task.
Securing Data in Your Public Cloud is Your Responsibility
Many organizations mistakenly think that providing secure, reliable backups of data in the public cloud is the public cloud vendor's responsibility. This same mistake can also be made with securing data in the public cloud. Organizations might assume that public cloud vendors might hold some responsibility with ensuring public cloud data is secure. Also, when thinking about third-party apps integration, it is assumed that vendors of third-party apps may also hold responsibility with the security of organization data to which they have been entrusted.
Either of these thoughts or assumptions can lead to disaster for companies that shrug off security and pass that responsibility to a third-party or the public cloud vendor themselves. Ultimately, when it comes to the overall responsibility of sensitive or customer data, a company MUST take firsthand responsibility of public cloud data security. Even if a third-party vendor takes some responsibility for security of data, ultimately it is the company who will be held responsible in the eyes of shareholders, customers, or other stakeholders. No matter who is legally responsible for data compromise, in the eyes of most customers, the company itself is generally viewed as responsible for data leakage. Ultimately, they are also responsible for third-party vendors they choose to allow or trust with data access. After a well-publicized data leak, the brand reputation damage can be more than some businesses are able to recover from.
With the tremendous responsibility of public cloud data security in mind, how can Google Workspace administrators manage the risk posed by high risk cloud applications and monitor integrations and access effectively?
Google Workspace Security: Discover and Assess Risks of Cloud Apps
SpinOne provides a powerful solution that helps organizations today meet the challenge of both monitoring and controlling high risk apps integration in Google Workspace (G Suite) environments as well as gives visibility to which end users and apps have exposed data outside the Google Workspace environment. It does this in a seamless and automated fashion and presents the information in a single pane of glass view for Google Workspace administrators to review as well as provides real time alerting for various security events and actions. It also provides an Incident Response Plan that help to prevent data loss and leak disasters. This allows Google Workspace administrators to take a proactive and offensive approach to public cloud security and protecting sensitive data from possible data leak.
Learn how Admins can effortlessly control the apps with Spin.
SpinOne provides a 24/7 monitor and automated daily discovery of high risk cloud apps that have been integrated into the Google Workspace environment and importantly, that have access to corporate data stored in the cloud. Through powerful machine learning and intelligent AI, it is able to assess the risk to the Google Workspace organization and mitigate this risk. The powerful automated scan and third-party apps control is able to:
Assess the risk level of the cloud app
Determine the type and description of the cloud app
Discover the permissions granted to the cloudapp
List the employees it has access to
Discover the types of connected devices
Setup a "blacklist" of disallowed cloud applications
SpinOne provides detailed information regarding the third-party apps in the environment and the risk posed. Google Workspace administrators can quickly see the following:
Third-party app risk level with description
The type of application type
Employees who are accessing the third-party app Permissions the app has been granted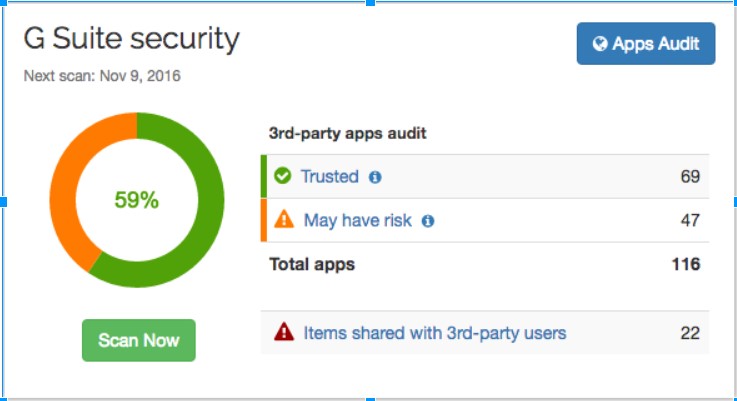 SpinOne Dashboard displays summary of Third-party apps to quickly identify risky apps
Much of the power of the SpinOne Third-party Apps Control comes from the built-in Incident Response Plan. The incident response plan includes manual and automated actions that prevent data loss and data leakage. The Incident Response Plan allows Google Workspace administrators to be proactive by allowing them to:
Quickly revoke access to third-party apps that are deemed risky and have corporate data access
Use powerful machine learning to revoke access based on "abnormal behavior"
Proactively send alerts to Google Workspace administrators notifying them of the security event
Automatically blocking the download of data that is abnormal
Automatically blocking abnormal cloud data migration.

SpinOne CASB (Cloud Access Security Broker) turns Google Workspace (G Suite) environment security into a "living and breathing" entity that is able to function automatically with intelligence, forethought, skill, and precision. Instead of relying on manually policing and gaining visibility to third-party apps integrated into the Google Workspace environment, Google Workspace administrators are able to implement Google Workspace Security best practices without the heavy lifting required otherwise and with intelligent automation.
Thoughts
Much of the power contained in utilizing Google Workspace environments is the ability to extend functionality with powerful third-party apps that allow organizations to be more agile and efficient. However, with great power comes great responsibility for Google Workspace administrators to protect enterprise data from loss or leakage. High risk cloud apps control is not simply a recommendation, it is a necessity! It is not reasonable or realistic for Google Workspace administrators to entrust either a public cloud vendor or third-party app vendor with the security of organization data. Ultimately, it is the responsibility of the business itself to protect and secure public cloud data. At the end of the day, customers, shareholders, and others hold the business responsible for their data and no one else.
Google Workspace administrators have a powerful tool in using SpinOne Third-party Apps Control to automatically scan, monitor, assess, alert, and remediate access by risky third-party apps in the environment. The two-pronged approach of scanning/monitoring and then also implementing an incident response plan is powerful and effective and empowers
Google Workspace administrators
to successfully implement security best practices with risky apps control.