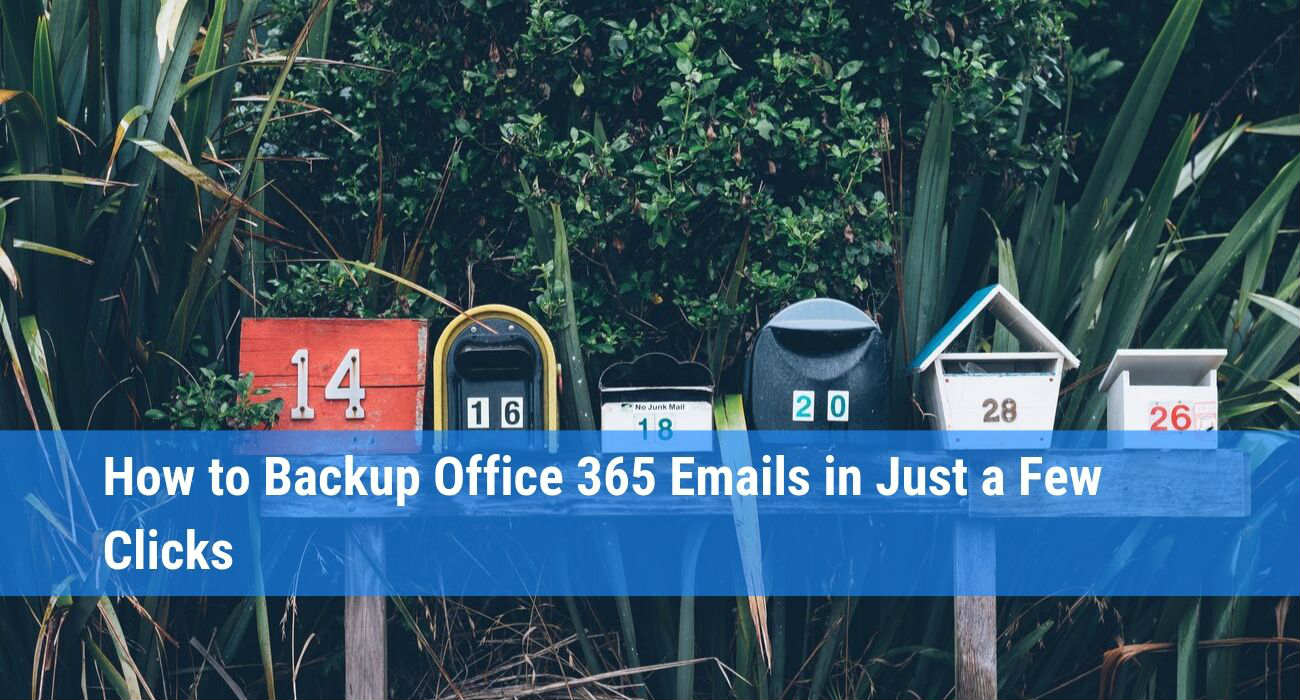 How to backup Office 365 emails if you have a vast number of messages from multiple accounts?  Well, there are many different ways to back up Outlook 365 emails. But not all of them will fulfill your needs in security and functionality. 
Some users prefer to use native tools for this purpose because they are free. Unfortunately, native tools are not a backup.
They don't let you back up vast amounts of data quickly and easily, and they may not be enough to meet compliance requirements. Still, you can use native tools as a temporary solution to back up Outlook emails, and we'll show you how.

As an award-winning cloud security provider, we recommend using professional Office 365 email backup tools to protect your data with minimum effort. A reliable third-party backup tool like SpinBackup is the only way to go if you need your emails backed up, restored, and protected. Below, we'll tell you how to use SpinBackup to back up your emails in a few clicks
Let's start! 
How to Backup Office 365 Mailbox
in a Few Clicks 
SpinBackup is a great Office 365 email backup and restore tool, and we will show how to backup your data with its help. We'll make a reservation right away – this way you can back up not only your Outlook but data of all Office 365 services.

To start, you need to sign up for a free trial to Office 365 backup and recovery (free trial included). After you do that, all the existing data on your Office 365 will be synced with SpinBackup the next morning. The same happens with data of other users attached to your account. But before that, you need to customize which data will be backed up. The backup process itself is automated.
1. Go to the Admin Panel.
2. Go to Menu in the top left corner. Then press Settings.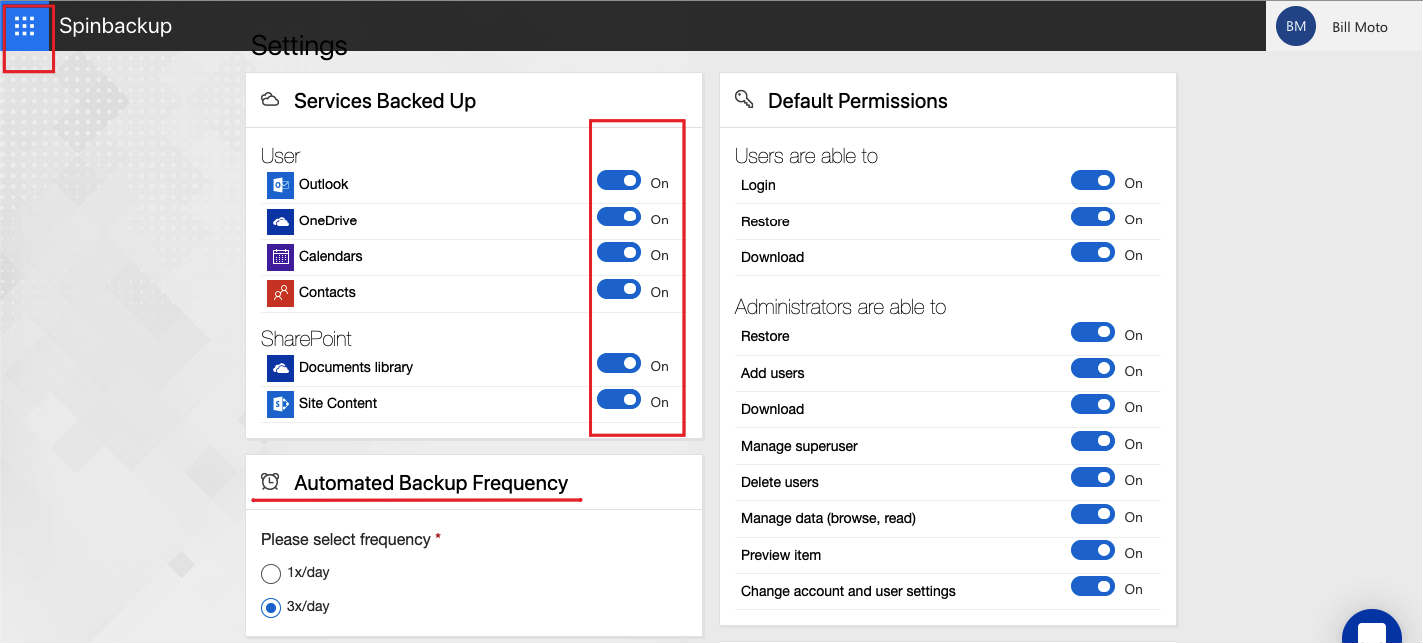 3. Choose services that need to be backed up.
4. Choose the frequency of the backup. You have two options: 1x/day and 3x/day.
All backed up data will be seen on the dashboard. Also, you can see backed up data of other users by simply clicking on the Users in the Menu. From this panel, you can customize which data will be automatically backed up for particular users.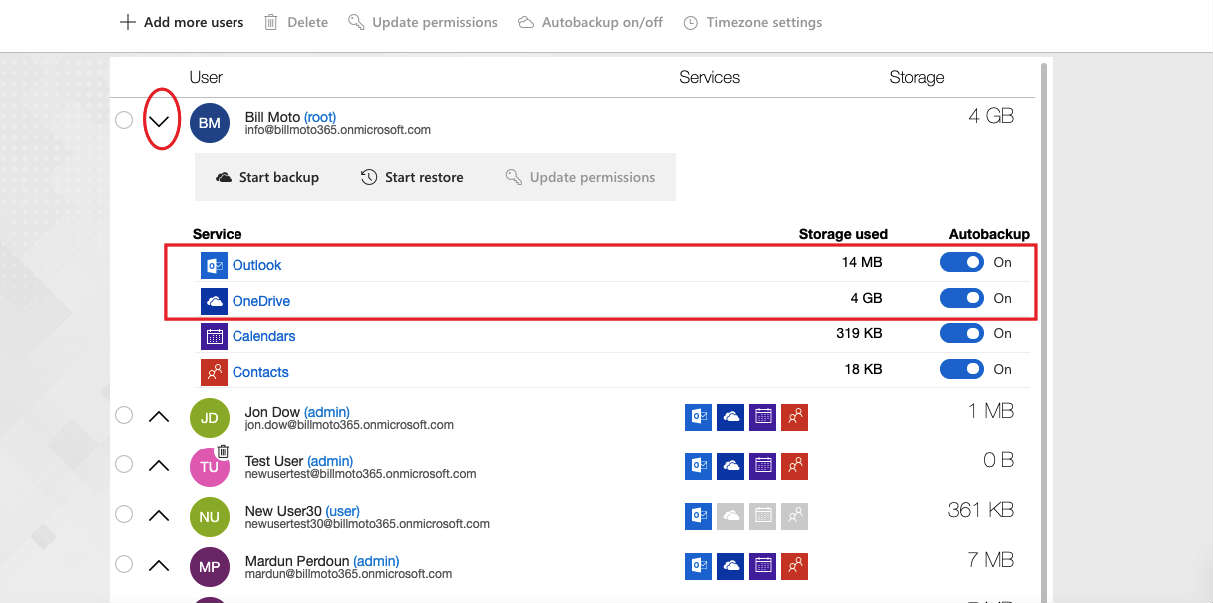 If you need to manually backup emails, do the following:
1. Go to Menu and press Settings in the top left corner and go to the Outlook section.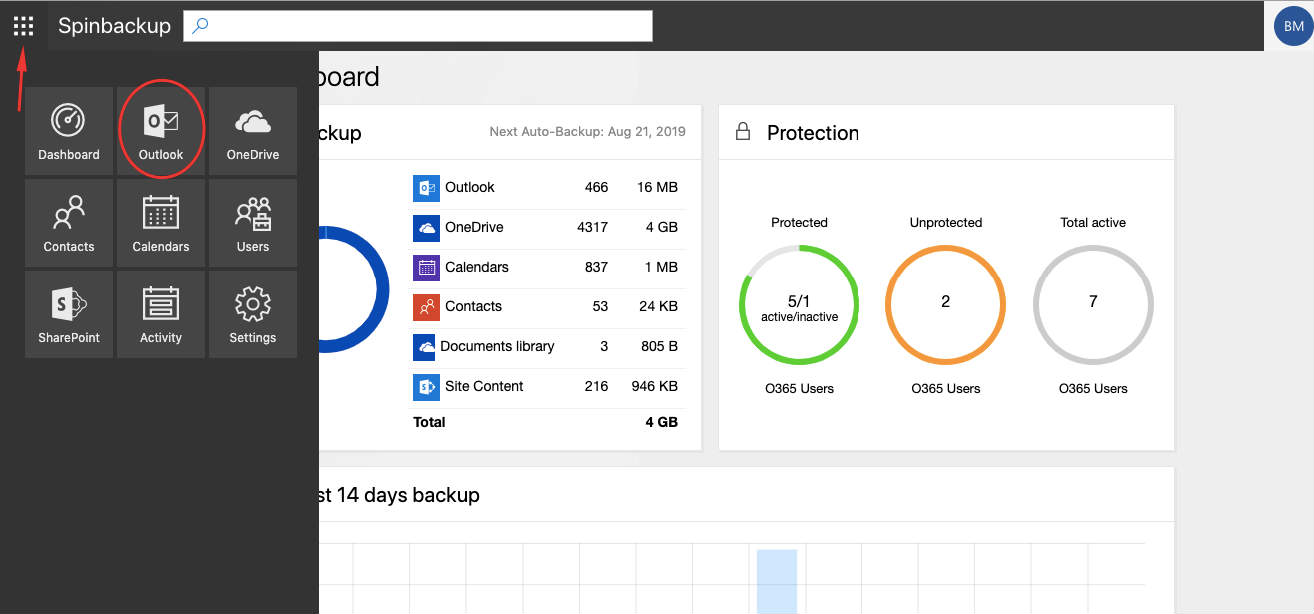 2. Press Backup.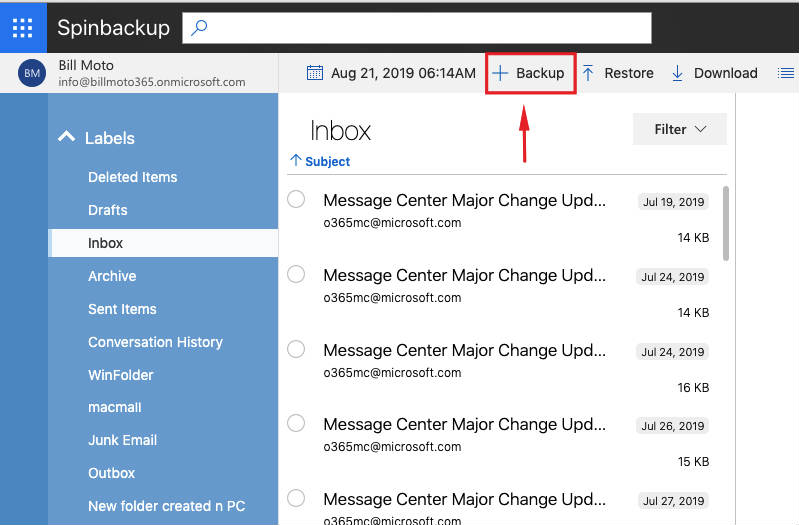 Done! All your Outlook messages are copied. This way, you can backup Contacts, OneDrive files, and SharePoint as well.
If you suddenly need to restore some files, you can do it by clicking the Restore button, which is always near the Backup button. You can also choose to restore only some particular messages by using a filter.
This way, the customization of the backup of everything (not only the emails) will take about 2 minutes. 
More questions? Get a demo to answer them.
How to Backup Microsoft Outlook

With Native Tools
In case you don't need to back up a vast amount of data regularly, you may use free native tools. They all have their limitations since they are not designed initially as backup tools. Of course, they are not as convenient and reliable as SpinBackup either.
The biggest concern of using native Outlook email backup is the possibility of a hacker's attack or a virus infecting your account. Consider this: if your cloud or computer is infected with ransomware, all emails can be infected as well. If so, you can end up paying a ransom to regain access to your emails. Or worse – they can be permanently deleted. Given the fact that people and organizations fall victim to ransomware every 14 seconds in 2019, your chances are higher than you think. 
But provided that you are cautious, you can be pretty successful in using the following tools as your backup. Here is how to backup Outlook emails using in-build features. 
Tool №1. Email Forwarding
Email forwarding is a native Outlook backup tool that lets you create a free online backup for your emails. It enables you to copy your emails by forwarding them to another account. In case you lose your emails on the main account, the other one will "have your back." You also can keep your main account "clean" with lots of free space while copying everything on the spare one.
Limitations:
One day you will run out of space;

The spare email account is subject to the same widespread threats as the primary one: ransomware, viruses, hijacking, deletions, and so on.
To set up email forwarding, follow these instructions.
Web Version

1. Go to the Exchange admin center. 
2. Select Settings and then click on Mail.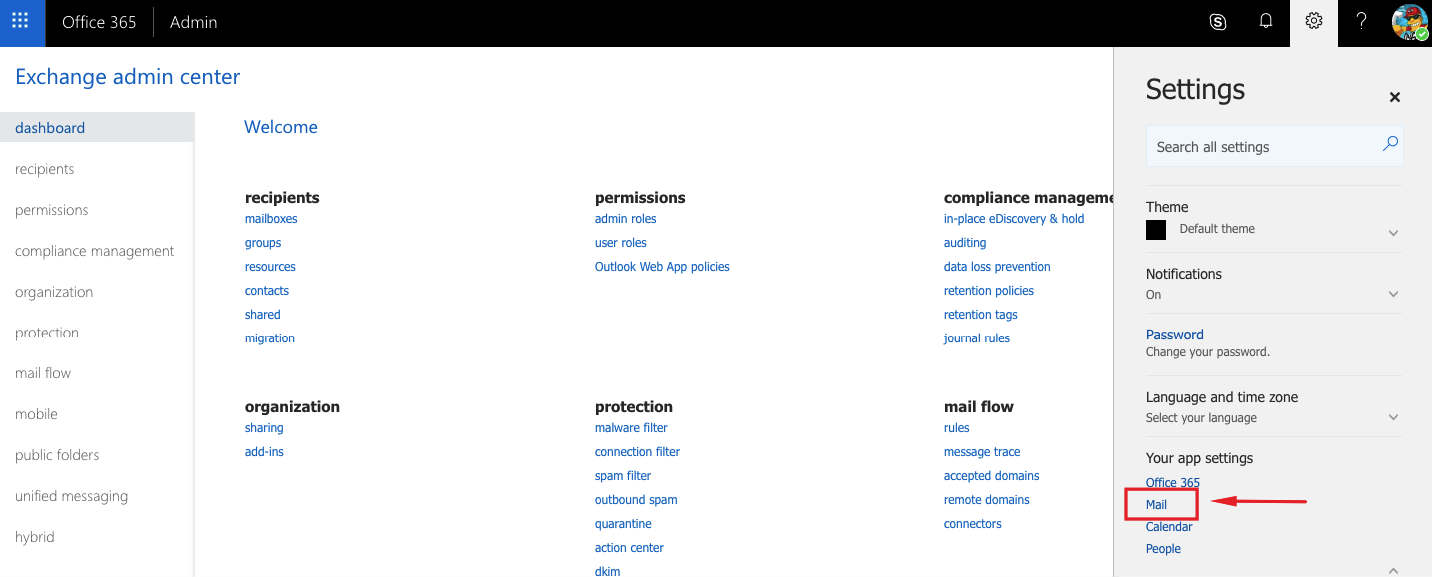 3. Go to Accounts on the left side of the bar. Choose Forwarding.
4. Click on the radio button Start forwarding. Type the alternate email address in the field below. 
5. Put a tick in the box that suggests keeping a copy of forwarded messages. It ensures you'll keep the forwarded emails on the original email instead of deleting them after they are forwarded. 
6. Press Save.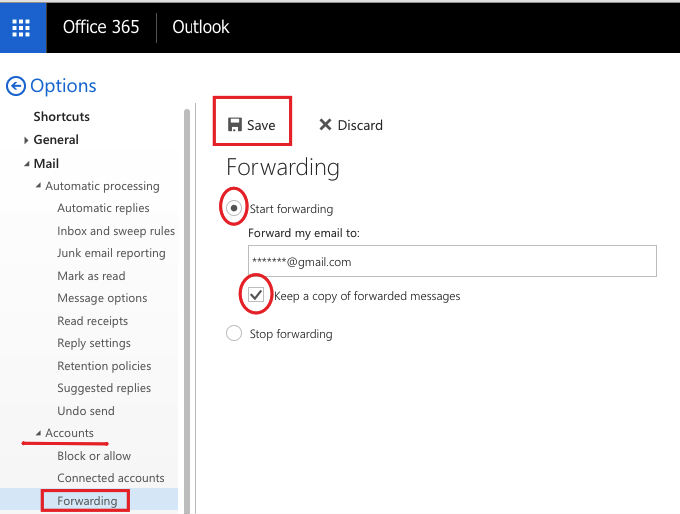 Now all your emails are backed up to the given address. But be aware, that if someone will hack your Microsoft account and delete messages, they can do the same with your spare account.
Desktop Version
Though there is no specific option for email forwarding on a desktop Office 365 version like it is on the web version, you still can do it. In the Rules and Alerts section, you can set the rule of following emails.
You need to do the following:
1. Set off your Outlook and go to Files.
2. Choose the option Info on the left side.
3. Press on Manage rules and alerts. A new window will open.
4. In the new window, choose the Email rules tab and click on New Rule on the top left corner. 
5. The new window will appear, where you need to choose Apply rule on messages I receive and click Next.
6. The next will be setting the conditions of the forwarding. For example, you can set up a rule of forwarding only particular emails. If you want to back up the entire mailbox, click Next.
7. Put a tick near the option "forward it to people or public group."
8. Go down to the next box named Step 2, click on the link "people or public group," then click Next.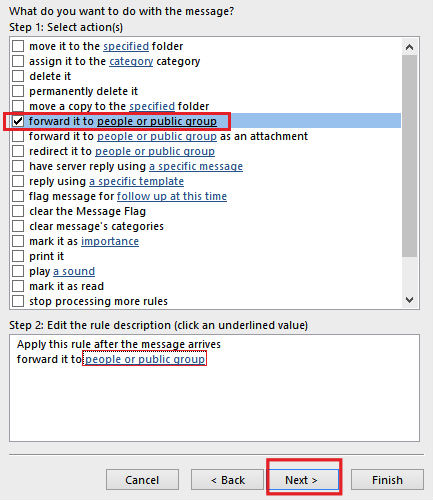 9. Type an email you want to forward your Outlook messages to and press Ok.
10. Overlook all the settings and, if everything is correct, click Finish.
Done! You set up the forwarding.
Tool №2. Export/Import Wizard
Sometimes users ask how to backup Office 365 mailbox to pst. This is the tool that does it. Export/import wizard for Office 365 is similar to Google Takeout for G Suite. It lets you create a one-time export of your emails and save it locally on your computer, a cloud, or a flash drive.  You can also restore it by importing the saved file back to the mailbox.
Limitations:
The critical disadvantage of this method is the inability to set up a regular backup option, and a constant need to save the information manually. This means if you forgot to back up your recent data and then got affected by ransomware, unintentional or malicious deletion, or an account hijacking, all your current

 files will be gone. 

The Import/Export wizard is available only on the desktop version of your Office 365.
To export any folder of your Outlook, follow these steps:
1. Open the Outlook on your desktop.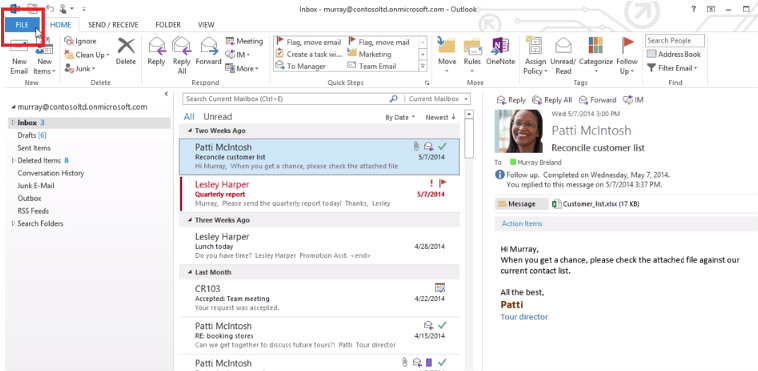 On Outlook 2007 choose Import and Export; 
On Outlook 2010 select Open – Import;
On Outlook 2013 / 2016 / 2019 / Office 365 choose Open & Export- Import/Export.
2. In the new window, you need to select the option Export to a file and click Next.
3. The type of file you export to is Outlook Data File (.pst)
4. Now choose what parts of your mailbox you want to download. You can apply Filter to further refine what you export. Also, you can export the whole mailbox by clicking on your email account at the top and putting a tick near the Include the subfolders. When you are ready, click Next.
5. On the next page, you need to click Browse to choose a location on your computer. Type the name of the file and click OK.
6. In the same window, choose one of three options about duplicates.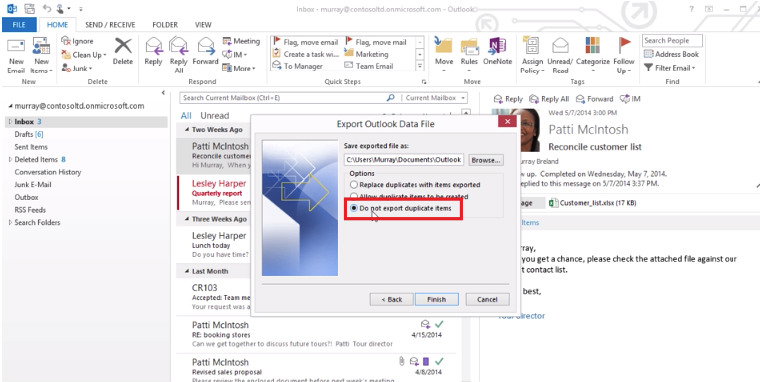 7. Click Finish.
The service exports files in the .pst format. It also may prompt you to set a password to this pst-file. If you don't want to set a password, leave the field blank and click Ok. Close Outlook and copy the exported file to your safe location.
Tool №3. Auto-Archiving
Auto Archive is the tool that is used to clear your mailbox from old, but still important emails. It uses an aging period to determine which items to archive. In a way, Auto-Archiving can serve you as a backup option. Even though it is useless in cases of mass data recovery, it may help you to find and recover important emails.
Note! Archiving doesn't copy items as the Export wizard does – it moves them. It means all archived emails will be kept in a separate folder, and you won't find them in the initial folder they've been transferred from.
The archiving method is handy in case you have a lot of old emails you don't need right now but may need in the future. The archived emails will be stored in your Archive folder until you decide to delete them or to move them back. The archiving option is not set by default, so you need to activate it.
Limitations:
Archiving doesn't copy your files – it transfers them. When the files are in the archive folder, they disappear from the initial folder.
You can't restore all the emails in case of emergency, like with backup.

The Archive folder can't be considered as a safe place to save your emails. It can be located in your mailbox or on a local computer, which makes it vulnerable to all widespread threats – viruses, ransomware, hijacking, malicious and unintentional deletions, and so on.
These limitations are why you should consider using Auto Archive only like a transfer tool for your emails from one folder to another, not like a backup solution. 
Follow these steps to set up Auto-Archiving:
Set off your Outlook on your desktop.

Go to the

File

tab and choose

Options

.

Select

Advanced>AutoArchive Settings.

Then, click

Run AutoArchive every

and choose the frequency of the archiving. It is already set for 14 days by default, but you can choose any frequency that is comfortable for you.

Click on

Clean out items

to set a period to move your files from Inbox to the Archive folder.

Click on the option

Move old items to

 and type a file name for the archived items to be transferred to, or click

Browse

to select from a list.

Click on

OK.
Ready! Now all the emails you've specified will archive automatically in the .pst format. You can easily access them by opening a folder Archive. 
As you can see yourself, backup with native tools is an option only on a few occasions:
It is the backup for individuals that don't have much data;

Data that needs to be backed up is not of high importance.
In all other cases, use specialized backup services with cybersecurity features. Only with those, you can be 100% sure that everything goes well and your data is safe and sound.
Read next: If you accidentally deleted critical documents from your Office 365, check out our article How to recover deleted items in Office 365!