The third part of all former employees retains access to the company data after they leave. Why? Because of incompetent offboarding. Often G Suite admins don't bother to migrate data from Google accounts of leaving employees and delete the accounts. In 2018 Coca-Cola suffered from a massive data breach from its former employee that affected 8000 workers. Coca-Cola survived this, but when something similar happens to a small or medium business, the consequences can be disastrous.
Data breach trends clearly show: your staff can be a much more pressing concern for your company than hackers and viruses. Therefore, being careless about sharing important information with your employees is unacceptable. Whether you fired your employee or they left by choice, there is always a layer of must-do procedures you need to follow to protect your company data. You can learn more about how to prepare for employee leave.
In this article, we are giving you the options and step-by-step instructions on how to migrate your ex-employee G Suite data!


Google Workspace Data Backup and Migration

Learn More
Tools to transfer G Suite account information
There is only one native tool explicitly designed for data migration to G Suite – its Data Migration Service. You can also use different native or third-party tools like Google Takeout or Spinbackup, initially intended to save and backup data. If you want to know more about them, check out this G Suite data migration guide.
Today we will consider two tools – native and third-party. They are the most convenient for migrating G Suite data of a leaving employee.
The simpler and safer way that takes a couple of clicks with Spinbackup
The longer way that takes more steps with G Suite Migration Service
Learn which tool is the best for data migration in our comparison table of the best backup solutions in 2021.
G Suite Data Migration with Spinbackup
Spinbackup provides an easy method for secure migration of G Suite data from one account to another including:
Using Spinbackup is simple, fast, and more reliable than using other tools. The data backup and security service have the following benefits:
Cybersecurity features allow you to trace data movements in the account. Spinbackup helps to prevent company data from leaks, exposure, or unwanted deletions. Also, the service will notify you if the user shares sensitive data with third parties.
All in one spot. The procedures of transferring Emails, Contacts, or Drive files are similar, and you can perform them from a single admin dashboard.
Migrating data takes a few steps only.
There is no need to involve the owner of the account to transfer data – you can do this from the Google admin account.
By default, only the route G Suite administrator can migrate data between accounts. But you can nominate an additional administrator and give them permission to migrate data. You can revoke this permission in the future if needed.
To migrate G Suite data follow these steps:
1. Go to spinbackup.com and log in as G Suite Administrator.
2. Insert your email and password or sign in with Google.
3. At your dashboard on the left, click Users.

4. In a new window, you will see a list of all your domain users subscribed to Spinbackup. Choose the name of a user whose data needs to be migrated and then expand it by clicking the +/- button. Press the Google Mail button.

5. You will see the user's Google Mail backup interface. Now you can choose the backup version that you want to restore. To do this, press the Version button and select the version. You can find it in the list or choose the required date in the calendar.calendar. If the desired restore point corresponds to the last backup version, skip this step.
6. Now press the Restore button.
7. In a pop-up window, select the email address of a domain user to whom you want to migrate data. You can choose only among those users subscribed to Spinbackup. Then press the Start restore button.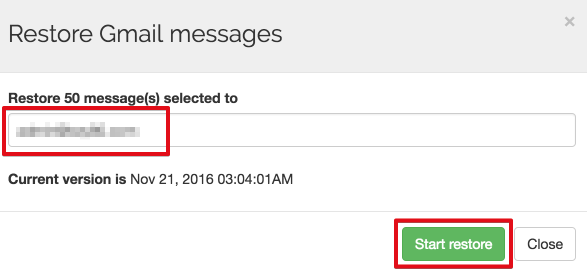 8. The system will notify you as soon as the migration is ready. Check your Google Mail "Restored by Spinbackup at…" folder and access your migrated data.
The process of Team Drives migration files is similar. You can migrate data to another Team Drive or an employee's Google Drive.
Migrating G Suite Data With G Suite Migration Service
Data Migration Service is an inbuilt G Suite maintenance. It means you don't need to install anything or go anywhere beyond your Admin panel in G Suite to use it. Service allows you to migrate your data from Office 365, webmail providers, free Gmail, or to migrate from one Google account to another.
Here are a few "but" you should bear in mind before using this service:
You can't perform all migrations without being signed in as a super administrator
It can transfer data of only one user at a time
It has separate procedures for migrating Emails, Contacts, and Calendars
It is less secure than Spinbackup. First, DMS doesn't protect you from data leaks and breaches since it doesn't have cybersecurity tools. Second, to accomplish the migration, you need to:
Allow "less secure apps" to conduct the migration
Enable IMAP for users
Сreate an app-specific password for 2-step Verification enabled accounts
To perform some operations (like operations with Contacts and Calendars), you need to sign in as an original user.
But if you still prefer to use G Suite Migration Service to migrate from one Google account to another, here is how you can do it.
How to migrate Google Drive from one account to another
To migrate google docs to another account:
1. Sign in to your G Suite Admin console with an administrator account
2. Go to Apps > G Suite > Drive and Docs

3. Click Transfer ownership
4. Enter the username of the account you want to migrate from in the "from" field and the account you want to migrate to in the "to" field.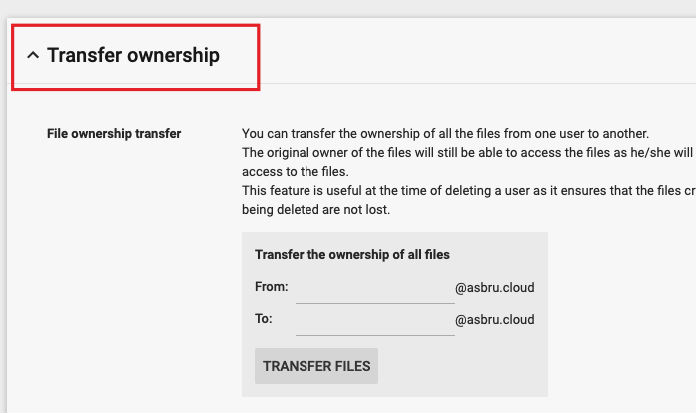 5. Click Transfer files
All files will be added to the new user's Google Drive in a folder named with the email address of the original migrating account. The original owner will still have permission to edit the files until you delete their account. You can also manually change the permissions of each file to prevent this.
Migrate from Gmail to G Suite
You can use the data migration service within G Suite to transfer emails from one Gmail account to another. You must be signed in as a super administrator to do this. Also, you need access to the Gmail account of the employee who's data you have to migrate.
1. Sign in to the Google Admin console
2. Go to Data migration

3. Select Email and Сontinue
4. Select Gmail from the migration source and click Сonnect
5. Choose whether or not to migrate deleted and junk email. You can also choose to exclude the specified folders from migration
6. Click Select users and type the old user account email in the Migrate From field and the new user account email in the Migrate To field
7. Click authorize
8. The original account owner will receive an authorization email requesting permission to migrate data. They must click Allow.
9. Copy the authorization code and paste it in the field in the admin console. You have ten minutes to do this before authorization automatically fails.
10. Click Start.
You can pause Gmail recovery and monitor the progress of migration by hovering over the status column.
Migrating Google Calendar Data in G Suite
There is no easy way to migrate calendars you don't own to a different user account, even as G Suite Administrator. To complete this task, you need to sign in with the user's account credentials or ask them to complete the migration themselves.
To change ownership of individual Google calendar, use the "share this calendar" option. Also, make sure to grant permissions and manage sharings to the new user. The new owner can then remove access permissions for the original owner.
You can also export calendars as an ICS file and then import them to the Google account of the new user.
Export Google Contacts to Another Google Account
Like with Google Calendar, the G Suite administrator cannot export Google contacts. Only the original user account holder can do that. Google Contact recovery is possible if the data is exported as a CSV file, and can then be imported into the new user account.
Transfer ownership of the tied services
Also, don't forget about the services that could be tied to the employee account. If so, you have to transfer ownership of a Google Ads or Analytics account before you terminated the account. This way, you will migrate Google Analytics and Ads data to the new account.
Seven must-dos to enhance security after a G Suite user account migration
So, you've completed migrating all data from the original user account to another employee account. Now it is essential to take some steps to ensure your ex-employee has no access to company data or applications.
Clean all company files from mobile devices. Leaving employees might use company mobile devices for work. Usually, these devices get recycled for the next employee. If this is your case, before transferring a device to the next employee, you should erase all data from it. Have BYOD policies and allow employees to use their own mobile devices at work? No problem – remove access to all company information directly from the G Suite admin console.
Disable password recovery. By only changing the password of an ex-employee account data remains at risk. Your employee might still be able to use reset the password within Google. To prevent this, remove the recovery email address and phone number.
Change the password to prevent unauthorized access.
Revoke OAuth 2.0 application tokens – Application tokens are revoked automatically after a password change. It's a good practice to review all authorized access, granted to the apps, and control any other authorized risky applications.
Delete cookies. It reduces the risk of any unauthorized logins into your G Suite domain.
Revoke security keys and app password access. You can do it via the G Suite admin console.
Migrate data and delete a user account in G Suite. After taking all these steps, the account should be secure. It means you can safely migrate the data without the risk of any unauthorized access. Once the migration has been confirmed as successful, you can delete the G Suite account entirely.
The Bottom Line
Both services are decent and worth using. Therefore, it is most prudent to use them in combination. In this case, they work to complement each other and eliminate each other's weaknesses.
Use Data Migration Service, when:
You need a build on technology and want to perform migration directly from your Admin panel;
You have to migrate data from different sources: webmail, Office 365, free Gmail, or another G Suite account.
Use Spinbackup, when:
You need to perform the migration between Google accounts;
You need data backup and protection from loss, insider leaks, breaches, and ransomware;
You need to simultaneously migrate different types of data (emails, contacts, calendars) from more than one user by just a few clicks.
P.S.: to always keep your data protected, check out our Ultimate G Suite Security Guide.