Today we will teach you how to secure Google Drive. Cloud storage has revolutionized the way data can be accessed, edited, shared, and otherwise worked with. There is a wide range of options and cloud storage services for individuals and organizations alike for accessing data in the cloud.
Google Drive is arguably one of the top public cloud options for storing and accessing data in the public cloud providing a number of really great features, functionality, and benefits to tenants. With public cloud services and especially with data housed there, security is one of the top concerns for the cloud today.
With news headlines of data leaks and data breaches happening frequently, data security is a top priority. While public cloud vendors have greatly improved security features and offerings, it is often up to the individuals and organizations to determine how these security features are implemented and ultimately, who has access to data. Let's take a look at how to secure Google Drive to see some very practical steps that can be taken to drastically improve the security of Google Drive.
How to Secure Google Drive
There are quite a few things that can be done to greatly improve the security of Google Drive, in general, using both built-in technologies provided by Google as well as practical steps. Let's look at the following steps in how to secure Google Drive:
Implement Two-Step Verification
Review Google Account App Permissions
Configure Recovery on your Google Account
Secure Google Drive access devices
Let's look at these security recommendations one by one to see how employing the above security steps in Google Drive can greatly increase security overall.
Implement Two-Step Verification
By now, most have at least heard about two-step or "two-factor" authentication from various systems and applications that offer this extra security measure. Two-step verification is a great way to greatly improve Google Drive security. What is two-step verification?
Two-step verification is a means to increase security by having two components to your authentication scheme in that you (1) have something you know, a password, and (2) have something you are physically in possession of, your phone. When the password is typed in, Google sends a notification to verify the authentication request to your phone. This is either by push notification on newer Android phones or using a one-time password or OTP.
The push notification or one-time password has to be acknowledged/entered before the authentication request is valid. This splitting up of the required components of authentication helps to bolster the security of your Google account. Even if an attacker compromises or "cracks" your password, you still have possession of your phone.
Two-step or two-factor authentication has come a long way since the early days. Software companies, like Google, are using easier means to acknowledge or carry out the two-step verification. Before the days of "push notifications", many opted not to implement two-step verification since it made logins much more cumbersome by having to generate and enter a one-time password.
Now that companies like Duo and Google have pioneered the push notification type systems, the major "barrier of entry" for two-step authentication, inconvenience during login, is no longer an excuse not to implement two-step verification.
Implementing two-step verification is probably the single best way to drastically improve the security of accessing your Google account and specifically Google Drive. Additionally, it helps to keep attackers out of your account by splitting up the information required for login.


Utilizing 2-Step Verification greatly enhances Google login security
Review Google Account App Permissions
An extremely dangerous security threat exists in "App permission" that have access to your Google account. App permissions are typically granted on mobile devices. We have all seen the "pop-ups" on a mobile device asking for permissions to be granted on various levels which allow the app to access data on mobile devices, account data, and in the case of Google Drive, potentially have access to all of your data stored in your Google Drive.
It is wise to review the Google account app permissions periodically to ensure there are no unneeded permissions or unauthorized applications that have access to your data. This is easily accessed under the settings found in Google Account > Security > Third-party apps with account access.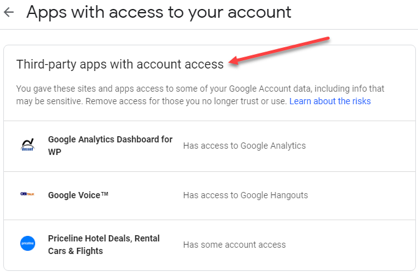 Accessing app permissions in the Secure account link under Google account security
Reviewing this list frequently will help to ensure the security of your Google account and by extension, your Google Drive.
Configure Recovery on your Google Account
What are the recovery options? Recovery options come into play when a password or username is forgotten or you can't get verification codes to obtain access to the account. The recovery options provide additional contact methods for Google to be able to help you recover your account.
Google uses three different means to verify identity for recovering a Google account. It is best practice for security purposes to set up the Recovery phone, Recovery email, and Security question to ensure you can regain access to a lost or compromised account. This is found under the Security > Ways we can verify it's your section.


Configure recovery options for your Google account
Secure Google Drive Access Devices
This is the most general point in the discussion regarding Google Drive security, however, it is extremely important nonetheless. Any device that is accessing your data is in itself, a point of security risk. As an example, if you are accessing Google Drive from a Windows workstation that becomes infected with ransomware that encrypts all the files "locally" on your workstation that has Google Backup & Sync installed, these encrypted files will be synchronized up to the Google Drive cloud, overwriting the good copies of the files that exist there.
Keeping your Windows, Android, and IOS devices secure and free of malware helps to ensure that Google Drive data is securely accessed from the device and that the malware threat to Google Drive data is minimized. The basics apply here such as running antivirus, anti-malware, and other basic security measures like local firewalls, etc.
Backup Google Drive
One of the most basic components of security is data protection or "backups". There is absolutely no way to prevent 100% of the security threats that exist to either on-premises or cloud-hosted data. Having the means to back up your data is a necessity to ensure data is recoverable in the event that data is corrupted, lost, or encrypted by ransomware.
Public cloud providers, including Google, are lagging behind in native mechanisms to backup data such as those found in Google Drive. In fact, there are no real enterprise data protection mechanisms built into Google's public cloud offerings for Google Drive.
Google offers only basic, limited functionality to recover deleted items only. Per their statement, "We can help you recover recently deleted files for a limited time if you use Google Drive with a consumer account". For G Suite users, after a user is deleted, the user's files are only available for 20 days after the user account is deleted. That's why your business needs a third-party Google Drive backup solution.
Spinbackup offers the ultimate solution to properly backup and recover Google Drive items. Spinbackup offers true versioning of Google Drive files which allows point-in-time recovery of specific file versions. Additionally, the built-in ransomware protection is hugely beneficial since it stops ransomware in its tracks and automatically recovers any Google Drive files that may have been affected.
Wrapping Up
Moving data to the cloud for both individuals and organizations can be extremely beneficial in terms of features, functionality, and flexibility in accessing data. Security of Google Drive data needs to be considered and given priority. By following very practical steps such as implementing two-step verification, checking app permissions, setting up recovery information, securing end-user devices, and backing up Google Drive, the security of Google Drive data is greatly increased.
Even though there is no native data protection built into Google Drive, individuals and organizations alike can take control of their data and provide a means for recovery. Spinbackup allows for protecting and recovering data in Google Drive easily and effectively. By following these and other security best practices, securing Google Drive can easily and effectively be accomplished.