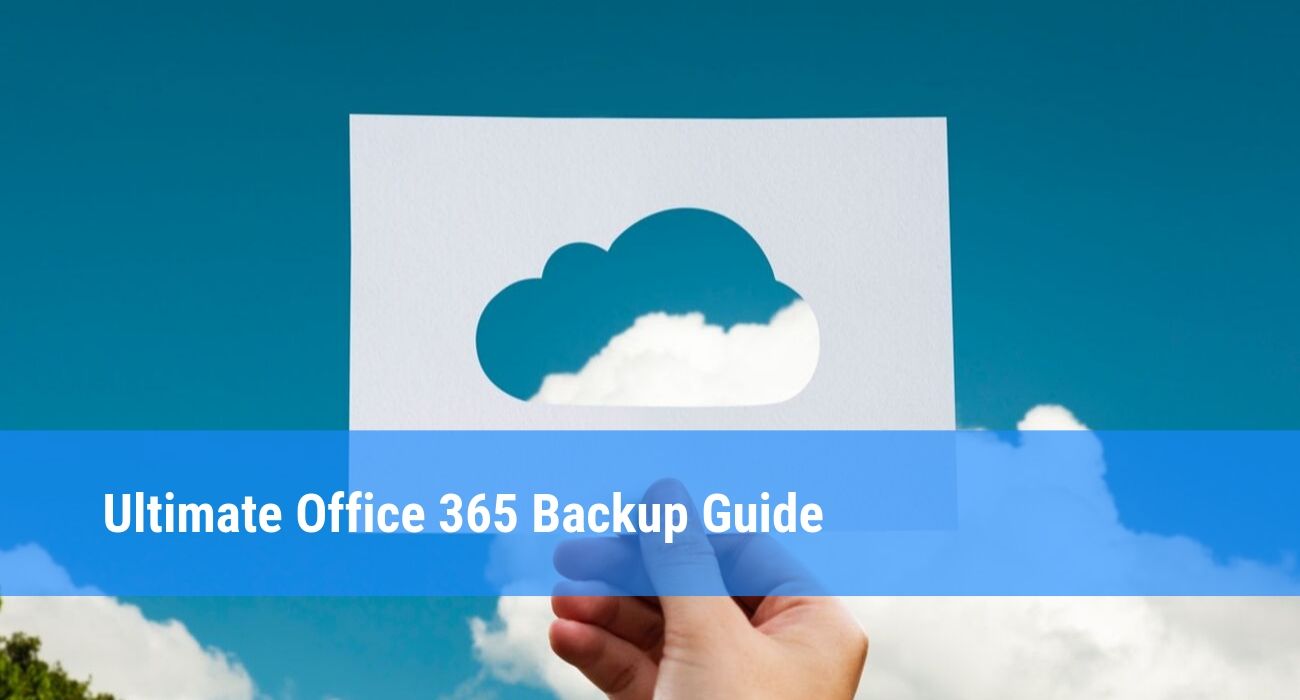 Documents, emails, passwords – your company's daily routine depends on them. Microsoft Office 365, a leading SaaS solution, helps you to manage your company's data. The service hosts data in the cloud built upon Microsoft's world-class infrastructure.
The importance of your data can't be overestimated, so you need a way to ensure the data is secure. Office 365 provides some embedded security options, yet additional solutions are required to match the highest security standards. That's why a reliable backup is exactly what you need.
In our comprehensive guide, you will find out more about backups as the way of making your Office 365 data secure. We will take a closer look at Office 365 backup solutions and learn how to backup Office 365 data to avoid data loss.
Already know the basics? Then just scroll down to read the step-by-step Office 365 guide.

Office 365 provides a powerful Software-as-a-Service platform for businesses
Why Do You Need Office 365 Backup?
In today's technology and data-driven world, businesses must protect their own digital information. The data loss may result in financial and reputational damage, even without mentioning the time you'll need to fix everything back.
How can you protect data that lives in Microsoft's Office 365 environment? Backup is often considered among the best solution to avoid data loss. Some people opt for as-called "native backup" like eDiscovery for Office 365 and Google Vault for G Suite. But those tools can't be considered as a backup, and we speak about it in this article. 
Based on Spinbackup's experience in cybersecurity, there are many scenarios for an organization's data being lost. Here are just some of them:
1. Accidentally deleted data.
This is perhaps the most common search-for-recovery scenario. For example, you've deleted an important email and emptied the trash. Or you deleted one important repeated event in the calendar without having calendar backup. Using backup, you'll restore your data in several clicks.
2. Cyberattack.
It is the process usually performed by hackers who want to steal your data. There are many types of cyberattacks (phishing, for example). Hackers often target businesses to get access to a bank account or customer data. Backup is the way to avoid or mitigate cyberattack consequences.
3. Malware.
The malicious software corrupts Office 365 files. It is crucial to spot and terminate malware infection early, but it is not always possible. That's why backup is one of the most effective solutions to secure your data from malware and ransomware, a type of malware that hunts for financial information.
This process involves taking data from one user to another. The main reason to perform migration is to transfer the data from old accounts to the new ones. The transfer is needed because the pricing of SaaS solutions (including Office 365) depends on the number of users. Maintaining inactive accounts may cost a lot.
By backing up Office 365 data and moving the data between accounts, you can effectively prune inactive user accounts. That's why backup may decrease your operational costs significantly.
5. Data archival.
This process is used for keeping records of your past operations. Having the data around is essential in the long run. The archived data might be requested for analysis, audit, or legal purposes. Backups allow to optimize the storage of such data.
How are archives created? For Office 365 environments, the archive starts with backing up the services and data. Data becomes archived in several days after the backup. Of course, you need a reliable backup to keep your historical data secure and easy-to-access.
Backup is a simple but effective solution to make your information secure through all data loss scenarios mentioned above. Preventing the loss of Office 365 data is especially important, as the cloud stores all kinds of corporate data, including financial.
Office 365 backup is the solution created to help you to restore your data, even if it was temporarily lost.
Limitations to Office 365 Native Tools
Office 365 and its primary competitor, Google G Suite, both offer a great variety of features and capabilities. These features allow users to have a cutting-edge interface and functionality. However, built-in disaster recovery tools are not as advanced as they might have been.
According to a popular belief, Microsoft cloud creates a backup of all your files automatically. It is not precisely correct. There is no built-in backup mechanism that allows you to recover data across multiple Office 365 services, including Outlook and Contacts. Same works for G Suite: you don't have a built-in tool to automatically back up your Google Team Drives, Gmail, etc.
The only "backup" you have in Office 365 now is the ability to roll back OneDrive files to a previous version, up to 30 days back. Even this feature is relatively new. Previously, there was no way to recover data using native tools.
The built-in restore function for OneDrive does not apply to any other Office 365 service, including Outlook, Contacts, and Calendar. But OneDrive is not the only Office 365 service you use. Likely, you need to know how to backup email in Office 365 as well.
Besides, Office 365 OneDrive recover mechanism relies on the same environment as production. Having backup data and production data stored together is considered to be a security flaw.
In other words, "all eggs in one basket" approach that Office 365 uses for data storage is not the most secure. Businesses relying on Microsoft's public cloud infrastructure for storage of both production data and "protected" data may not recover the file version they are looking for.
Overall, Office 365 native abilities are quite limited. They may not be enough to face all Office 365 security concerns. That's why other backup solutions are needed. Now, let's try to figure out how the ultimate backup solution for Office 365 looks like.
What do You need from The Ultimate Office 365 Backup Solution?
We hope the importance of backing Office 365 up is clearer to you now. But what characteristics do you need for an Ultimate Office 365 Backup Solution?
The feedback we had collected from our clients points out many requirements, including:
Backup for Office 365 Services
Configurable Retention
Cloud-to-Cloud Storage
Migration Abilities
Easy Management
Search
Advanced Backup Security
Reports
Backup for Office 365 Services
There is a demand for backup for Office 365 Services. Enterprise environments and small businesses alike need the functionality, which is not provided by Office 365 native tools.
First and foremost, there is a demand for the ability to backup and recover data across all business-critical Office 365 services (including Outlook, OneDrive, Calendar, People, and Sharepoint).
Configurable Retention
Retention is a time of your backups kept around. An ultimate backup solution for Office 365 will allow configuring retention to fit your workflow. It should be up to you to decide if pruning data after a few months or keeping data around indefinitely.
Configurable retention allows you to have control over the number of restore point versions, that are kept to align with your needs.
Cloud-to-Cloud Storage
As we've mentioned before, a common practice for Office 365 backup services is storing all information in one Microsoft public cloud. However, this approach relies too much on a single cloud. Diversifying data storage is the thing that often looked for by businesses.
Cloud-to-cloud storage is the way to have the full protection of your Office 365 data outside of the Microsoft public cloud. Cloud-to-cloud is considered to be more advanced Office 365 backup practice. It allows separating production and backup data, keeping them in different cloud environments.
The cloud-to-cloud practice is based on the 3-2-1 backup method, that encourages storing data in multiple locations and physically separated from the production data and other backups. You have at least 3 copies of your data, stored on 2 kinds of media, with at least 1 offsite storage.
This method allows you to achieve a higher level of resiliency for you backup data in the event Microsoft's cloud services were undergoing a service interruption.
Migration Abilities
An effective Office 365 data protection solution is one that allows migrating data. As covered earlier, migrating user data allows keeping the Office 365 user number at a cost-effective level.
Keeping inactive users around increases subscription cost. Being able to migrate user data from one account to another allows businesses to remove stale user accounts of former employees.
Easy Management
No matter how fully-featured a solution may be, being user-friendly is a must. An Office 365 backup solution must be easy to operate. All available backup and recovery mechanisms should be found in a single-pane-of-glass interface. Otherwise, the use of backup would be too difficult and less effective.
Search
Imagine an organization with hundreds or thousands of employees. The amount of data is tremendous, isn't it? Finding a specific item across the entire data landscape may be difficult. Having a built-in search means will help you to find items contained in backups. This option makes managing restore operations less time-consuming.
Advanced Backup Security
Security in today's complex ecosystems should be a top priority. Security is often highlighted as one of the essential backup features, as backup itself is a security measure.
To provide an ultimate Office 365 backup solution, the security of the Office 365 backup data must be of paramount importance. Protecting data both in transit and at rest are vital characteristics of a fully-featured, well-designed Office 365 backup solution.
Reports
You need to keep an eye on the backed-up data. That's obvious. Having regular reports is, perhaps, the best way to stay up-to-date.
Monitoring your protected data is a key requirement to maintain visibility on potential data protection issues. That's why a fully-featured and capable backup solution should have a reporting system.
Why Spinbackup is the Ultimate Office 365 Backup Solution?
Now let's take a look at Spinbackup Office 365 Backup and Recovery features:
Backup & Restore for Office 365 Services
Configurable Retention
Cloud-to-Cloud Storage
Migration Abilities
Admin Panel for Easy Management
Search
Top-Level Encryption for Advanced Backup Security
Reports
Backup & Restore for Office 365 Services
Spinbackup provides an automated process to keep your Office 365 data protected. The backups provided with Spinbackup are fully automated to keep your Office 365 data protected 24×7. You also get daily versioning backup and unlimited secure cloud storage.
Spinbackup allows restoring Office 365 backups using the same hierarchy of folders as in the original, with 100% accuracy. The restore process enables you to recover the lost data. Office 365 Backup & Restore is a powerful protection against data loss.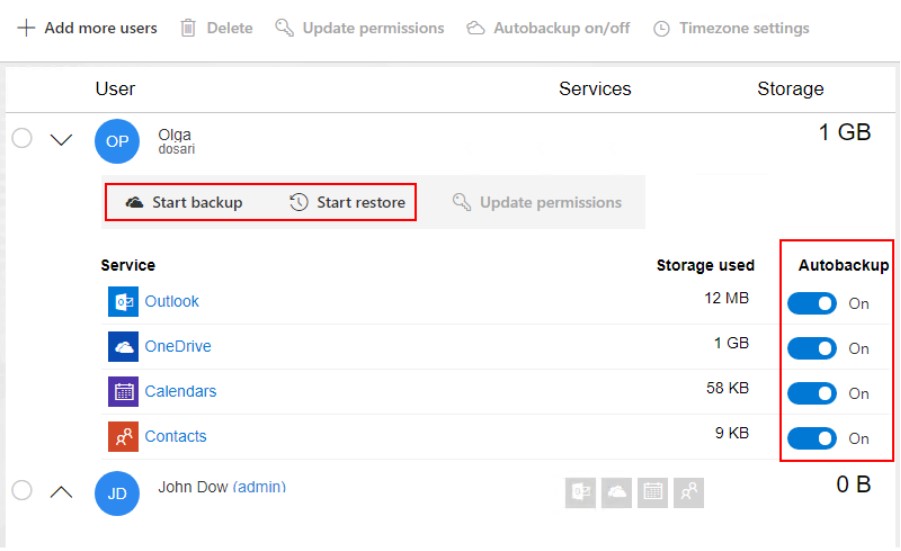 Configurable Retention
With Spinbackup, you can customize retention according to your needs. Just click Settings and set retention time (you can choose the indefinitely option as well).
Cloud-to-Cloud Backup
With cloud-to-cloud Spinbackup's solution, you can store the data backups outside of the Office 365 public cloud. Besides, you can choose the data location yourself.
You can choose to store Office 365 backups in either Google Compute Storage or Amazon AWS S3 storage, effectively separating the Office 365 production data from the backup data. It is possible to choose because Spinbackup is an official partner of Google Cloud and an advanced technology partner of Amazon Web Services.
Migration Abilities
Spinbackup provides the ability to migrate user data between accounts. Migration will help you to keep the Office 365 user count limited to active employees and eliminates the need to maintain user accounts solely for the data contained.
Admin Panel for Easy Management
Within the Spinbackup interface, administrators have a fast and easy search for backed-up items that allows finding them very quickly.
Spinbackup's admin panel is incredibly intuitive and allows you an interface to manage users, backup options, and more. The Panel makes your backup management much easier.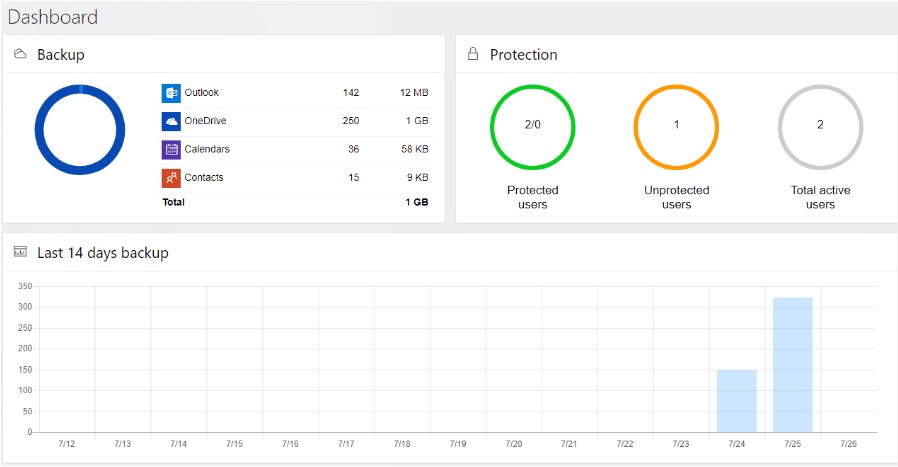 Search
Another feature to make the data management more comfortable for you is Search. With the Spinbackup interface, admins get a fast and easy search for backed-up items.
Top-Level Encryption for Advanced Backup Security
Backups of Office 365 SaaS data are encrypted using the highest level of encryption methods for transferring in-transit and storing at-rest data. Spinbackup meets the latest compliance regulations, including SOC2 and GDPR.
Spinbackup helps organizations meet the challenge of having a robust data protection solution for the Office 365 public cloud. The enterprise-level security provides capabilities far beyond the default Office 365 backup does.
Reports
With Spinbackup, you get weekly & monthly reports that allow monitoring the status of your protected data in the Office 365 environment. The feature will help you to track your data efficiently and identify problem areas. You can choose if the reports you get would be weekly or monthly.
To sum up, Spinbackup provides all the characteristics of a fully-featured, enterprise-ready data protection solution that will help you to keep your data secure. With attention to our client's needs, we made the interface as easy-to-use as possible, stocking it up with several time-saving measures.
By delivering automated cloud-to-cloud backups, restore capability, migration, reports, intuitive administration, and much more, Spinbackup can serve as an excellent alternative to Office 365 native recovery.
How to Backup Office 365 with Spinbackup
Sign up for Office 365 Backup and Recovery.
Done! With Spinbackup, your Office 365 data is secure now. Use your Microsoft/Spinbackup credentials to sign in here: https://office365.spinbackup.com/#/
Now let's check the interface. On your Dashboard, you can see information about Backup and Users. Also, there is a chart showing the time of recent backups. Now click Settings.
You can access the panel with various Office 365 services. For example, select Outlook.
You can see your Outlook information here. You can click Backup to backup your information whenever you wish. Click Restore to recover your data if needed. Other services have a similar process. Simple, isn't it?
Would you like to learn more about backup & recovery in Office 365? Find out about the ways to recover deleted items in Office 365.