Office 365 Data Loss Prevention: Why You Need it
The cost of data loss varies greatly depending on a company's size and industry. However, there are numbers to give you a general idea about the danger of data loss. According to IBM, the average data breach damage reaches as high as $3.92 million. And that's just monetary costs, without taking into account dissatisfied customers and tarnished business reputation.
As a company specializing in data security and data protection, we'd like to highlight the importance of DLP for Microsoft Office 365 users once more. In this article, we'll take a look at:
Why is DLP important?
How to set up DLP in

Microsoft

Office 365?

Microsoft

Office 365 DLP capabilities…
… and how to improve them
Reasons behind Data Loss
All businesses are constantly risking losing their data. There are several reasons behind data loss in Microsoft Office 365:
Of course, Microsoft has a comprehensive set of measures to protect your information, but business-critical information still gets lost. To what extent is native Microsoft Office 365 data loss prevention effective?
Built-in Microsoft Office 365 Data Loss Prevention
Microsoft provides O365 admins with data loss prevention tools to comply with security standards. Microsoft Office 365 DLP is included in E3 and E5 licenses, so you may need third-party DLP software if you use less expensive subscription plans. Setting up DLP policies in the Security and Compliance Center helps to protect sensitive information like personal and financial data. Let's take a look at DLP policies, what they do, and what they don't.
O365 Security and Compliance Center allow you to set up data loss prevention policies. They are pretty significant, but they don't eliminate data loss risk completely. DLP policies will enable you to:

Identify documents with sensitive information (like the credit card number) across Microsoft apps.

Prevent users from sharing sensitive information accidentally by limiting access to it.

Monitor and protect sensitive information in the desktop versions of Excel, PowerPoint, and Word.
Data Loss Prevention for Microsoft Office 365: Step-by-step Guide to Creating a Policy
How to set up DLP in Microsoft Office 365? To do it, you need to create a DLP policy. Here's how:
Log in to your Microsoft Office 365 account.

Go to the

Admin Centers

section and find

Security & Compliance

.

Click

Data loss prevention

.

Click

Create a Policy

. You can create a new policy on your own or use one of the pre-built Microsoft templates.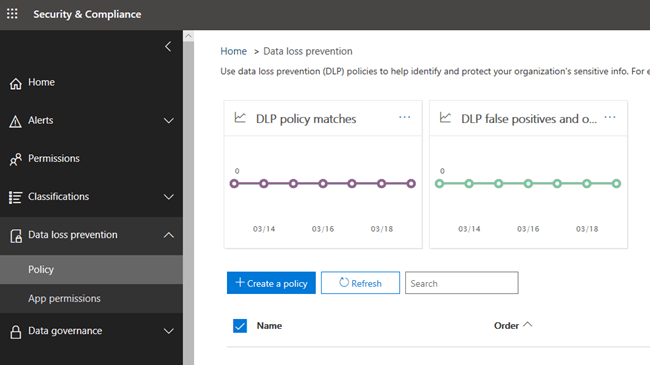 ---
Would you like to find out more about the S&C Center? Check our tips for O365 admins in our article about Security and Compliance Center roles.
---
Microsoft Office 365 Data Loss Prevention Limitations
DLP policies provided by Microsoft Office 365 effectively reduce the chances of accidental deletion or sharing of sensitive data, ensuring compliance with data protection regulations. However, that's all to it. There are things that DLP policy can not help you with:

Unintentional deletion or sharing of data, not labeled as sensitive.

Insider threats

Incorrect migration

Viruses

Ransomware
Using only built-in Office 365 DLP can slightly reduce the probability of data loss in some cases, but it doesn't protect your data altogether. Setting up DLP policies can not protect from human error or external threats completely.
Long story short, Office 365 data loss happens even though there are built-in tools to prevent it. But you can use additional software to improve data loss prevention.
Advanced Microsoft Office 365 Data Loss Prevention Software
Getting third-party software might be a great idea to enhance the security of your Microsoft Office 365 data. You can try SpinOne, an end-to-end cybersecurity platform protecting your cloud data. We offer SpinBackup to recover lost data and SpinSecurity to make your O365 files safe from ransomware.
Backup
"Why do I need external backup?" you may ask. The reason is Microsoft's native recovery tools have some limitations that can lead to data loss. You can find out more in our article about reasons to backup Microsoft Office 365.
Backup allows you to avoid data loss by recovering all lost data from a safe copy. How does SpinBackup protect you from data loss?
Creates a copy of your Outlook, Onedrive, Calendars, and Contacts.

Utilizes advanced encryption techniques.

Ensures safe O365 data migration.

Provides indefinite data retention.

It keeps multiple data versions to choose from.

Preserves the folder hierarchy file recovering the whole folder.
Just click Restore and get your data back if it was lost.

With SpinOne, you can keep your Microsoft Office 365 data safe from human error, insider threats, malware, and other safety breaches.
Ransomware Protection
To decrease the ransomware-related risks even further, we offer you an advanced ransomware protection tool – SpinSecurity. It combines all backup features + unique machine learning algorithms to ensure that your data will not be lost due to ransomware. Our end-to-end solution includes ransomware detection, remediation, and recovery – all in one platform. Early detection makes it possible to reduce the chance of ransomware-related data loss to a minimum.
Secure your corporate data with the market's top backup tool for Microsoft Office 365!
Request a demo
Read next: How to protect Microsoft Office 365 from ransomware.