You have probably read about recently updated Google DLP for Gmail and Drive, so now let us introduce you the SpinOne data protection solution that perfectly adds significant value to Google DLP.
SpinOne Data Protection for G Suite is a set of security features to protect organizations of any size against data Leak and Loss disasters in the cloud by letting G Suite administrators back up their sensitive data, identify security risks, and fix them before they become a huge disaster. Spinbackup helps organizations gain more control and visibility over data security by providing an additional layer of protection from third-party apps connected to their G Suite account, insider threats, and sensitive data security beyond what Google can offer.
SpinOne Data Protection for Gmail
SpinOne Data Protection for Gmail scans all Gmail messages for sensitive data, such as Credit Card Numbers and informs G Suite administrators about any cases of data leak. This is especially important for securing customer information that is currently the most targeted type of data by insider and outsider crime actors.
All messages containing such data are marked with a special sign at the Data Audit interface.

Alerts about each incident are sent to the G Suite administrator's email and/or Slack. This suspicious activity is registered at the Domain Audit section with a specific risk level. This way allows the administrator to be notified (in contrast to Google DLP) within and outside the G Suite when a new message with sensitive data is sent or received. Administrator has full visibility over the user involved, date, time, and precise information. We recommend that the administrator responds promptly to every security alert and, with all the coherent information provided, tailors the company's Google DLP policy to reach maximum efficiency.
Remember, any kind of strategy – financial, marketing, operations or information security – is efficient only when its results are constantly monitored and adjusted to the evolving environment and circumstances. Strategy that is set up once and never monitored or improved will inevitably become inefficient soon.
SpinOne Data Protection for Google Drive
Every organization boasts many important financial reports, confidential documents and valuable databases. To protect this information from being shared with people outside the organization, SpinOne provides in addition to sensitive data scanning, as with Gmail, Data Audit of Shared Files for Drive. Despite a similar name, it is different from that of Google's.
In SpinOne, all items shared with third-party people (i.e., outside the domain) are separated to a dedicated dashboard in the Data Audit section, and alerts about each such message are sent to the super administrator to his or her email and / or Slack. This suspicious activity is registered at the Domain Audit section with a specific risk level.
The actions that administrator can take over detected items shared outside the domain are much wider the ones he has in Google. With files shared outside the domain, administrator can:
See detailed information about date, time and user the file was shared with and was shared by;

Take ownership of a file;

Stop sharing file with one or with all users it has been shared (usually, this is a more effective way to protect sensitive data than taking ownership of a file);

Stop public sharing of file ("public on the web" status).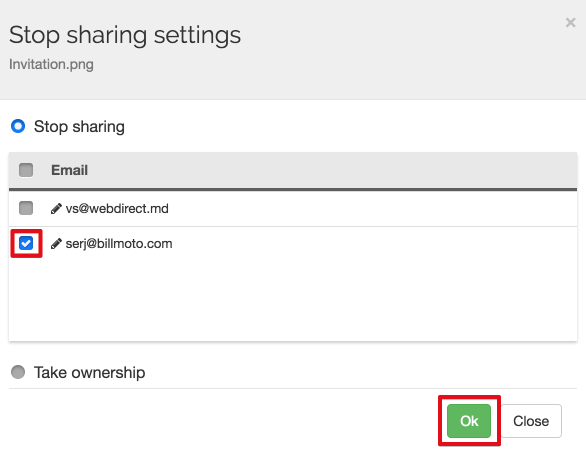 Here, again, SpinOne provides the administrator with a full range of sensitive data protection advantages, described in the Spinbackup Data Protection for Gmail section, and additionally gets powerful tools to be notified about suspicious Google Drive sharing activity and take the response action plan for such files.
SpinOne Data Protection for G Suite: Additional Security Features
SpinOne protects organizations from various insider and outsider threats with a set of the following security features:
Automated daily security scan
Comprehensive automatic scanning of:
– Сonnected cloud apps
– Employees behavior activity
– Sensitive data
Security risk audit for third-party apps and user activities
SpinOne machine-learning algorithms identifies and assigns a potential level of risk to every application connected to the G Suite domain account and every user activity, so that an administrator can focus his or her attention on the riskiest ones.
Abnormal downloads detection
When big amounts of data is downloaded from corporate cloud storage to a local computer, Spinbackup detects this abnormal activity and notifies the administrator about the incident.
Corporate data transfer detection (from corporate to private accounts)
When big amounts of data is transferred from Google cloud storage to a private one, such as Google Drive or DropBox, SpinOne detects this abnormal activity and notifies administrator about the incident.
Third-party apps audit and black list for apps
All applications connected to domain are carefully analyzed. Risky applications can be added to a blacklist, so that the system automatically revokes its access to corporate data and, if necessary, deletes application from employees' devices.
Black list for suspicious emails
Spam or messages infected with a virus can be added to the blacklist, so they are never restored from backup.
Login and logout tracking
Abnormal amount of failed attempts to login or log attempts from unusual location is detected, and corresponding alert is sent to an administrator.
Administrator can control items that were moved to Trash and then permanently deleted. All these items can be restored with SpinOne.
Downloadable security reports
3rd-party apps, Domain Audit and Data Audit reports that you can save for further analysis.
Security alerts and reporting
The most valuable part of SpinOne cybersecurity section is its independent work. An administrator does not need to open the dashboard every day to check the application or user activity security status. If anything happens, he or she will be notified via email and Slack.
As you can see, SpinOne is not only about Gmail and Drive. It is a comprehensive tool that protects your G Suite data from Leak and Loss at the same time, combines monitoring, detection, reporting and protection features and lifts organization to a new level of data security. And all these – in one dashboard, one invoice, one support.