All of cloud backup services for Office 365 admins perform the same primary function – they automatically backup your data. But it doesn't mean they do it in the same way. And this difference in "not what but how" is crucial for data security. 
As an official partner of Google Cloud and an advanced technology partner of Amazon Web Service, Spinbackup has helped thousands of companies become compliant by safely backing up their employees' data. More than six hundred thousand of users successfully backed up and restored their data with the help of our service. 
Let's clarify, why exactly Spinbackup is your top cloud backup choice for IT admins, company owners, and end-users. And of course, read about how to use it to backup office 365 emails easily!
1. Spinbackup Helps You Fill the Gaps in Office 365 Data Security and Achieve Compliance
As an admin, it is one of your responsibilities to take care of the company data safety. All the data management and preservation processes must be aligned with the data protection regulations. To reach this alignment, you have to perform specific day-to-day procedures that can be tiring, time-consuming, and can still leave you unprotected.
It is not enough for the Microsoft Office 365 email backup service to copy your emails to cloud storage. The backup solution also must provide other services that help you keep your company compliant with the law. A good backup service should help you close the Office 365 gaps in security that may lead to data loss and leaks. 
Since Spinbackup is SOC2 and GDPR compliant, our service can be one of the chains to your data security compliance. We automate many of the necessary cybersecurity tasks helping you do your job much easier and faster.
Here is how we do that:
Automated backup 1x-3x a day to one of the three most reliable public cloud storage providers: GCP (Google), AWS (Amazon), and Azure (Microsoft). You can select a provider yourself. This choice also lets you be compliant with some local regulations that state you must store your data only within specific regions, for example. You can choose from three storage providers, depending on where they have their data centers. 

Encryption both when files are "in-transit" and "at-rest". All data you are backing up is encrypted by default.

Unlimited storage. Technically, every storage is limited, but Spinbackup provides so much space your company will never run out of.

Indefinite retention policy and cost savings. If an employee is leaving, you can store their data indefinitely much cheaper than keeping their Office 365 license. 

Deletion Control. We provide 24/7 monitoring of files, so whenever an employee deletes a document from their Office 365 account, you will know about it. 

Top-notch upcoming cybersecurity protection. It will help you to effortlessly prevent data breaches. No office 365 email backup solution does that at this point except Spinbackup.
As you see, Spinbackup follows the recommendations provided by ISO/IEC 27002 (internationally-recognized standard of good practice for information security) to ensure that the information security controls are implemented.
But while some of the services like automated backup or unlimited storage may be common for most backup services, others are provided by Spinbackup only. Lets elaborate on them and explain how they will make your work as an admin so much easier.
Full Control Over Permissions for Users and Administrators
To avoid security breaches when users or third parties download data without your permission, we implemented the Permissions Control Panel. 
There are a lot of options to customize what users and admins can and can't do within the Spinbackup interface. It lets you control what users do with their work files and prevent leaks of sensitive and private company information. If you or your management decide so, users won't be able to Login, Restore, or Download backed up data.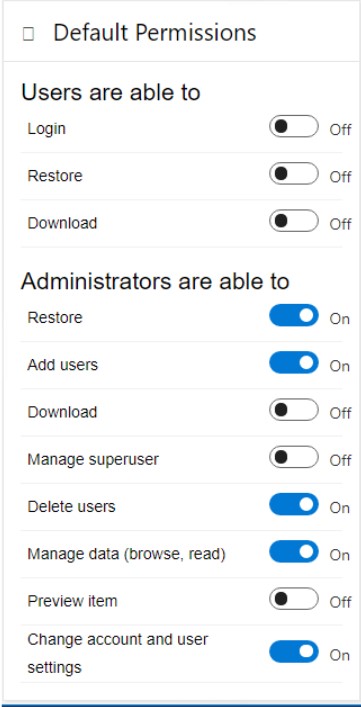 These options help to protect your data in case a leaving employee tries to download all backed up emails or contacts before they leave the company. 
P.S.: If you need some tips on maximizing native security of Office 365, read it here.
Upcoming Cybersecurity Protection for Office 365 Accounts
To the end of 2019, we will not only backup Office 365 data but will also protect them. Spinbackup's Office 365 cybersecurity features will include Apps Audit, Domain Audit, and Security Alerts that are already included in our G Suite security protection offering. 
All your Office 365 environment will not only be safe from data loss – the service will also detect:
brute force attacks

sensitive and personal data movements

abnormal logins 

data movement within and outside the company

installation of third-party apps
You, as an admin, will be alerted immediately about all the threats that taking place in your Office 365 environment so that you can react quickly. This will save you time and nerves, making the administration process smooth and seamless.
2. Spinbackup Saves Your Time: Do Less While Accomplish More
To ease your workflow, we eliminated all the bottlenecks that made the data recovery process time-and-energy-consuming. Now, the process is so seamless that you don't have to spend any extra minute on it. 
Here is how we reached that: 
Restore-in-Time Machine With Version Control and Folder Hierarchy. We implemented the point-in-time restore – 100% accurate recovery with the same folders hierarchy. Such recovery is possible because the service takes snapshots of your data. Spinbackup saves all metadata, sharing permissions, and folder hierarchy for the entire user account.
Now, when you need to restore Office 365 emails or documents, they will be recovered in the same way they were backed up. No more need to spend time organizing documents or looking for one. 
If aside from the Office 365 cloud email backup, you also a backup for other Office 365 services like OneDrive, Calendars, and Contacts; you might want to be able to restore some particular versions of them. Spinbackup solves this problem and makes it possible to have multiple recovery points for each Office 365 items.
It means you can restore any version of a lost file with one click. 
Data Migration Between User Accounts in Office 365. There is no need for you to torture yourself using native Microsoft tools or separate third-party migration tools to transfer files from one account to another. Spinbackup makes data migration between user accounts and platforms (from Office 365 to G Suite and vice versa) understandable and convenient.
You can request the restoration of Office 365 data backed up from the leaving employee account and direct it to the account you need. The migration can take some time depending on the amount of data you need to retrieve, but it all will be migrated with the very minimum of your involvement. 
Local Downloads. The other feature – Local Downloads – lets you download backed up files a local device wherever you need it. 
Easy search. With our search, it takes a few seconds to find a specific email you need to restore.

24/7 support via chat, email, phone. We hear our customers, and leave no request unanswered, which is proven by 

lots of positive reviews. 

User-friendly Interface With User Management. There is a centralized admin panel from where you can manage everything – users, backups, admins, and reports. Also, you don't need to rack your brains to master the Spinbackup interface – everything is intuitively understandable. But if you still have questions, there is 24/7 support ready to explain anything and upcoming knowledge base on our site with how-to guides and manuals.
As you see, we automate not only the backup process – we also help you simplify the time-consuming data management process. All the data migrations between accounts when the employees leave your organization won't be annoying and energy-consuming anymore. We make this process smooth and fast.
Try this out for free and decide for yourself!