One of the key features of Spinbackup for Business for G Suite is third-party applications audit. It provides G Suite admins a visual report to monitor the enterprise security of third-party apps accessing company data in G Suite.
The transparency in company data security allows a G Suite administrator to easily identify security risks. At the overview level, they can gain insights into potential vulnerabilities, while at the app level, they can take specific actions to remove the risks and prevent them from becoming significant problems.
Audit third-party apps in your Google Workspace and disable them
Try SpinOne!
Why are Third-Party Apps a Potential Security Risk?
Using 3rd-party apps with G Suite can be very useful. Apps offer some advanced features, significantly extending cloud functionality and cloud productivity, but they can also introduce a new kind of security risk into your organization.

Third-party apps have the potential to reduce the security level of your G Suite cloud storage and apps because:
     

They have access to G Suite services;

     

They can access data stored within G Suite;

     

Once given access, they retain this level of authority until it is manually revoked.
It may be helpful to consider every third-party app in the same way as a new employee within your organization. As with any employee, it is important to think about the level of access that he or she will have to corporate data and software.
You would definitely not give all your employees full-level access to corporate information and the same should be true of any apps that are installed. Just as an employee can cause a breach in the corporate data, so can insecure apps that have access to this data.
Shadow IT is the term given to the practice of building and/or using software that is not authorized by the organization and can result in cyber security risks as well as inefficient work processes.
It is vital to make sure that:
The app requires access to the data or service in order to function properly.
The app has a sufficient level of trust to access this functionality and information.
One of the main problems with third-party apps is that while they can be easily installed by any employee onto his or her own devices, their level of access to corporate data can be hardly controlled.
For example, an employee working at a company with a BYOD (bring your own device) policy may use his iPhone to regularly access emails and documents via Gmail and Google Drive. The employee may then install a 3rd-party app onto his phone that requests permission to access his Google account during the installation process.
Most users do not pay much attention to these permission requests and will click the button to grant permissions without a second thought. This app gains access to all data visible in the user's Google account and G Suite services. It also has the ability to delete and download data to a private cloud storage facility.
Many of the riskiest third-party apps are games and applications that have nothing to do with work. For example, earlier versions of the popular Pokémon Go game requested full access to the user's Google account.
For example, data migration apps can be particularly risky for the company as they may allow the download of data to private storage, which can lead to data leaks and breaches.

While only a small minority of apps are actually malicious and apps that are installed via the official iTunes and Google Play stores have to meet certain requirements, they may well have software vulnerabilities that could be taken advantage of by hackers, even several years after the software is originally installed. Google cannot guarantee the safety of any third party applications and all are installed at the user's own risk.
This opens the opportunity for a serious data loss or data leak that could affect your whole company, and Spinbackup introduced the Risky Third-Party Applications Audit feature to help you prevent or mitigated the risks!
How to Protect Organization From Insecure Third-Party Apps
Provide Employee Security Training
Employees are usually not aware that apps they install could cause a serious risk to corporate data. Providing detailed security training for all employees, explaining the risks associated with 3rd-party apps and how they can compromise corporate data, should be the first step of action for any company.
Training is particularly important for senior and management-level staff, who are likely to have accounts with access to sensitive corporate data. Employees at this level often assume that computer security is dealt with by the IT department and do not realize they have a personal responsibility to help ensure company data is not compromised.
Implement a Robust Security Policy Your corporate security policy should include clear guidelines for employees at all levels in regards to using personal devices at work, installing 3

rd

-party apps, permissions that may or may not be granted, and the type of data that is allowed to be accessed or downloaded onto personal devices or 3

rd

-party backup and storage solutions.
A survey commissioned by Trustlook in Q4 2016 found that a worrying 60% of companies did not even have a BYOD policy in place, which poses a serious threat of data leaks of corporate information.
Run a Regular Security Audit of Third-Party Apps
The best way to deal with any potential security problems that may occur via 3

rd

-party apps is to develop an awareness of the apps that are installed and being used by employees on a daily basis.
Using Spinbackup cybersecurity service with third-party application audit allows administrators to easily monitor apps that have access to corporate data and quickly disable apps that may cause a security threat.
How Spinbackup Third-Party Applications Audit Works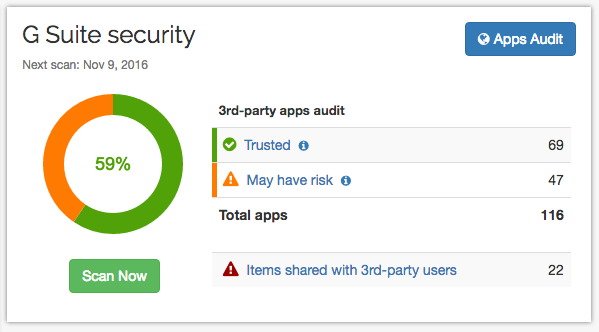 The third-party apps audit runs a daily automated scan of all apps installed by users within the organization. As a result it produces a report, listing all the apps with an at-a-glance color-coded view of their level of risk.

G Suite Administrators have the option either to block apps directly from this screen or can click through to see a more detailed report for each individual app. The report includes:
    The risk

 level of the app and detailed description of possible risks (assessed by Spinbackup's own criteria);

   

The type and description of the app;

   

Employees having access to;

   

List of permissions granted to the app.
Each application is rated based on its level of authority and any potential security risks are listed in more detail. G Suite Administrators then have the option to mark the app as trusted or to remove access for all users within the organization. 

In addition to the daily scan, the apps audit can be run manually at any time.
As well as providing a quick and easy way to block risky apps, the third-party apps audit also enables G Suite administrators to monitor apps that have access to corporate data and discover immediately if there have been any violations of data access or company policy (for example, downloading data to a private account).
The third-party apps audit now also has a new "auto-remove" feature for blacklisting apps, reinforcing robust security measures. When Spinbackup detects the installation or authorization of a third-party app, it automatically checks it against the blacklist. If the app is found in the blacklist, Spinbackup removes the permissions associated with it.
The Spinbackup third-party apps daily audit has discovered over 3,000 apps to date via our smart algorithms and our analytic department. This has helped G Suite administrators save a tremendous amount of time that would normally be spent analyzing each application separately.
You can request a demo of Spinbackup cloud-to-cloud backup and G  Suite security, including the 3rd-party apps audit, and try it out for yourself.