Pricing for Salesforce Data Protection
BEST VALUE
SpinOne
license/month
All-in-One SaaS Data Protection Platform: Security Monitoring, DLP, and Automated Backup of Salesforce Data
(coming soon)
Minimum contract size of $1,080

* Each license grants 30GB of storage
Try It Free
3x a Day Automated Backup
Cloud Storage: AWS, GCP, Azure
Data Encryption
Data Management
24/7 Support
Metadata backup
Compare tools
Granular Recovery
Sandbox seeding
Intelligent API utilization system
Support multiple domains and apps (Salesforce, Office 365, Google Workspace) All-in-One Dashboard
Multi-org Support
Data Anonymization - coming soon
Alerts Monitoring - coming soon
Platform API
Integrations: Splunk, Slack and Email
SpinBackup
license/month
Daily Automated Backup of Salesforce Data to AWS, GCP, Azure
Minimum contract size of $1,080

* Each license grants 30GB of storage
Try It Free
1x a Day Automated Backup
Data Centers: AWS, GCP, Azure
Data Encryption
Data Management
24/7 Support
Metadata backup
Compare tools
Granular Recovery
Sandbox seeding
Intelligent API utilization system
Support multiple domains and apps (Salesforce, Office 365, Google Workspace) All-in-One Dashboard
Multi-org Support
Data Anonymization - coming soon
Alerts Monitoring - coming soon
Platform API
Integrations: Email Alerts
TOP Frequently Asked Questions
How secure is SpinOne? Can SpinOne access my backed up files as well?
No, the files are encrypted both in transit and at rest. Top level 256-bit AES encryption is used to process and store your backed up data.
Can Admins delete backed-up data?
For security reasons, nobody can delete your backed-up data.
What types of data is backed up and how frequently?
SpinOne backs up files, objects, and relations between them once a day automatically. You can additionally perform manual backups.
Salesforce has native tools. Why do I need SpinOne?
Salesforce native tools provide limited functionality, i.e. one tool backs up files, another tool stores metadata. SpinOne has all these features in one user interface.
Why is SpinOne backup fastest on the market?
Legacy Salesforce backups do not use Bulk API 2 as it is a new feature. By utilizing two types of APIs we can significantly speed up key operations with Salesforce data.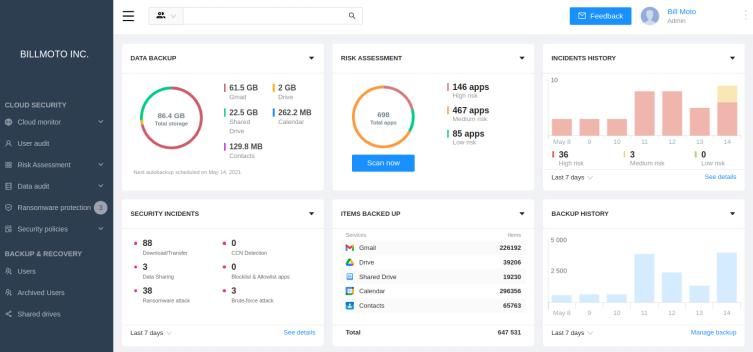 Looking for a DEMO?
Feel free to schedule a demo session with one of our Sales Engineers to discover all the benefits of our premium product SpinOne Platform that provides the most sophisticated protection against ransomware and insider threats for your mission-critical SaaS data.

Request a Demo