SpinOne for Office 365
Protect your organization against data loss and prevent data leak disasters across your Office 365 environment with SpinOne's automated ransomware protection and cloud-to-cloud backup solutions.
Ransomware Protection
Keep your business away from all kinds of emerging ransomware attacks. Detect ransomware attacks in the cloud, stop them, and recover infected files automatically.
Learn more
Cloud-to-Cloud Backup & Recovery
Comply with local regulations and keep your business data safe with automated daily backups of Outlook, OneDrive, Calendar, Contacts, and SharePoint.  
Learn more
Why protect your Office 365 data?
Microsoft protects Office 365 against the loss of service due to hardware failure or natural disasters. You can also rely on their short-term data protection functionality if a user deletes a key file accidentally or on purpose, however, this is not enough to keep your company away from ransomware attacks, malicious insiders, and other security threats.
Office 365 security checklist
SpinOne solves your data protection challenges
With numerous advantages of Microsoft's business apps, the security of data in the cloud remains a key concern for Office 365 organizations. Luckily, SpinOne adds an extra protection layer to what Office365 provides.
Human error
Human error is estimated at around 29% of all data breach causes. You cannot eradicate human error. But you can reduce its negative effect on your company by simply being prepared. Should a data breach occur, you will be able to recover your data from a secure SpinOne's backup.
Ransomware
16 is the average number of days it takes for organizations infected with ransomware to restore their networks. How much money will you lose while trying to restore your systems? With SpinOne, you're safe from that damage. We stop the infection at its tracks and recover your network automatically in minutes.
Regulatory compliance
A failure to comply has become more costly than ever for organizations and runs at around $14 million on average. SpinOne helps you stay compliant with government and industry regulations and avoid the astronomical financial impact of non-compliance.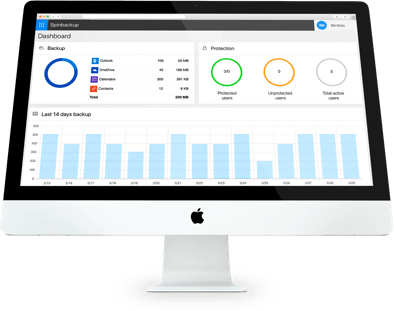 Business downtime
Data loss can be catastrophic. In the event of ransomware, or even human error, you risk losing money and reputation due to business downtime, unrecoverable assets, and lost consumer confidence. By preventing data loss incidents, SpinOne keeps data breaches from crippling your business.
Business risks
Business interruptions, infrastructure downtime, legal costs, penalties, reputational damage – the consequences of cyber threats are devastating. You can run out of business if you don't implement a disaster recovery strategy. SpinOne is a data protection solution your IT team can depend on.
Lack of cybersecurity experts
As cybersecurity threats grow, companies face the lack of security experts who are capable of protecting their organizations. Automating security processes with AI-based technologies is the only solution that can handle data protection challenges without requiring deep security expertise.
Our clients
Our platform is used to safeguard Office 365 data of large and small enterprises around the world.
Did you know?
SpinOne also provides an all-in-one data protection solution for G Suite complete with SaaS apps risk assessment offering.
Explore SpinOne for G Suite
Get automated ransomware protection and cloud-to-cloud backup for your Office 365 data – all in one platform
We secure and back up your data using the world's most trusted cloud storage providers such as AWS, Azure, and GCP. SpinOne monitors your Office 365 environment 24/7 and combats ransomware using AI-based technology. A high level of automation allows you to reduce IT costs and save a tremendous amount of time for IT departments.
Learn more about Office 365 data protection