Outlook Backup and Recovery
The only way to avoid Outlook data loss is to have a backup. With SpinBackup, your Outlook emails are safe and always recoverable.
Reasons to Use an Outlook Backup Solution
Human error, cyber attacks, ransomware – sometimes, only a backup can save your Outlook emails from being lost and your company from facing serious financial and reputational damages.

You can delete emails accidentally
You or your employees may delete important emails accidentally. Recovering them may be impossible without a backup, as the Deleted Items folder stores items for 30 days.

Hackers can delete your emails
Business data stored in Microsoft 365 is often targeted by hackers. During a cyberattack, your emails can get deleted. If your Outlook emails are lost, a backup will help you to recover them.

Inability to meet compliance requirements results in fines
The cost of non-compliance is high, reaching up to 4% of annual turnover. To meet compliance requirements, you need to store your data securely. Having a backup helps you to meet compliance requirements.

Ransomware encrypts Outlook emails
Ransomware encrypts Outlook emails making them unreadable and disrupting your usual workflow. On average, recovering from a ransomware attack may cost a business $84,000. Backup helps to restore encrypted emails.
SpinBackup for Outlook Lets You Have Peace of Mind Round the Clock
It is not uncommon for cloud data to be lost or damaged. SpinBackup is a cloud-to-cloud backup solution that guarantees the security of your Outlook messages and other data. Spinbackup provides unlimited automated daily backups and easy recovery that takes only a few minutes.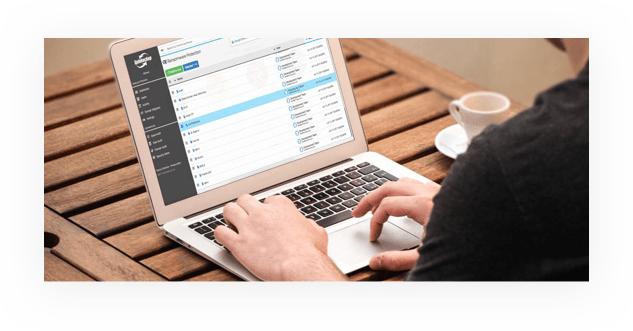 How SpinBackup Works
See SpinBackup in action.
Trusted by over 1,500 Organizations in 30+ Countries
More than 1,000,000 loyal individual and corporate users benefit from our backup and cybersecurity solutions.
Outlook Backup Key Features
Here is why Spinbackup is the best choice for your Outlook backup.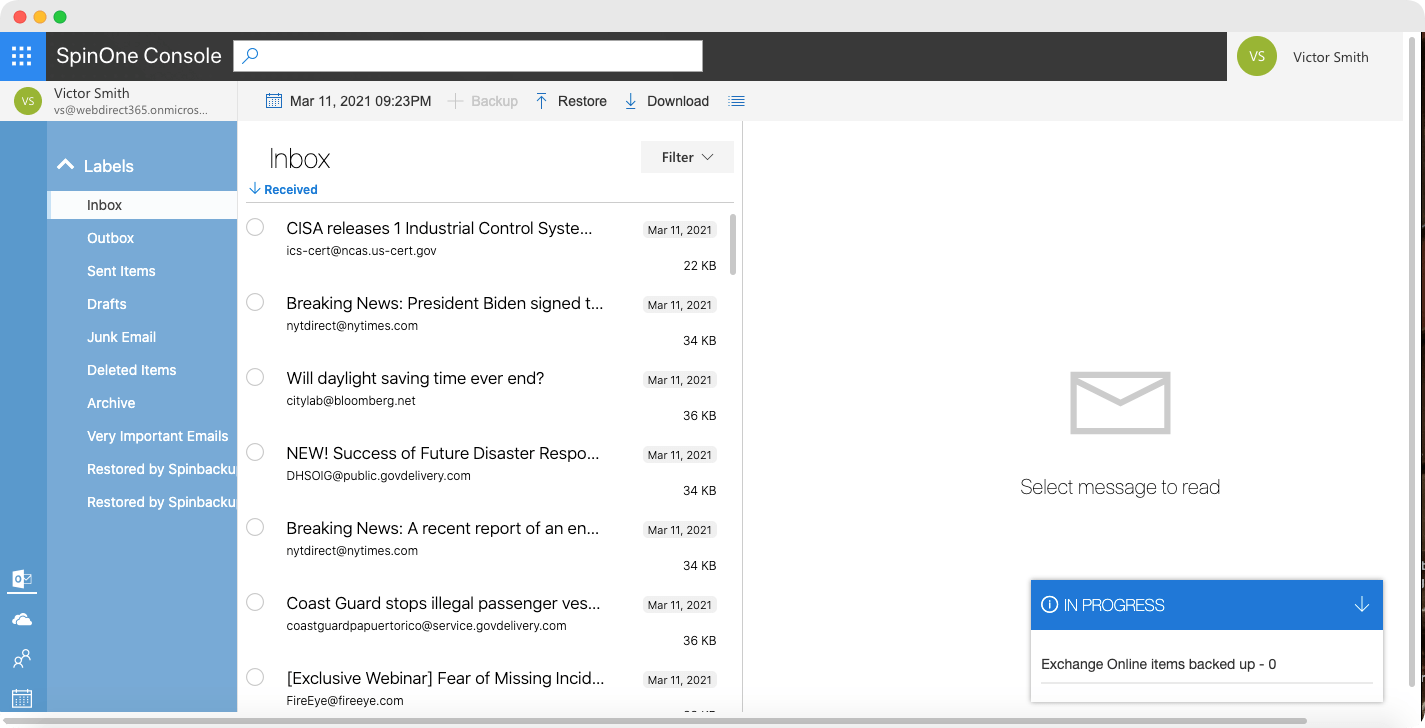 Automated Daily Backup

SpinBackup allows you to back up all Outlook data and recover it if the need arises. We provide you with automated incremental backup up to three times a day to secure cloud storage of your choice - AWS, GCP, or Azure. Also, you can customize the backup frequency and data retention.

99,9% Accurate Granular Recovery

Restore-in-time machine. Restore data per individual account. Replicate the folder structure and restore nesting along with data.

Multiple Cloud Storage Locations

You can choose between Google GCP storage, Microsoft Azure, Amazon AWS S3, or your custom storage.

24/7 Customer Support

Have any questions? Our friendly support is always there for you!

Visibility and Control

SpinBackup has an easy-to-use control panel to give you full visibility over your Contacts and other Outlook data.

One-Сlick Data Migration

You don't have to pay to retain inactive licenses. Transfer the contacts between accounts in just one click.

Version Control

To improve the recoverability of your Outlook contacts, we keep several versions of your backed up data.
Our Customers About Us

I've used Spinbackup for 2 years now and have been very happy with their product. The interface is clean and intuitive and the service is seamless integration. The price is reasonable and support has always been very responsive and helpful.
Chad Smith
VP of R&D at Teleira

We used Backupify before and switched to SpinOne because the interface responsiveness is way faster. Also, the interface to restore items is better and more intuitive, options easier to find, and admin roles easier to define. The so-called 24/7 support at Backupify is nonexistent, responses from support take up to 2 hours (for simple questions) whereas SpinOne replies within minutes, maximum hours. # SpinOne is the solution to go for!
Danilo Schwabe
ICF Church Berlin e.V., IT administrator

It is the best solution for a cloud-to-cloud backup. The support is amazing as well. Kudos
Noel Munyae
FACTS Africa, IT administrator
SpinBackup Is More than Just an Outlook Backup
SpinBackup helps you to protect not just Outlook emails, but all of your Microsoft 365 data. Our advanced security algorithms and machine learning protect your data from human error, ransomware, and malicious applications.

SpinBackup
Microsoft 365 Backup & Recovery
Secure backup for Outlook messages, Outlook contacts, OneDrive files, Calendar tasks, and events.
SpinSecurity
Microsoft 365 Backup + Ransomware protection
Backup + Fully Automated 24/7 Protection Against Ransomware for Microsoft 365 data.
Your Microsoft 365 Data Security Is Our Top Priority
We guarantee that your data is kept safe and secure.
                             

SOC2 (Type 2)

                             

OAuth 2.0

                             

GDPR

                             

Data Encryption

                             

EU-US Privacy Shield

                             

Service Level Agreement
Learn More About Outlook Security
Take a deeper dive into Outlook security with our guides and other materials.
Frequently Asked Questions
Technology Partners