Apps Risk Assessment
Assess the business, security, and compliance risks of the third-party SaaS apps and Chrome extensions connected to your business-critical data and have control over the data security in your organization. Give bad guys a ZERO chance to steal your sensitive data!
Assess SaaS apps risk to prevent shadows
The number of SaaS apps are growing extremely fast since companies move to the cloud. Now employees are able to install any SaaS app or a Chrome extension completely off the corporate radar. This "democratization of IT" has led to one of the biggest cybersecurity risks. Shadow IT refers to apps that individuals in an organization use every day without the knowledge of their IT department.
SaaS data protection guide
Business risk, security risk, and compliance risk assessment must be part of your cybersecurity strategy
Data leak that comes from a departing employee
Data leak that comes from a third-party app installed by an employee accidentally or on purpose
Brute force attacks
Man-in-the-Middle (MITM) attacks
Ransomware attacks
Sensitive data shared outside of an organization
Enterprise data being migrated from a company account to a personal one
Admin account compromise or hi-jacking
Unexpected IT costs, fines and penalties
SpinAudit provides risk assessment for G Suite SaaS apps and Chrome extensions
Business Risk
High Risk |
Medium Risk |
Low Risk
With SpinAudit you get a database with 55,000+ SaaS apps and extensions that have already passed AI-based security scoring. We save admins a tremendous amount of time assessing the risks of software connected to G Suite.
The business risk level of a G Suite app
The type and description of the G Suite app
List of permissions granted to the G Suite app
Employees it has access to
Type of connected devices
Blacklist/whitelist apps
Custom security policies
Try risky apps scanner FREE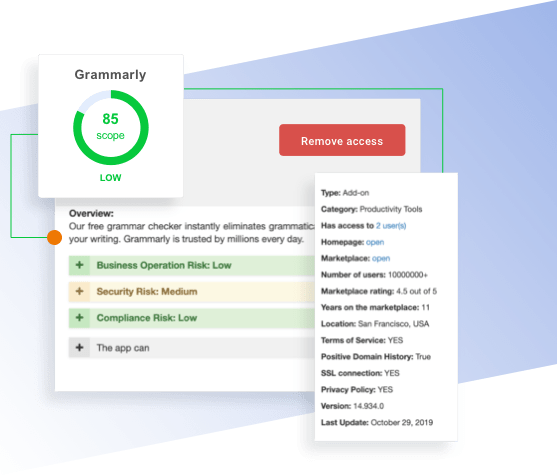 Security Risk
High Risk |
Medium Risk |
Low Risk
A typical SaaS environment is invisible to admins. And you cannot manage what you cannot observe. SpinAudit gives you full visibility over your data by monitoring employees who have access to G Suite and using machine learning algorithms to detect abnormal cloud user behavior.
Credit cards detection
Abnormal download
Abnormal migration
Brute-force attacks
Abnormal login
New apps install
Try security risk scanner FREE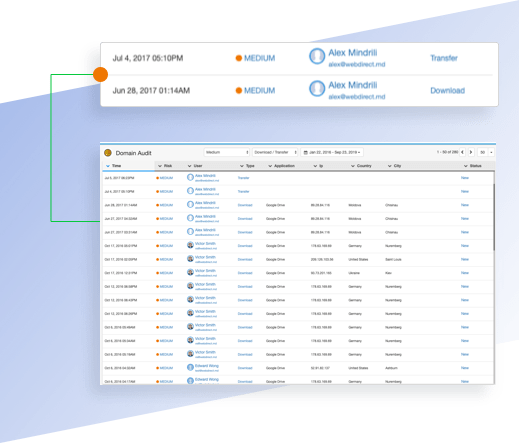 Compliance Risk
High Risk |
Medium Risk |
Low Risk
With SpinAudit you can find out if an app that has access to your mission-critical data is compliant with industry-specific and local regulations.
Compliance and audit reports (e.g. SOC 2, HITRUST, ISO 27001, GDPR, CCPA)
EU Privacy Shield
Privacy policy
Terms of Service
Data storage location
Try compliance risk scanner FREE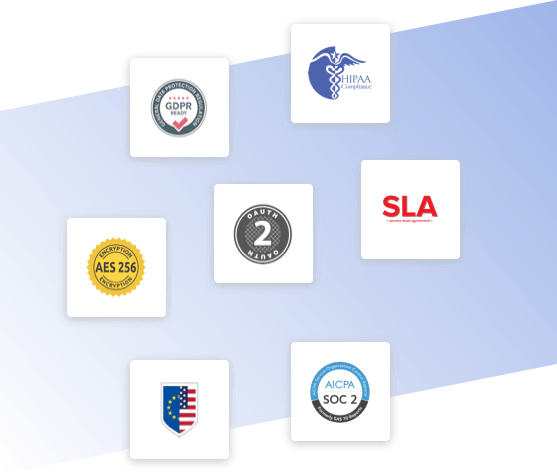 Key features to automate your security processes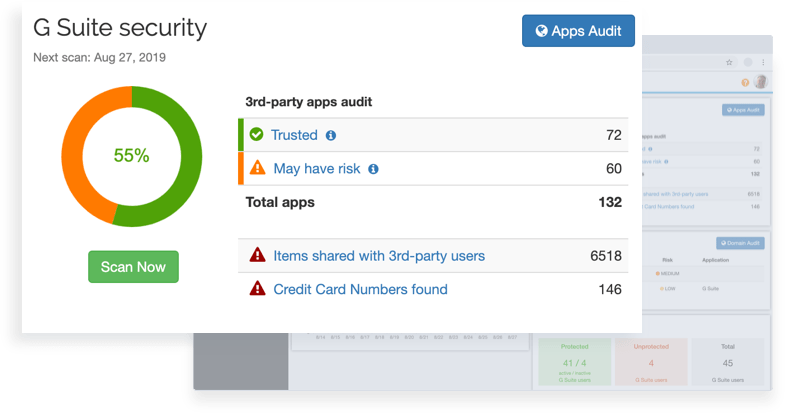 24/7 monitoring of G Suite environment
SpinAudit monitors your G Suite environment looking for anything that could pose a danger to business-critical data.
Security scoring for apps or extensions
Every single app that has access to your sensitive data gets an AI-based security assessment.
Blacklist and whitelist for apps or extensions
You can revoke access to risky apps or extensions that are not allowed to use in your organization.
Custom and flexible security policies
SpinAudit automates up to 90% of your security processes providing flexibility and control over your data.
Audit logs and activity history
You can go back in time to investigate any suspicious activity from any fake app or extension.
Security alerts via relevant channels
Our system integrates with email, Slack, or your custom ticketing system to send you security alerts.
Get a demo
Implement custom security policies with SpinAudit
Our functionality allows you to create custom policies to automate the security processes for apps, data, and domain-related event types. This includes the ability to set a scope of rules, exceptions, and notifications on a per rule basis.
Control risky apps
Detect when new apps get installed or uninstalled

Monitor your environment automatically and identify apps that are not allowed to use in your organizations.

BlackList or whiteList apps and extensions

Once you added an app to the blacklist, SpinAudit will revoke access to this app every time an employee tries to install it again.
The cost of data breach
Prevent data leaks
Detect abnormal data transfer or download

Get notified when an employee downloads an abnormal number of files in bulk, or when an app is used to migrate sensitive data from a business account to a personal one.

Detect sensitive data

Identify messages containing sensitive information such as credit card number (CCN).

Control shared items

Disable sharing of specific files to certain domains (including external) and by specific users.
G Suite security: a checklist for admins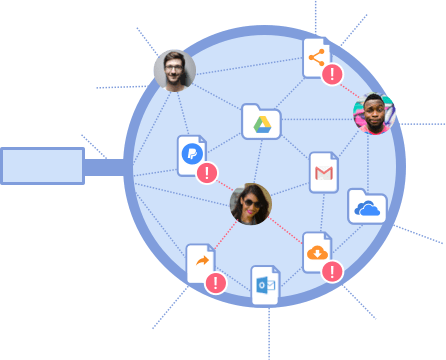 Protect from cyberthreats
Detect abnormal login and brute force attacks

Get notified when a brute force login attack has been detected.

Protect against ransomware

Stop the ransomware encryption process and restore encrypted files automatically.
A guide on protecting G Suite from ransomware