SpinOne for G Suite
Discover the power of the AI-based data protection platform for your valuable G Suite data. 
Monitoring 24/7, threats intelligence, and backup of your mission-critical data – SpinOne provides three innovative solutions to offer the end-to-end protection for G Suite organizations.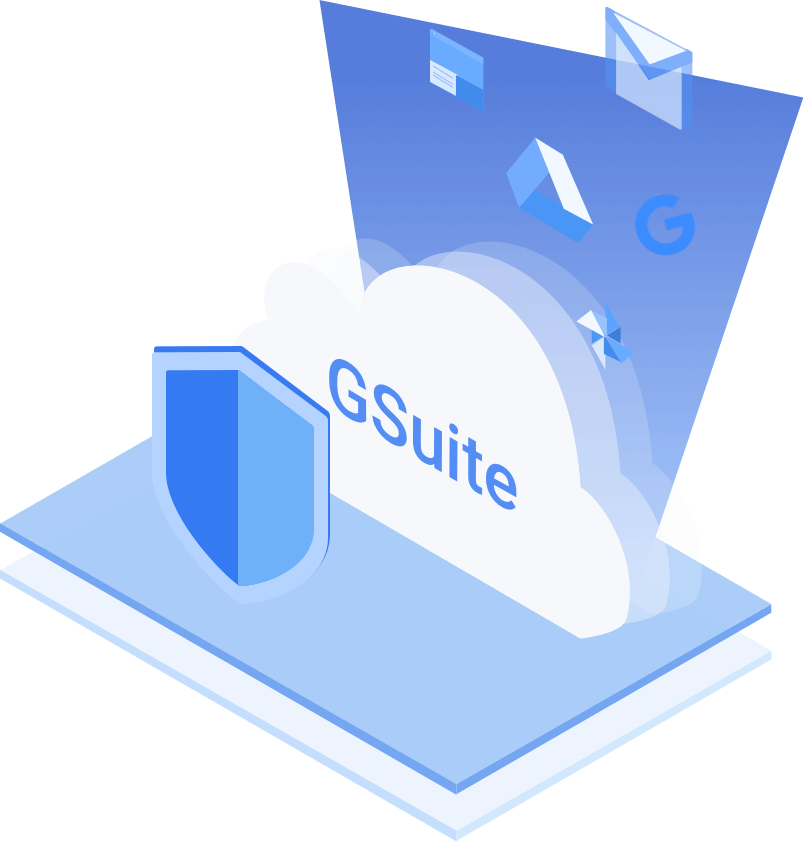 Why protect your G Suite data?
Google is heavily protected against infrastructure failures, but your data is your own responsibility. Make sure you have the right disaster recovery strategy to keep your business on track. A key file can be deleted accidentally or on purpose, or bad guys can get access to it. How much would it cost to manage data loss or data leak in your company?
G Suite security checklist
Key challenges SpinOne solves
Designed to protect organizations against data loss or prevent data leak. 
SpinOne improves compliance and reduces IT costs by saving a tremendous amount of time for IT departments through a high level of automation of the security processes.
Data loss
Data loss can disrupt business operations and even bring them to a standstill causing significant financial losses, among other problems. With SpinOne you can protect your G Suite from human error, ransomware, and insider threats, the major causes of SaaS data loss.
Human error
Data leaks most often happen because of a human error. SpinOne is monitoring your SaaS environment 24/7 and send alerts to an admin for any security breach. We also offer an enterprise-level backup to recover your files as fast as possible.
Ransomware
Ransomware downtime costs organizations more than $64,000 on average. SpinOne protects and prevents this damage faster than anyone on the market by fully automating ransomware protection for G Suite without any human involvement.
Security & Сompliance
The average cost of non-compliance is $14.82 million. This includes fines settlements, business disruption, and revenue loss. SpinOne helps you improve compliance by giving you the ability to restore your G Suite data quickly and keep it protected for as long as you need it
Data leaks
From declining revenue to a tarnished reputation or massive financial penalties to crippling lawsuits, data leakage is a threat you can prevent with SpinOne. We provide full visibility into what's going on in your G Suite cloud to prevent a data breach in your organization.
Malicious apps
Apps and Chrome extensions connected to G Suite can be used to steal critical data or cause a data breach in your organization. SpinOne monitors these apps 24/7, assesses their risk level, and removes access to your domain to protect your business against data theft.
Visibility over cloud data
Being unable to see your data in the cloud leaves you open to data breaches. With SpinOne, you get full visibility and control over what happens in your G Suite account so you could prevent business, security and compliance risks.
Insider threats
Insider-related incidents can cost a company up to $8.76 million a year. It's cheaper to prevent a data breach than deal with the consequences. SpinOne will let you know if somebody is installing a malicious app, sharing data outside or attempts to get access to your cloud account.
Cybersecurity threats
With 2.93 million cybersecurity jobs open and unfilled around the world, there aren't enough people to fill those roles. SpinOne offers an alternative – we automate up to 90% of security work so you could handle cloud security challenges without deep security expertise.
Account hijacking
If attackers break into your account, they can steal data, insert false information, redirect clients to illegitimate sites and conduct other malicious activities. SpinOne provides an incident response plan allowing you to restore your data with one click.
Brute force attacks
To get access to your account, cybercriminals try various combinations of usernames and passwords again and again until they get in. SpinOne can identify when somebody is making attempts to break into your G Suite account and will notify you about any suspicious logins.
New & emerging threats
Cloud, connectivity and technology advancements cause the growth of cybercrime. As we move forward, we need tools that can prevent not only current but also future threats. At SpinOne, we develop intelligent technologies to combat new and emerging cyber-attacks.
Our clients
Our platform is used to safeguard G Suite data of large and small enterprises around the world.
Get complete data protection for G Suite
Apps Risk Assessment, Ransomware Protection, and Cloud-to-Cloud Backup within one platform.
Cloud-to-сloud backup & recovery
Data security
Data management
24/7 support
Ransomware protection
3rd-party apps audit
Sensitive data audit
Domain audit (Insider threat detection)
Incident response plan
Learn more about G Suite data protection