Data migration is one of the key Admin tasks. When an employee leaves a company, moves to another department, or is simply fired, there is no need to pay for an unused account if you can migrate critical data to another account. But the cybersecurity world is challenging businesses and educational organizations with new threats that require maintenance of their cloud data with the help of technically advanced SaaS providers.
Using data migration tools is becoming a common practice, but simple data migration is not enough to accomplish the task. To migrate Google Workspace (G Suite) data effectively, you need a sophisticated combination of a migration tool and version control.

When a Google Workspace (G Suite) Admin Might Need to Migrate Google Workspace Data
The most common cases when a Google Workspace administrator needs to migrate data are the following:
An employee has moved to another division within the company that has a different subdomain and changes the account from @division1.company.com to @division2.company.com.
A student graduates from the university and the university changes their account from @university.edu to @alumni.university.edu.
An employee has stored valuable data on their personal account during the trial period and needs to migrate his Google Calendar events from @gmail.com to @company.com account.
An employee is leaving a company, and you don't want to pay for an unused account, so you move data from employee1@company.com to employee2@company.com.
Companies are merged or a company is acquired by another one, and all employees move to another domain, so you migrate Gmail messages and Google Drive files from @company.com to @newcompany.com.
For the majority of these cases, you can use various migration tools. However, some of them support migration from Gmail to Google Workspace (G Suite) (case 3) but do not support migration in the opposite direction. Some of them (for example, the Google migration service) support migration in different directions for Gmail and Calendars but cannot migrate Google Drive files.
To save time and finance for the Google Workspace (G Suite) admin, it is recommended to find one service that can provide all types of migration for all Google Workspace services.
Why You Need a Migration Tool with Version Control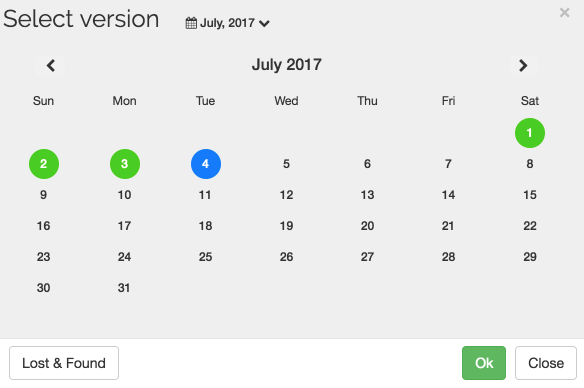 The cybersecurity market would not have expanded so rapidly if not for the hacker attacks, ransomware, data loss, and data leak disasters. In the regular business workflow, it may seem that having a correct data migration in place (one that supports all types of migration for all Google Workspace (G Suite) services) equips organizations against all issues connected to data migration. Unfortunately, that is not true.
Imagine the following situation occurs in your company:
A dissatisfied employee wants to leave your company and has intentions to harm your business. They permanently delete some pieces of vital information (such as financial reports, customer database, suppliers' contacts) then inform you about the decision to leave. You migrate Google Workspace (G Suite) data from their account to another one and after several weeks, you discover that data you have moved has no significant value.
Even if you think this situation will never happen, you can at least agree that it can happen accidentally, with no malicious purpose. If a hacker attacks your organization, they can delete pieces of information or even the whole account if given access to the super admin account.
What will you do in this situation? The truth is that if you have no high risk third-party apps backups with backup Version Control, there is no possible way to recover the deleted files. A simple migration tool will only migrate the items that are in the account at that moment, but with Version Control you can go back in time and select any version of the account, which makes it a much more useful tool.
We have something even more interesting for you. In the Spinbackup backup solution we provide you the ability to track deleted items from Google Drive, both the ones that were removed to Trash and the ones that were permanently deleted. As soon as any document is deleted from Google Drive, you will see it in the Data Audit section. The Trash icon will also appear in the Google Drive backup interface.

You can never know whether this will happen with your organization, that's why it's better to secure your data with an advanced migration tool that comes with the Version Control.
7 Advantages of Spinbackup Migration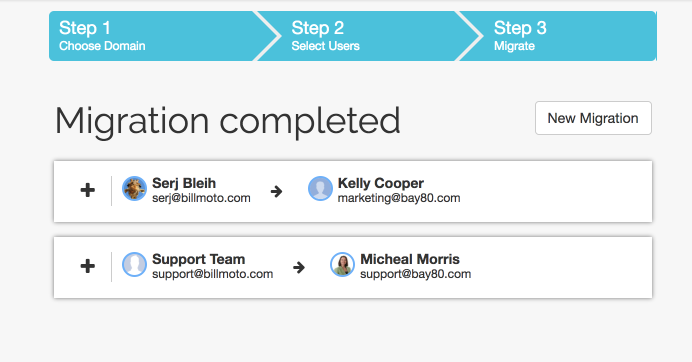 Spinbackup has solutions both for business and individual users (Spinbackup for Business and Spinbackup for Individuals). Each of them provides migration options with the recovery function. Depending on the type of migration you need and the application the data will be migrated from, you can use one or both of these solutions.
Main advantages of the Spinbackup migration are the following:
All Google Workspace and individual apps available for migration.
You have two types of migration in the Spinbackup for Business solution and five types of migration in the Spinbackup's solution for Individuals.
Spinbackup for Business
Spinbackup for Individuals
Google Workspace -> Google Workspace inside the domain
Google Workspace -> Google Workspace outside the domain*
Google Workspace -> Google Workspace outside the subdomain*
Gmail -> Gmail
Gmail -> Google Workspace
Google Workspace -> Gmail
Google Workspace -> Google Workspace inside the domain
Google Workspace -> Google Workspace outside the domain
* Unlike other migration types, these two ones allow migration of the whole application or account. For security reasons, full app migration to another domain or another subdomain account is available only from the last backup version. You are always free to check out the previous versions of the accounts and download them locally.
Maintaining initial folder and calendar hierarchy.
Version control for all applications.
Google Drive items migration, including Shared items.
Migration inside and outside the domain.
Value:
Spinbackup is a universal tool for
migrating all Google Apps
inside and outside the domain and to individual Google applications. It maintains a high level of corporate security by enhancing simple migration processes with the Version Control tool.