Pricing for Microsoft 365 Data Protection
BEST VALUE
SpinOne
license/month
All-in-One SaaS Data Protection Platform: Ransomware Protection, Apps Risk Assessment & Access Management, SaaS DLP, and Backup
Minimum contract size of $1,080

* Each license grants 30GB of storage

Free Sharepoint & Teams
Try It Free
3x a Day Automated Backup
Cloud Storage: AWS, GCP, Azure
Data Encryption
Data Management
24/7 Support
Proactive Ransomware Monitoring & Response
Risk Assessment for Apps
Blocklist/Allowlist Management
Application Scoring
Score History
Shared Data Audit
PII Data Audit
Security Policies
Incident Monitoring
Platform API
Integrations: Splunk, Slack and Email
Support Multiple SaaS Apps (Google Workplace, Microsoft 365, Salesforce) and domains All-in-One Dashboard
SpinSecurity
license/month
Proactive Ransomware Protection, Backup and Disaster Recovery
Minimum contract size of $1,080

* Each license grants 30GB of storage

Free Sharepoint & Teams
Try It Free
1x a Day Automated Backup
Cloud Storage: AWS, GCP, Azure
Data Encryption
Data Management
24/7 Support
Proactive Ransomware Monitoring & Response
Risk Assessment for Apps
Blocklist/Allowlist Management
Application scoring
Score history
Security Policies
Shared Data Audit
PII Data Audit
Incident Monitoring
Platform API
Integrations: Splunk, Slack and Email
Support Multiple SaaS Apps (Google Workspace, Microsoft 365, Salesforce) and domains All-in-One Dashboard
SpinBackup
license/month
Daily Automated Backup of Microsoft Microsoft 365 Data to AWS, GCP, Azure & Disaster Recovery
Minimum contract size of $1,080

Each license grants 30GB of storage

Free Sharepoint & Teams
Try It Free
1x a Day Automated Backup
Cloud Storage: AWS, GCP, Azure
Data Encryption
Data Management
24/7 Support
Proactive Ransomware Monitoring & Response
Risk Assessment for Apps
Blocklist/Allowlist Management
Application scoring
Score history
Security Policies
Shared Data Audit
PII Data Audit
Incident Monitoring
Platform API
Integrations: Email Alerts
Support Multiple SaaS Apps (Google Workspace, Microsoft 365, Salesforce) and domains All-in-One Dashboard
Top Frequently Asked Questions
How secure is SpinOne?
SpinOne utilizes the world's most advanced cloud security technologies to process and store your backed up data. We provide a military level 256-bit AES encryption for transferring and storing your data.
Can I cancel my account?
Yes, you may cancel your account at any time. Please note that as you cancel your account, all your data will be automatically removed from the SpinOne servers. To cancel your account, you need to send us a request from your dashboard.
Can I delete my backed up data?
No, you can't delete your backed up data. The reason for this is because this functionality may cause data loss due to accidental or purposeful deletion. If you need to save storage space, don't back everything up, instead use a selective backup option.
Where will my Microsoft 365 cloud data be backed up to? What compliances does SpinOne have?
You may choose to backup your sensitive data at a data center of your choice between GCP, AWS, or Azure. You may also choose your exact data location. SpinOne is SOC 2, EU Privacy shield and GDPR compliant.
What types of my M365 data is backed up and how frequently?
All data from your Microsoft 365 services is backed up either 1X or 3X a day.
Can SpinOne access my backed up files as well?
No, the files are encrypted both in transit and at rest. Top level 256-bit AES encryption is used.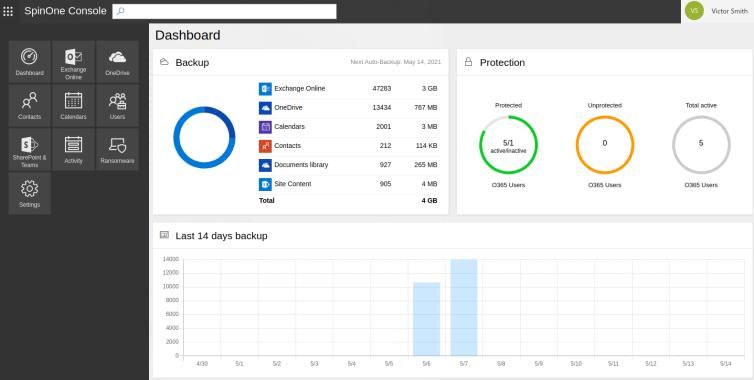 Looking for a DEMO?
Feel free to schedule a demo session with one of our Sales Engineers to discover all the benefits of our premium SpinOne platform that provides the most sophisticated protection against ransomware and insider threats for your mission-critical SaaS data.
Request a Demo