SpinBackup


SaaS Backup & Disaster Recovery (DR)
license/month
Daily Automated Backup to AWS, GCP, Azure, BYOS & Disaster Recovery
* Each license grants 30GB of storage

Minimum contract size of $1,080
Start 15-Day Free Trial
1x a Day Automated Backup
Data Centers: AWS, GCP, Azure, BYOS
Data Encryption
Data Management & Recovery
24/7 Support
Proactive Ransomware Monitoring & Response
Misconfiguration Visibility & Management
Risk Assessment for Apps & Extensions
Blocklist/Allowlist Management
Streamlined Approval Process
Application Scoring
Score History
Security Policies
Shared Data Audit
PII Data Audit
Incident Monitoring
Integrations: Email, Slack, MS Teams
Support Multiple SaaS Apps (Google Workspace, Office 365, Salesforce, Slack) & domains All-in-One Dashboard
SpinRDR


SaaS Ransomware Detection & Response with SaaS Backup & DR
license/month
Proactive Ransomware Detection & Response, Backup & Disaster Recovery
* Each license grants 30GB of storage

Minimum contract size of $1,080
Start 15-Day Free Trial
1x a Day Automated Backup
Data Centers: AWS, GCP, Azure, BYOS
Data Encryption
Data Management & Recovery
24/7 Support
Proactive Ransomware Monitoring & Response
Misconfiguration Visibility & Management
Risk Assessment for Apps & Extensions
Blocklist/Allowlist Management
Streamlined Approval Process
Application Scoring
Score History
Security Policies
Shared Data Audit
PII Data Audit
Incident Monitoring
Integrations: Email, Slack, MS Teams
Support Multiple SaaS Apps (Google Workspace, Office 365, Salesforce, Slack) & domains All-in-One Dashboard
BEST VALUE
SpinOne


All-in-One SaaS Security
license/month
All-in-One SaaS Security Platform: Backup & Disaster Recovery, Ransomware Protection, App & Extension Risk Assessment & Access Management, Integrations, & More
* Each license grants 50GB of storage

Minimum contract size of $1,080
Start 15-Day Free Trial
1x/3x a Day Automated Backup
Data Centers: AWS, GCP, Azure, BYOS
Data Encryption
Data Management & Recovery
24/7 Support
Proactive Ransomware Monitoring & Response
Misconfiguration Visibility & Management
Risk Assessment for Apps & Extensions
Blocklist/Allowlist Management
Streamlined Approval Process
Application Scoring
Score History
Security Policies
Shared Data Audit
PII Data Audit
Incident Monitoring
Integrations: Splunk, Platform API, OKTA, Email, Slack, MS Teams, Jira, ServiceNow, Platform API
Support Multiple SaaS Apps (Google Workspace, Microsoft 365, Salesforce, Slack) & domains All-in-One Dashboard
Additional Options Sold Separately
SpinRisk
license/month
Automated Inventory & Risk Assessment for SaaS Applications and Chrome Extensions
Start 15-Day Free Trial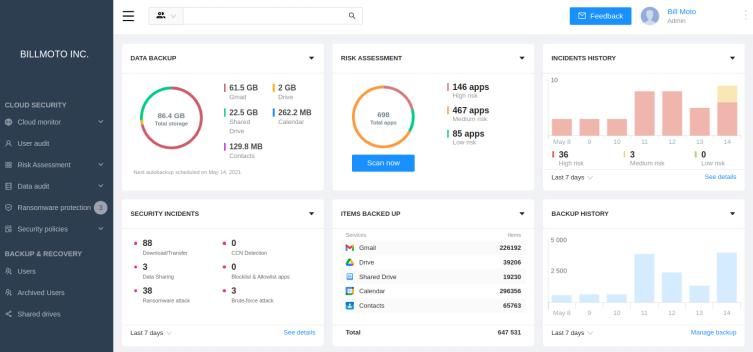 Looking for a DEMO?
Schedule a demo session with one of our Sales Engineers to discover the capabilities and benefits of SpinOne, the all-in-one SaaS security platform.
Request a Demo
Frequently Asked Questions
How secure is SpinOne?
SpinOne utilizes the world's most advanced cloud security technologies to process and store your backed up data. We provide military grade 256-bit AES encryption for transferring and storing your data. SpinOne also works with the world's top cloud services providers (AWS, GCP and Azure) for storing and processing customer data.
Can SpinOne access my backed up files as well?
No, the files are encrypted both in transit and at rest. Top level 256-bit AES encryption is used.
Can I cancel my account?
Yes, you may cancel your account by giving notice per our terms of service. Please note that when you cancel your account, all your data will be automatically removed from the SpinOne servers per our terms of service. To cancel your account, send us a request from your dashboard, contact your account manager, or contact support@spin.ai. Additionally, please note that we don't issue refunds and you may be liable for any unpaid subscription fees; details on this can also be found in our terms of service.
Can I delete my backed up data?
We do not recommend data deletion as it may result in unintentional data loss. Due to this, there is no direct way to delete data from the platform. To learn about possible ways of deleting backed up data, please contact your Account Manager or support@spin.ai.
Where will my cloud data be backed up to? What compliances does SpinOne have?
You may choose to backup your sensitive data at a data center of your choice between GCP, AWS, Azure, or BYOS. You may also choose your exact data location. SpinOne is SOC 2 Type II, CCPA and GDPR compliant, and is also listed on the EU-US Privacy Shield and CSA registry.
What types of data is backed up and how frequently?
SpinOne performs automated daily 1x or 3x a day incremental backups of core data and metadata from your chosen SaaS application.
What value will the Risk Assessment (formerly Apps Audit) provide for my organization?
It will scan all your 3rd party apps and browser extensions automatically and provide a risk score based on Business, Security and Compliance risks. You can blocklist/allowlist apps manually or create security policies to automate access management.
How does SpinOne surface risky apps to Admins and what actions are available?
As SpinOne is connected to your SaaS application, it is able to identify all 3rd party OAuth applications. On top of that, our browser plugin can be utilized to identify all Browser Extensions installed by your users. We show the apps and extensions in the Risk Assessment (formerly Apps Audit), provide an in-depth assessment report, then the Admin may manually or automatically blocklist the app.
Google Provides Google Vault. Why do I need SpinOne?
Google Vault is an archive service. It doesn't do a daily backup. SpinOne provides a true backup solution with version control. Google Vault + SpinOne is the right disaster recovery plan for your organization. More details at https://spinbackup.com/blog/google-vault-archiving-vs-spinone-dlp/
Salesforce and Slack have native tools. Why do I need SpinOne?
Salesforce and Slack native tools provide limited functionality, i.e. one tool backs up files, another tool stores metadata. SpinOne has all these features in one user interface.
How does Ransomware Protection work? What is the process like?
In case you are hit by a ransomware attack in the cloud, SpinOne will automatically detect the ransomware attack, identify and stop the source, identify the number of damaged files, and recover them back for you automatically.