OneDrive Backup and Recovery
Worry about losing your critical OneDrive files? Let Spinbackup take care of an automated backup for all your OneDrive documents, presentations, and sheets.
Why Do You Need OneDrive Backup Solution?
Microsoft 365 is a secure data management suite, but it is not a backup solution. Hence it doesn't protect your OneDrive data from the most frequently occurring incidents, such as:

Data deletion
More than 25% of data losses happen because of human error. If your employee accidentally or intentionally deletes a shared file or folder in OneDrive and purges the trash bin, consider it's gone.

Ransomware
The new generation of ransomware targets the cloud, which puts your OneDrive data at risk. With all the related expenses, taking back your data can cost your business up to $73 000 or even more.

Cyberattacks
Weak passwords or stolen credentials make it simple to brute-force your employees' OneDrive accounts and delete or encrypt important files.

Compliance fines
The cost of non-compliance can lead to fines of up to $23 million, or 4% of annual global turnover. If your company needs to be compliant with HIPAA or GDPR, backup is the foundation.
Spinbackup Protects OneDrive From These Incidents
Spinbackup eliminates the mentioned threats to your OneDrive data, providing you with:
Automated backup 1x-3x a day

100% accurate and fast recovery

Unlimited secure cloud storage

24/7 customer support

Top-level encryption, which makes your backup fully secure

Centralized data management panel with a user-friendly interface
How SpinBackup Works
See SpinBackup in action.
Trusted by over 1,500 Organizations in 30+ Countries
More than 1,000,000 loyal individual and corporate users benefit from our backup and cybersecurity solutions.




OneDrive Backup Key Features
Here is why Spinbackup is the best choice for your OneDrive backup.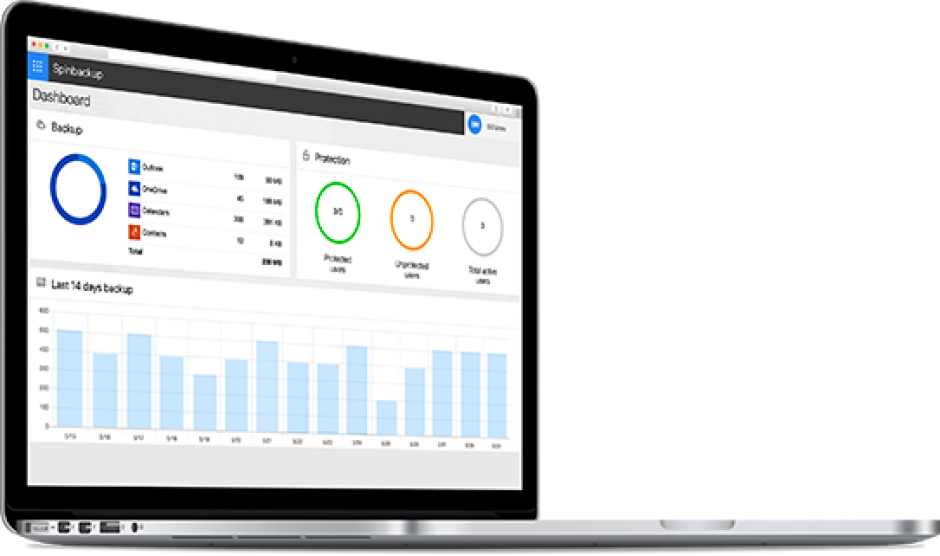 Automated Daily Backup

You create new important files in OneDrive every single day. That is why Spinbackup provides you with automated backup up to three times a day.

Deletion Control

The Lost and Found folder provides administrators with lists of deleted data.

Folder hierarchy

You keep the original organizational structure of all your OneDrive files, everything looks just like it was before the disaster.

Different Versions of Files

Never again will you have trouble finding and restoring the needed version of a document, presentation, or sheet.

Fast Selective Recovery

You can selectively recover specific files in seconds without the need to recover a whole set of backed-up data.

Fast Search

Fast and easy search for your backed-up items to help you recover lost data immediately using Admin Console.

One-click Data Migration

Spinbackup makes data migration from one OneDrive to another seamless and quick, making sure you haven't lost any data along the way.
Our Customers About Us

I've used Spinbackup for 2 years now and have been very happy with their product. The interface is clean and intuitive and the service is seamless integration. The price is reasonable and support has always been very responsive and helpful.
Chad Smith
VP of R&D at Teleira

Switched from Spanning Backup to SpinOne as Spanning Backup let us know that we were backing up too much data. They had no way of dealing with this so their only recourse was to terminate our service. After looking around I settled on SpinOne and have been extremely pleased so far!
Donavon Yelton
Carpenter Industries,Inc., Manager

So far so good. We have our 5 most important accounts + team drive being backed up and about 6.5GB of storage used in total. I recovered several files to test out the response time and it was pretty good (~3 mins). I see the weekly summary report which is a great reminder that your product is quietly working in the background.
Steve Schlonski
President,goteamdogs.com
Add to Your OneDrive Backup Top-Notch Ransomware Protection
95% of backups are not immune to the new generation of ransomware. That is why our platform also provides ransomware protection services for your OneDrive backup.
See How Ransomware Protection Works In Action!
Your Office 365 Data Security Is Our Top Priority
We guarantee that your data is kept safe and secure. Here you can get a more detailed security overview.
SOC2 (Type 2)

OAuth 2.0

GDPR

Data Encryption

EU-US Privacy Shield

Service Level Agreement
Learn More About OneDrive Security
Take a deeper dive into OneDrive security with our guides and other materials.
Frequently Asked Questions
Technology Partners