Cloud-to-Cloud Backup for G Suite and Office 365
Protect your business-critical data from being permanently lost due to human error or a ransomware attack, improve GDPR or CCPA compliance, and meet local regulations. SpinBackup provides a daily automated backup to secure cloud storage on AWS, GCP, or Azure to reduce the risk of a data breach.
$3.9 million
data breach cost
The average cost of a data breach is $3.9 million with companies paying $150 per lost record.
$20 billion
global ransomware damage
By 2021 the direct damage from ransomware attacks globally will reach $20 billion.
$14.82 million
non-compliance cost
The average cost of non-compliance includes fines settlements, legal costs, business disruption, and revenue loss.
Сloud-to-cloud backup vs on-premises backup
Compared to on-premises backup, SpinBackup takes integration, management, and hardware maintenance costs out of the equation, is available anytime from anywhere, offers multiple cloud storage locations, and better protection from ransomware.
No integration costs
No agent
Fast install
Calculate the ROI of cloud-to-cloud backup
SpinBackup is available for Office 365 and G Suite
Keep your SaaS data across the most important business apps securely backed up with SpinBackup.
Office 365
Backup Outlook, OneDrive, Calendar, Contacts, and SharePoint.
Request a demo
GSuite
Backup Gmail, Google Drive, Contacts, Calendar, Sites, and Shared (Team) Drives.
Request a demo
Why SaaS data backup must be part of your disaster recovery strategy
Employees deleting a key file accidentally or on purpose
SaaS provider outages
Unexpected costs for IT, legal, penalties
Hacker attacks
A malicious app deleting sensitive data
Ransomware attacks
Reputational risk
Business interruption
Automated daily backup
We alleviate admins of a tedious duty of having to regularly back up data. With SpinBackup you will have the data across all your key apps backed up automatically three times a day without any manual intervention.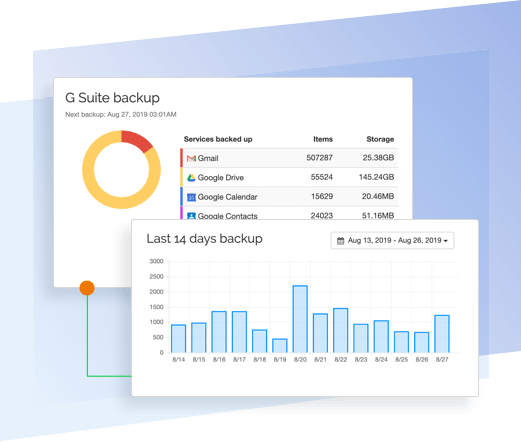 99,99% accurate recovery
User error, ransomware attacks, malicious insiders – in case of a data breach, our SLA guarantees 99,9% accurate data recovery. Your data will get back exactly where it was before with the same folder hierarchy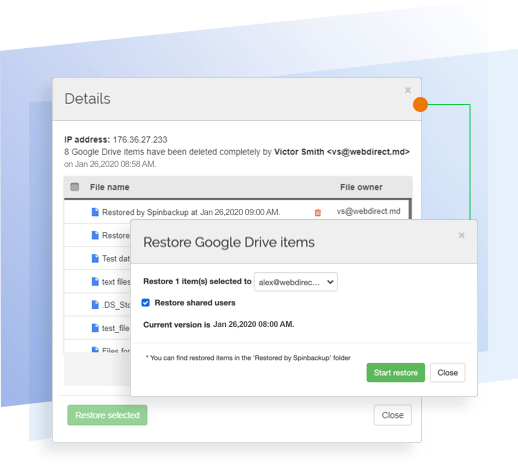 Multiple cloud storage locations
Unique among our competitors, SpinBackup provides extremely flexible storage configuration options. You can choose between Google GCP storage, Microsoft Azure, Amazon AWS S3 or your custom storage.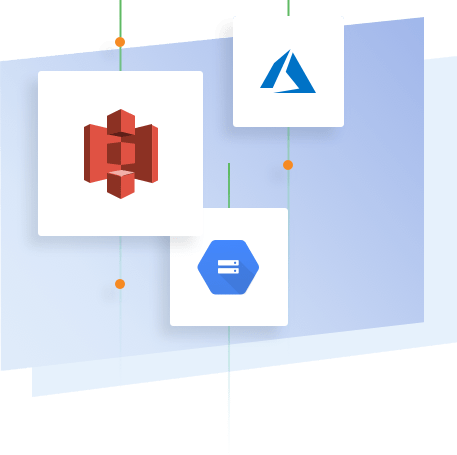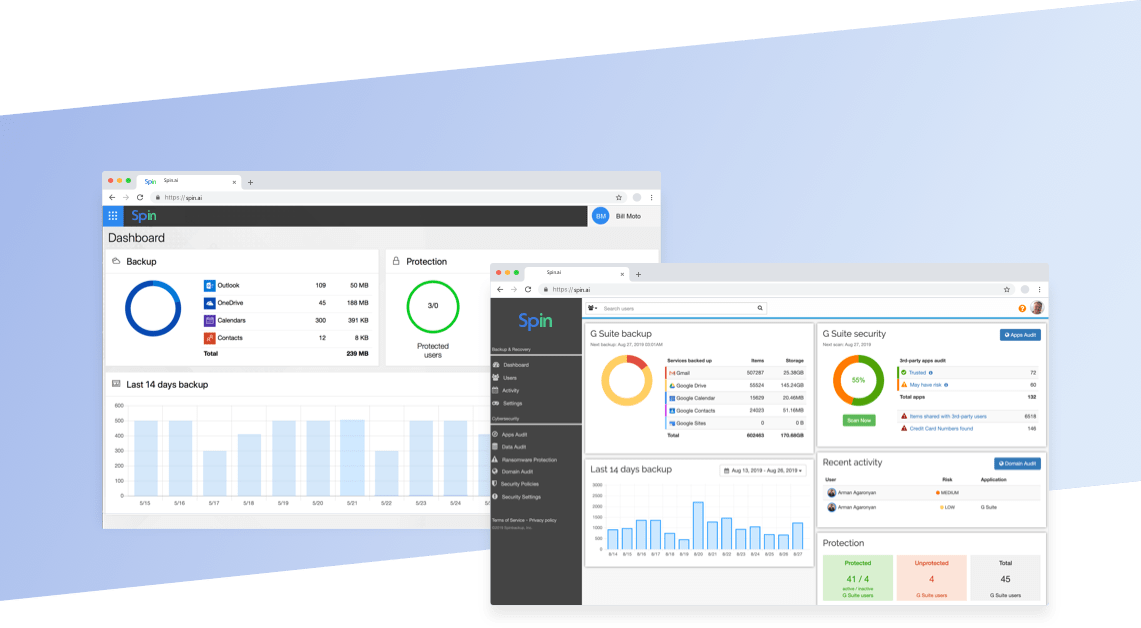 One-click data migration
When an employee leaves or changes their role in your organization, you don't have to pay to retain their licenses. Instead, you can transfer the ownership of data from one account to another one in just one click.
Fast and easy search of your backed up items
The process of data recovery is incredibly easy: you can restore individual files and file versions, certain folders or entire data. The search for backed-up items is intuitive and lightning fast.
Weekly & monthly email reports
With weekly and monthly reports delivered to admins regularly, they will be able to monitor the status of their protected data and see a list of activities that have taken place in their corporate accounts.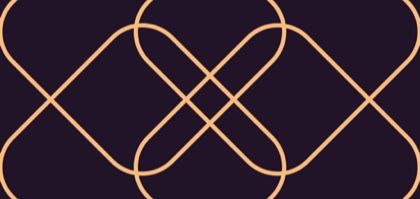 How to Calculate the ROI of Backup Software
Even with a single data loss event, the ROI of backup and recovery software proves to be well worth the cost.
Download the guide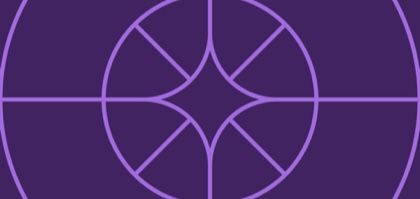 SaaS data protection guide
Learn what security measures you need to take to get peace of mind that your SaaS data is safe.
Download the guide