Today, businesses must be smart and proactive, not reactive about security. However, staying ahead of the security curve that exists today is extremely difficult. New vulnerabilities, exploits, and zero-day attacks are found in news headlines almost every single day. Sensitive data is stolen and personal information is often exposed. No organization wants to make headlines in this way. CEOs and management teams today must have cybersecurity at the top of the list, no matter what the initiative or project
Adding to the complexity and difficulty of cybersecurity for organizations today are public cloud and hybrid cloud environments. Public cloud environments are here to stay and most businesses today are either already in the public cloud or are actively moving resources there. Google's G Suite environment powers many of today's hybrid public cloud environments. Recently, early this year, Google made headlines with the release of Google Security Center.
With G Suite Security Center, Google is making strides to improve both security awareness and responsiveness. While Google Security Center is a step in the right direction from a security perspective, is it the best value in terms of security monitoring and remediation as well as included features? Let's take a closer look at Google Security Center and what it offers in the way of improving overall security for Google G Suite environment.
What is Google Security Center?
Google Security Center is part of Google's initiative to empower IT departments utilizing G Suite to successfully modernize their overall security operations to incorporate the latest in advanced security features. Google describes Security Center as a security analytics and best practice recommendations utility that enables G Suite administrators to operate G Suite environments much more intelligently and with greater visibility. This helps administrators to take a more proactive approach to security intelligence. According to Google, they want admins to take "a bird's eye view" of their security and "take action based on timely insights".
Google G Suite Security Center Features
Unified Security Dashboard
Unified security dashboard – Google intends for the Unified security dashboard to be their "single pane of glass" view of the overall security health of your G Suite organization. Security events are aggregated into a "dashboard" type display will the appropriate statistics and event metrics displayed.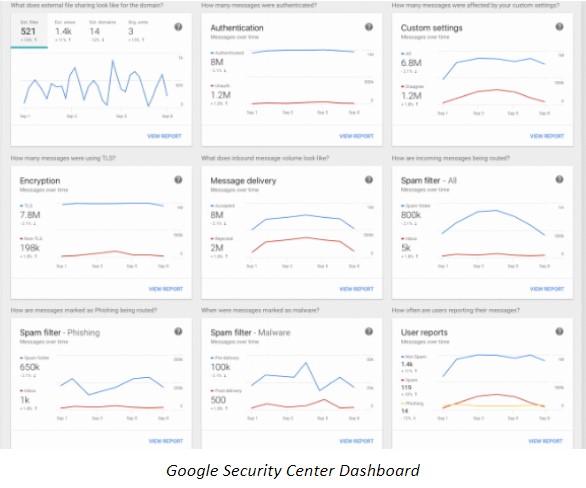 Best Practice and Health Recommendations
Best Practice and Health Recommendations – The best practice and health recommendations includes a "quickstart" guide that allows G Suite administrators to see recommended security settings and customized advice based on G Suite security best practices for content, communication, mobility, and user security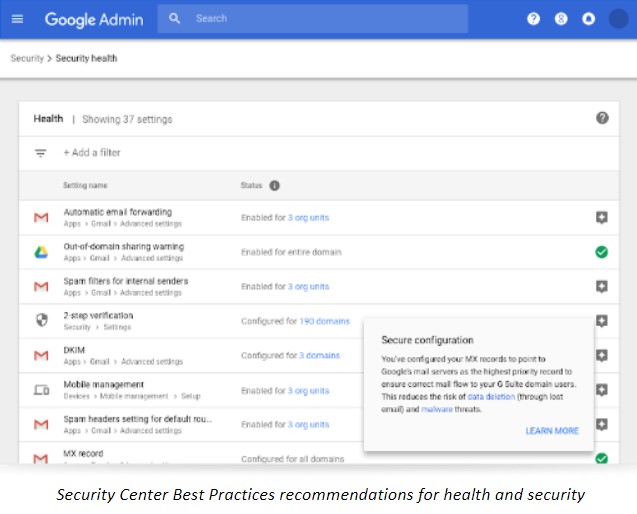 G Suite Security Insights and Analytics
File exposure – Allows visibility into how files are shared outside the domain and which DLP rules have been triggered.
Email delivery – See which messages coming into the organization were accepted and if user whitelisting allowed the messages to be delivered. Additionally, which messages where accepted or blocked due to the Gmail spam filter.
Authentication – See which messages do not comply with DMARC, DKIM, and SPF authentication standards. This report also includes details such as the number of messages by sender domain and the number of messages by IP address.
Spam and malware classification – Analyze suspicious messages that may be classified as spam, phishing, or malware.
Encryption – Displays the number of messages encrypted, not encrypted, and other insights related to TLS message encryption.
User reports – Allows reviewing messages that users have classified as either spam or phishing.
Failed device login attempts – Displays failed login attempts by devices based on a specific time range.
Compromised device events – Displays details of potentially compromised devices during a specific time range.
Suspicious device activities – Displays details of suspicious activities from devices during a specified time range
Actionable Security Recommendations
Gmail – Enable security checks on automatic email forwarding, DMARC settings, POP/IMAP access as well as whitelists.
Drive – Apply policies that affect how users are able to share files, install add-ons, and other functionality.
Hangouts Meet – Ensure out-of-domain warnings are enacted for all users.
Device Management – See recommended actionable items for all Mobile Device Management policies.
Sites and Groups – Evaluate group sharing and public groups options
With Google Security Center, it is evident that Google is placing more emphasis on their suite of products available to protect organizations and their sensitive data and assets. It allows G Suite administrators to understand their current security posture, especially with the health and best practices aspect of Security Center. Additionally, future risk patterns come to light with the security analytics aspect of the product. G Suite administrators can flag security threats and avoid specific targeting by phishing scams that can lead to data breach.
If you are wondering how you take advantage of Google Security Center, outside of G Suite for Education, it is available for the G Suite Enterprise subscription only. While Security Center is certainly a welcomed addition to the G Suite portfolio of options that can certainly bolster G Suite cybersecurity, is it the best option in terms of features and the most cost-effective for businesses looking to bolster G Suite cybersecurity?
Spinbackup Cybersecurity and Backup for G Suite
The Google Security Center for G Suite product certainly improves Google's G Suite offering when it comes to security. However, Spinbackup provides superior cybersecurity in a product that is much more cost-effective and includes functionality that businesses today must consider crucial when moving data in the cloud. Let's look at what organizations get by choosing Spinbackup to protect their G Suite environment and business-critical data.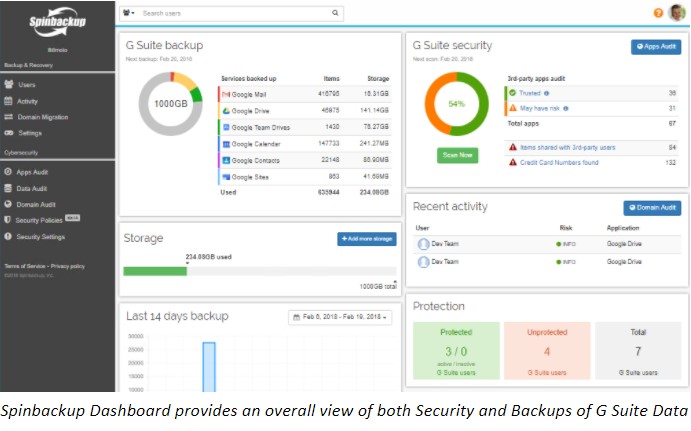 Just as Google Security Center is able to display an aggregated dashboard that features the current state of their G Suite cybersecurity, Spinbackup provides a "single pane of glass" view of G Suite, including G Suite security and G Suite backup. Yes, backups! Spinbackup not only provides cybersecurity but also data loss and data leak protection all in a single product! Actually, the technologies of cybersecurity and backup should and do go hand in hand as backing up critical public cloud data is part of cybersecurity. Security and protecting public cloud data must be addressed by organizations moving to the cloud with their business-critical data.
Spinbackup Automated G Suite Backup
The powerful backup functionality that Spinbackup provides affords organizations the following capabilities in protecting G Suite data:
Automated daily G Suite backups (configurable) that protect Gmail, Drive, Team Drives, Chat, Calendars, etc.
Backup data is secured by encryption, both in-flight and at-rest
Data is stored securely in Amazon cloud storage, negating any dependencies on Google infrastructure
Backups are kept with multiple retention points, allowing organizations to recover any number of versions of their data. Spinbackup refers to this functionality as "restore in time machine"
Deleted items are recoverable through the "Lost & Found" feature
The backup and restore functionality allows for quick and easy cloud data migration to "ship" data between G Suite user accounts
By utilizing Spinbackup automated G Suite backups, you can be confident your G Suite data is safe and secure regardless of threats posed from attack vectors both inside and outside the G Suite organization. What features do you get with Spinbackup cybersecurity?
Spinbackup Cybersecurity
The G Suite cybersecurity provided by Spinbackup is world class and empowers G Suite administrators with all the tools and automated remediation needed to make G Suite environments ironclad against would-be attackers. The cybersecurity portion of the Spinbackup dashboard allows G Suite administrators a quick, high-level view of security events.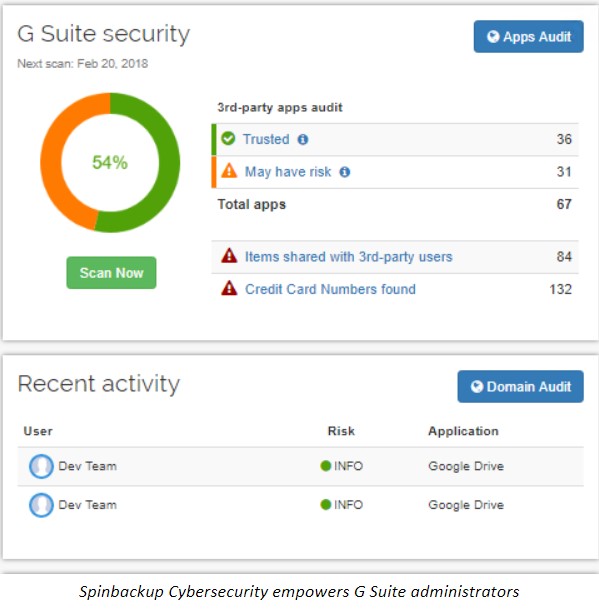 Spinbackup provides the following cybersecurity features and functionality to G Suite administrators
High Risky Apps Control – The third-party apps control module in Spinbackup allows administrators to screen third-party apps that have been installed in the G Suite organization and also quickly and easily see what data those apps have access to. Third-party apps control is seamless and automated and is able to remediate security risks involving third-party apps by utilizing an Incident Response Plan prevent data loss and leak disasters.
G Suite Ransomware Protection – The ransomware protection module of Spinbackup is an extremely powerful weapon that can be used by G Suite administrators to fight this alarming plague on business-critical data. It is able to detect and proactively remediate the effects of ransomware attempting to encrypt data stored in the G Suite environment. G Suite administrators are able to restore files affected by ransomware in real time! Spinbackup provides the following in regards to ransomware:
Ransomware Detection
Blocking the encryption process used by the ransomware variant automatically
Identifying files that may have been affected and automatically restoring them
Proactive alerting of G Suite administrators when ransomware is detected and files are restored
Sensitive Data Protection – In the fight against leaking sensitive data outside the organization, Spinbackup provides sensitive data control that is able to identify sensitive data such as credit card numbers and also notify any data that is shared outside the G Suite organization.
Insider Threats Detection – Often threats to business-critical data comes from within the organization and not from the outside. Spinbackup is able to detect insider threats and remediate those threats quickly.
Detects information shared outside the G Suite organization
Records abnormal user login activity
Discovers when users download data from G Suite to another public cloud provider or local storage
Identifies risky third-party app installation
The powerful insights and proactive actions that Spinbackup affords G Suite administrators is simply not found in Google Security Center. Additionally, Spinbackup includes a world class automated backup functionality to G Suite administrators, which is functionality that is simply not found in Google Security Center. Given the fact that G Suite administrators get a comprehensive backup and cybersecurity solution (data loss and data leak protection) in Spinbackup, it is a superior product. What about cost?
Google Security Center for G Suite vs. Spinbackup – Cost Analysis
Let's consider a cost example of deploying Google Security Center vs. Spinbackup. As mentioned to deploy Google Security Center, organizations must be running the G Suite Enterprise subscription of G Suite. If your organization had 100 users, what would the features and functionality cost between the two?
Google Security Center
100 users
G Suite subscription must be Enterprise

This equates to $25 per user per month – 100 x 25 = $2,500 per month
Spinbackup
To get more
100 users
You can simply choose the Basic Edition – $5 per user per month = 100 x $5 = $500 per month
Spinbackup license = $ 5 per user per month x 100 users = $500 per month
If you choose the G Suite Basic subscription with Spinbackup protection = $500+$500= $1,000 total
This is $1,500 cheaper per month for cybersecurity and backup
Concluding Thoughts
Google has certainly made a step forward in empowering G Suite administrators to have the tools and visibility they need to be able to be more proactive in warding off both external and internal threats. Google Security Center provides informative dashboard and security analytics that give insights into potential security threats. However, it comes at a premium. Security Center is only available with G Suite Enterprise.
Spinbackup offers a much more robust solution as it provides both cybersecurity and automated backups to protect business-critical data. When it comes to Google Security Center and backing up your data, you are on your own. Additionally, the security features found in Spinbackup are much more in tune with real-world threats, such as ransomware and empowers G Suite administrators to proactively eradicate these ominous threats.
You will see a tremendous cost savings by choosing a lower G Suite subscription level and implementing Spinbackup as many G Suite environments may not need the other features that G Suite Enterprise includes. Spinbackup is a powerful solution that protects your business-critical data against the threats of both today and tomorrow!
Explore Top 5 G Suite Security Concerns for 2018!