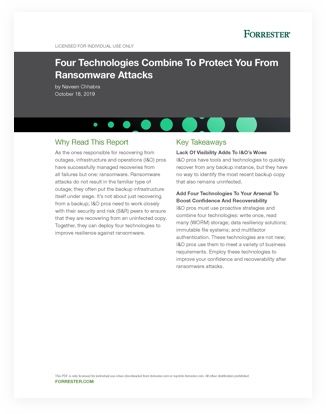 Forrester experts team up to look at four essential technologies needed to protect enterprise data from ransomware attacks.
From the report:
The World Economic Forum includes cyberattacks in the top 10 global risks in terms of the likelihood of occurrence and impact, but firms are often caught unprepared. After an attack, business leaders naturally want to recover data using backup or archive copies.
What they don't know is that backups are essential but not enough to protect from ransomware anymore. Ransomware does collateral damage by besieging your last line of defense — the backup infrastructure — along with production systems. It means they put the backup infrastructure itself under siege.
It's not about just recovering from a backup anymore; now, infrastructure and operations pros need to work closely with their security and risk peers to ensure that they are recovering from an uninfected copy. Only together can they deploy four technologies to improve resilience against ransomware.